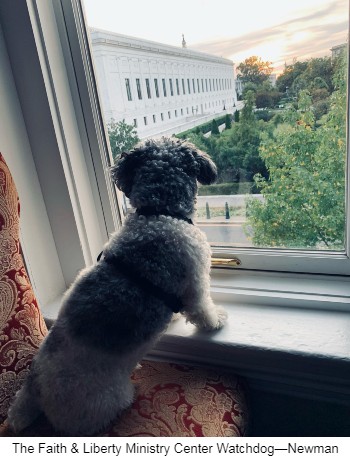 In the wake of recent U.S. elections, as we celebrate our wins and feel our losses, it helps to be reminded that our God is active and intentional in our lives and in our nation.
He didn't simply set Planet Earth on its axis, create Adam and Eve in Eden and leave the first humans in the dust when they rejected His clear direction. The world's First Lady was deceived, but her husband didn't help matters when, with open eyes, he also bit into the forbidden fruit. God chose to create the first humans, but they chose to follow a smooth-talking serpent. Creator God wanted to walk daily with them in the cool of the garden, but they threw all that away.
But God still wants a relationship with us! He is still on mission—and we are on board! Faith & Liberty is seeing many souls saved and lives changed. We must let our light shine, that our good works will be seen and that those who see what we do might give glory to our God (Matt. 5:16).
As faithful intercessors and financial supporters of Faith & Liberty, would you pray with us that God would be glorified in all we do in this work to which God has called us? Thank you for standing with us!
Your missionaries to Washington, D.C.,
The Faith & Liberty team
You are an important part of our ministry. Our supporters form the backbone of Faith & Liberty because of your prayerful and financial support. Please pray about becoming one of our vitally important monthly contributors. Sign up for monthly giving on our website using the DONATE button below and select the option, "I would like to make this a recurring donation." You can also call and ask for Patty Bills at the Faith & Liberty office at 202-737-1776, and she will gladly assist you.




THE MONDAY RECAP
Faith & Liberty staff hosted prayer at the Ministry Center last Monday, the day before Election Day, and participated in multiple prayer walks around Capitol Hill, finishing on Tuesday as many Americans made their way to the polls.

Peggy Nienaber participated in the International Religious Freedom Summit conference call, planning for the Summit at the end of January 2023 prior to the National Prayer Breakfast.

Peggy Nienaber participated in the THINK Bible study—"Christians, How Does Your Faith Play a Role in Your Voting?"—at the Ministry Center.

We made plans for the Bible studies, prayer meetings and other events scheduled at our Ministry Center in 2023.

Patty Bills held conference calls to complete the requirements needed for December's Live Nativity.

COMING SOON
Faith & Liberty is co-hosting a social game night for congressional interns this week.

We will host a Good Neighbor Thanksgiving dinner this week at the Ministry Center. We will invite the congressional interns who have volunteered at local pregnancy resource centers and who have performed good deeds for those on Capitol Hill.

The U.S. Capitol Christmas tree, known as "The People's Tree," arrives this Friday. Peggy Nienaber will be present during the arrival of the tree, which is from North Carolina this year, so we hope you can join her on Facebook Live on the Faith & Liberty Facebook page.

The costumes have been completed for our Live Nativity, which will be held on Capitol Hill on Wednesday morning, Dec. 7. We continue to recruit volunteers. Would you like to participate? If so, please call Patty Bills at the number listed above.

CLICK HERE TO SUBMIT YOUR PRAYER REQUEST

To stay informed on issues in Washington and play your part as a citizen and a Christian look for the Faith & Liberty emails throughout the week. We are in this fight together to defend and preserve those values and principles we all cherish.


---

Legislation Alert: Congress is in session, and we must stay alert to some of the radical bills members have proposed. Many lawmakers are pushing to pass the misnamed "Respect for Marriage Act" (HR 8404) this week before the Thanksgiving break. The House already passed the bill, and the Senate is strategically working toward a full vote. This bill will not only push same-sex marriage by law into every state, but it also overrides states' rights and brings the full weight of the federal attorney general's office to file suits. As it is written, if just one state allowed incestuous or child bride marriages, this bill would force all 49 states to recognize and respect that "marriage."
Urge the Senate to block HR 8404 by sending a fax and adding your name to our petition. Thanks!


---

PRAYER CONCERNS
Pray for our engagement with members of the U.S. House and Senate who are taking a stand for life, liberty and religious freedom. Pray that God would expand our influence for His honor and glory.
Pray for young interns and congressional staffers to attend the Bible studies and other activities planned for them. Pray that they would find the answers to life's questions in God's Word and in fellowship with believers.
Pray for good decisions from the Supreme Court to further uphold life, liberty and religious freedom according to America's founding documents.
Pray for peace in Washington and across the country.
Pray against any spiritual attack on the lives and families of Faith & Liberty staff as well as our events.
Pray that the gospel would be heard clearly at the Live Nativity on Dec. 7 and understood by any passing by our biblical characters and their live entourage that day.
Our efforts to bring the Word of God to bear on the hearts and minds of our public policy makers are only possible because wonderful friends like you stand with us both in faithful prayer and in your generous financial support! Thank you!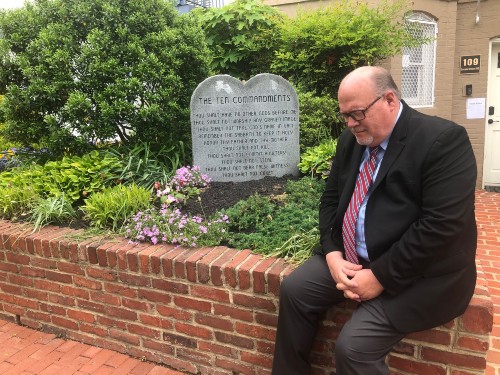 Make a difference and partner with us.