As Christians, some of us ignore that today is Halloween—unless some little munchkin comes to our door hoping for a handful of candy. Perhaps this season you'll attend a church outreach activity or get-together where you dress up as a biblical figure or some other wholesome character. Beliefs about how to participate this time of year—or not—vary.
On the one hand, Christians head to Halloween stores that pop up across the fruited plain and decorate their doorsteps with Jack-O'-Lanterns. On the other, they turn off their porch lights to ward off trick-or-treaters and read Halloween-themed storybooks that explain gospel truths to young minds. Oct. 31 has become such a significant holiday that Americans have spent 10.6 billion dollars this year alone.
So what does all of this have to do with our ministry at Faith & Liberty?
Our Constitution says we have the right to decide on matters of faith and freedom. We choose between good and evil.
We have seen many good things this year as the interns and congressional staffers we work with have drawn closer to the Lord, with many joining in our Bible studies and following Christ in the waters of baptism.
But we also have seen evil on Capitol Hill with proposed legislation disrespecting the biblical view of marriage and promoting abuse and abortion. Evil showed itself outside the Supreme Court when Roe v. Wade was overturned, as demonic forces behind the killing of the unborn manifested.
As a ministry seeking to stand against darkness in our capital, Faith & Liberty has experienced spiritual attack this year. You likely have too. But we are not defeated.
First Peter 4 offers pertinent advice. "The end of all things is at hand; therefore be self-controlled and sober-minded for the sake of your prayers" (v. 7). Peter urges us not to be surprised at the "fiery trial" of testing. "Yet if anyone suffers as a Christian, let him not be ashamed, but let him glorify God in that name" (v. 16).
While the world around us goes crazy, we must have a cool head. After all, we know the end of the Book.
The last two verses the Bible, in Revelation 22, say, "He who testifies to these things says, 'Surely I am coming soon.' Amen. Come, Lord Jesus! The grace of the Lord Jesus be with all. Amen."
May it be so! Come, Lord Jesus!
Your missionaries to Washington, D.C.,
The Faith & Liberty team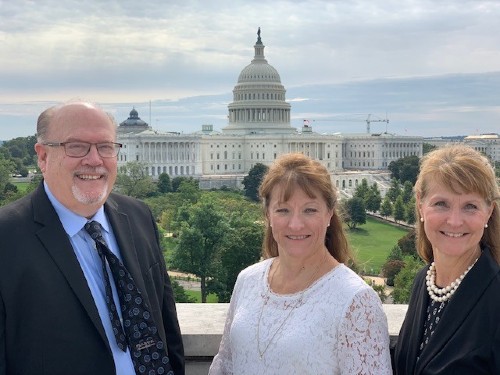 You are an important part of our ministry. Our supporters form the backbone of Faith & Liberty because of your prayerful and financial support. Please pray about becoming one of our vitally important monthly contributors. Sign up for monthly giving on our website using the DONATE button below and select the option, "I would like to make this a recurring donation." You can also call and ask for Patty Bills at the Faith & Liberty office at 202-737-1776, and she will gladly assist you.



THE MONDAY RECAP

Peggy Nienaber met with several congressional staffers this past week. Staffers tend to be very busy while most members of Congress are in their home states just before midterm elections. It was good to have an opportunity to encourage the staffers amid their sometimes overwhelming responsibilities!

Peggy also participated in the International Religious Freedom Summit steering committee. The IRF Summit is scheduled for early 2023.

Patty Bills, Faith & Liberty's director of constituency affairs, has been planning for December's LIVE Nativity, acquiring the many permits required for this event and securing assistance in areas such as equipment, photography, music, groundskeeping, parking and animals. We even have to make sure the animals have their required shots!

The F&L team is preparing for a Ministry Fair on Capitol Hill. This winter event will provide an opportunity to share about our ministry and invite congressional staff to our weekly Bible studies.
COMING SOON
Faith & Liberty staff members are planning a "Friendsgiving" Dinner next week for those who work on Capitol Hill. We'll enjoy fellowship time along with a delicious turkey dinner.

Faith & Liberty will host several Thanksgiving Bible Study lunches, giving an opportunity for new staffers to attend and get acquainted.

Plans are underway for the LIVE Nativity this December. If you are interested in attending or volunteering, please call Patty Bills at 202-737-1776.
CLICK HERE TO SUBMIT YOUR PRAYER REQUEST

To stay informed on issues in Washington and play your part as a citizen and a Christian look for the Faith & Liberty emails throughout the week. We are in this fight together to defend and preserve those values and principles we all cherish.


---

Legislation Alert: Congress is in session, and many lawmakers are pushing to pass the misnamed "Respect for Marriage Act" (HR 8404). The House already passed the bill, and the Senate is rushing to have a full vote anytime now. This bill will not only push same-sex marriage by law into every state, but it also overrides states' rights and brings the full weight of the federal attorney general's office to file suits. As it is written, if just one state allowed incestuous or child bride marriages, this bill would force all 49 states to recognize and respect that "marriage."
Urge the Senate to block HR 8404 by sending a fax and adding your name to our petition. Thanks!


---

PRAYER CONCERNS
Pray for members of Congress and others on Capitol Hill who are taking on the radical, anti-God agenda. Some need us to hold them up in prayer as they feel defeated and weary.
Pray that God would go before us and open up unexpected opportunities to meet with leaders in our nation's capital.
We are thankful that so many young people have been saved and baptized recently. Pray that our ministry, in coordination with area churches, will multiply and bear spiritual fruit.
Pray that the congressional staffers and interns who participate in the Bible studies held in our Ministry Center would have their spiritual questions answered and follow Christ in every part of their life.
Pray that God would give us wisdom in planning various events, including all the details that go into our Live Nativity.
Our efforts to bring the Word of God to bear on the hearts and minds of our public policy makers are only possible because wonderful friends like you stand with us both in faithful prayer and in your generous financial support! Thank you!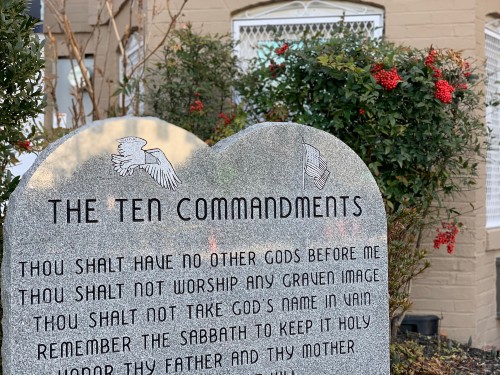 Make a difference and partner with us.