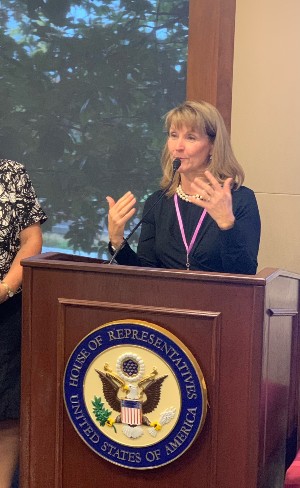 If there were ever a time in our nation when we needed to consciously put our spiritual armor on, it's now. Why? Because our enemy is active not only behind the scenes but also shamelessly out in the open.
Ephesians 6 commands us to "Put on the whole armor of God, that you may be able to stand against the schemes of the devil" (v. 11). Sadly, the devious schemes of the enemy of our souls abound here in our nation's capital and emanate across America. What happens on Capitol Hill will eventually affect every American.
From the founding, our nation has stood for freedom of religion and speech and still shines as a beacon of light in a dark world. But the values we hold dear as Americans and as Christians are in jeopardy. Evil is being called good and good evil. You don't have to look far to see it. Consider abortion and transgenderism as prime examples of this distortion.
Will you join with us in putting your spiritual armor on every day? Ultimately, we battle evil spiritual forces that are not of this world, not the neighbor next door who is of a different political persuasion, the senator easily swayed by the polls or the judge doing the bidding of political activists.
Like the apostle Paul, an ambassador for Christ, we need the belt of truth, the breastplate of righteousness, shoes so we're ready to share the gospel of peace, the shield of faith, the helmet of salvation, the sword of the Word, and continual prayer in the Spirit. Let us be alert that we might persevere, pray and proclaim the glorious gospel of Jesus Christ.
Your missionaries to Washington, D.C.,
The Faith & Liberty team
You are an important part of our ministry. Our supporters form the backbone of Faith & Liberty because of your prayerful and financial support. Please pray about becoming one of our vitally important monthly contributors. Sign up for monthly giving on our website using the DONATE button below and select the option, "I would like to make this a recurring donation." You can also call and ask for Patty Bills at the Faith & Liberty office at 202-737-1776, and she will gladly assist you.



THE MONDAY RECAP
Thousands joined The Global Rooftop Encounter online on Sunday, October 2. Patty Bills, director of constituency affairs for Faith & Liberty, leads the prayer for Washington D.C., and she led the team that participated in this year's Encounter. Believers came together in unity seeking God for a fresh mission for all Christians and for every community, state and country—working together around the world to share the Good News. Christians joined the Global Encounter virtually from more than 60 countries, including Peru, the U.K., India, Mexico, Nepal, South Korea, Germany and nations in Africa.
Faith & Liberty sponsored a Congressional Women's Prayer Breakfast this past week. More than 135 women came to Washington, D.C., to pray for our nation. Peggy Nienaber, vice president of Faith & Liberty, led the effort and spoke at the event. Congresswoman Virginia Foxx (R-NC) was honored for her profound impact for good in America as the 2022 Women on the Hill Legislator of the Year. We prayed individually for the other members of Congress who attended.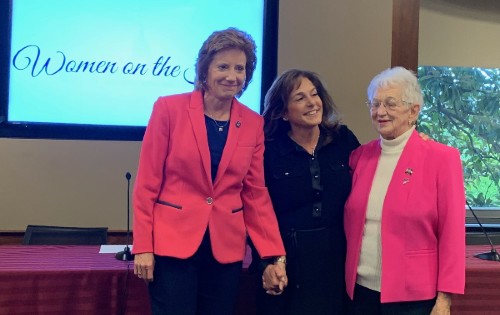 Left to right: Congresswoman Vicky Hartzler, Virginia Foxx, Lisa McClain.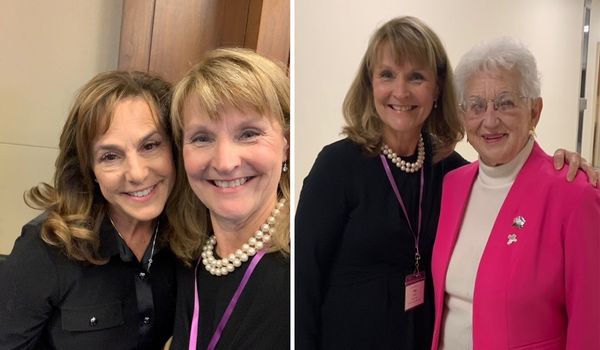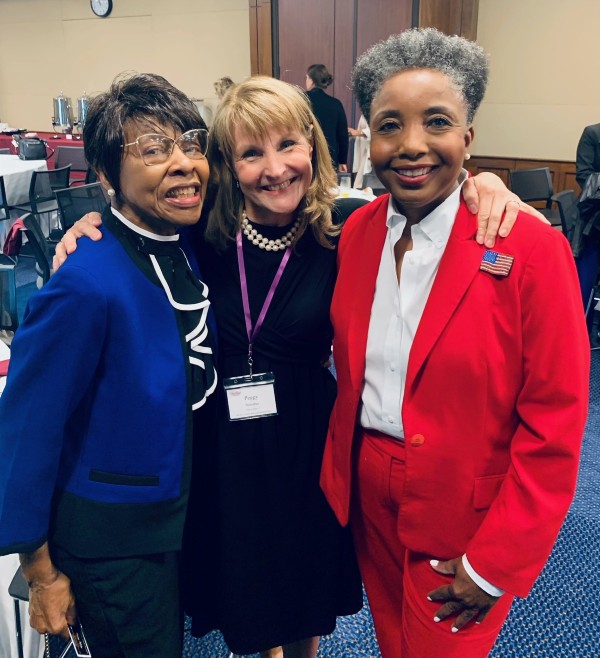 Left to right: Corintha Boone, founder of the U.S. Capitol Bible Reading Marathon, Peggy Nienaber, Dr. Carol Swain.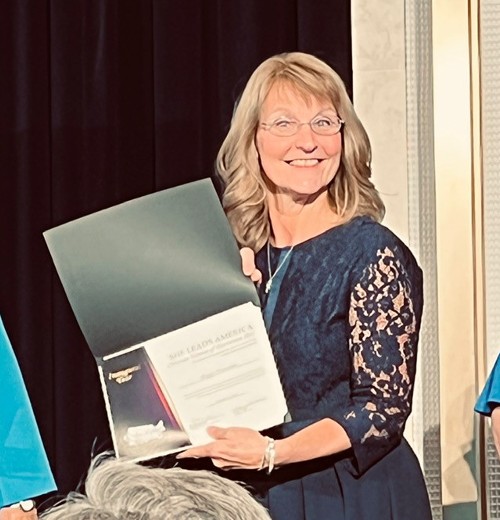 Peggy Nienaber recognized as a strong prayer warrior at the Congressional Women's Prayer Breakfast.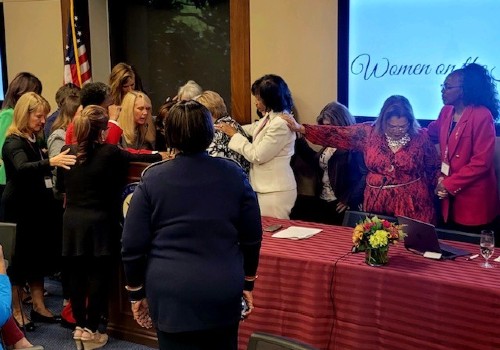 Praying over the congressional women in attendance.
At another special event, Peggy Nienaber, who received congressional honors last year, helped in presenting awards to 10 women leaders at the She Leads America 2nd Annual Gala at the Museum of the Bible.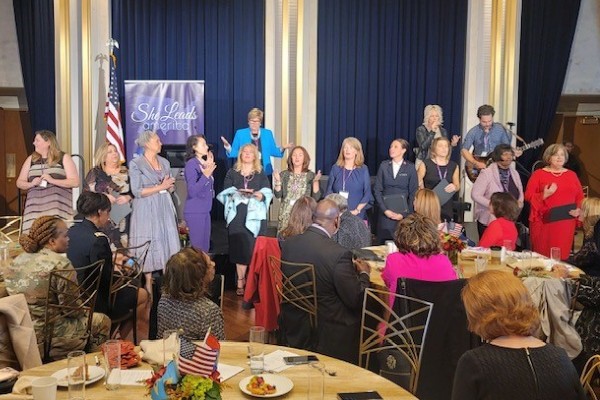 The She Leads America Commissioning Service and Prayer was held Saturday on Capitol Hill where we worshipped together and made declarations for LIFE from the womb to the tomb and beyond. Peggy oversaw this prayer event gathering women from across the U.S., including the new Mrs. Universe. Over 200 women participated.
Peggy also participated in a pro-life women's prayer lunch. We thanked God for the accomplishments of the pro-life movement but also looked to 2023 to continue to remember those lost to abortion. Pro-Life leaders from various states spoke, giving information much needed in this post-Roe time.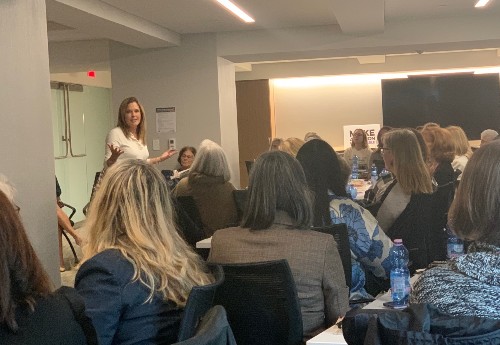 Mercedes Schlapp, former White House senior adviser, speaks at a pro-life lunch.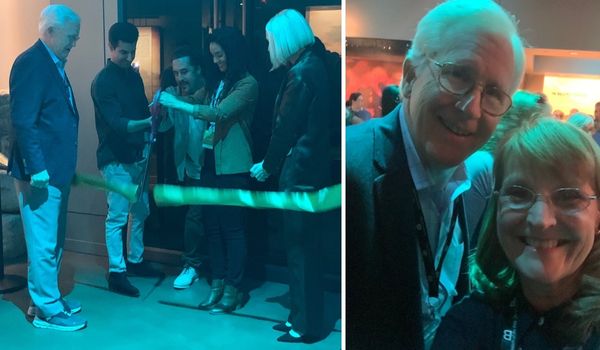 Faith & Liberty joined with various ministries that serve on Capitol Hill for a quarterly meeting where we discussed upcoming events and how to support each other.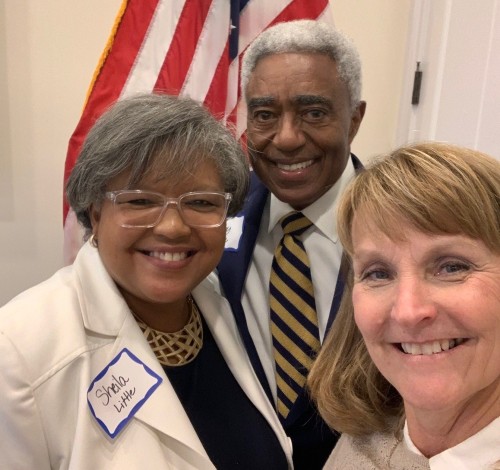 Peggy with Bobby & Shelia Little of Christian Embassy.
COMING SOON
The congressional interns will enjoy a game night and a movie night this week. These social events are important for these young people who are away from home and in need of Christian fellowship.

We look forward to gathering with hundreds of Christians at the Let Us Worship event with Sean Feucht on October 22 in Washington, D.C.

Our annual Live Nativity is months away, but it takes a lot of planning. We are working on this special event with some new exciting additions for Christmas 2022!
CLICK HERE TO SUBMIT YOUR PRAYER REQUEST.
To stay informed on issues in Washington and play your part as a citizen and a Christian look for the Faith & Liberty emails throughout the week. We are in this fight together to defend and preserve those values and principles we all cherish.


---

Legislation Alert: Congress is in session, and many lawmakers are pushing to pass the misnamed "Respect for Marriage Act" (HR 8404). The House already passed the bill, and the Senate is rushing to have a full vote anytime now. This bill will not only push same-sex marriage by law into every state, but it also overrides states' rights and brings the full weight of the federal attorney general's office to file suits. As it is written, if just one state allowed incestuous or child bride marriages, this bill would force all 49 states to recognize and respect that "marriage."
Urge the Senate to block HR 8404 by sending a fax and adding your name to our petition. Thanks!


---

PRAYER CONCERNS
Protests were expected with the start of the new Supreme Court term Monday, but thankfully, rainy weather (after Hurricane Ian hit further south) delayed any protests. Several cases of interest to conservatives are on the docket this term. Pray for protection for the Justices and for peace to prevail.
Pray for members of Congress and others on Capitol Hill who are standing against the militant nature of the radical, anti-God agenda. Some feel defeated and need our support in prayer as they stand for truth.
Pray for good health and stamina for the Faith & Liberty team and their families. Pray that we would be a light for Christ in the nation's capital with our reach extending across America.
Thank the Lord for the interns and staffers who have recently chosen to follow Christ and have been baptized. Pray they will be fully established in their faith and be able to lead others to Christ.
Our efforts to bring the Word of God to bear on the hearts and minds of our public policy makers are only possible because wonderful friends like you stand with us both in faithful prayer and in your generous financial support! Thank you!
Make a difference and partner with us.