We are spending a great deal of time this week on prayer-focused events, from the Congressional Women's Prayer Breakfast to The Rooftop Global Encounter. The world sees praying to God as a complete waste of time, but we have all experienced the effectiveness of prayer in our lives and ministry.
We not only pray individually for our ministry and for our supporters, but we also believe in the power of agreeing in prayer with other believers.
First, we remind ourselves to whom we are praying. We worship our awesome Creator, but it doesn't stop there. Our God didn't just set the world in motion and turn His attention elsewhere. He is fully involved in the nations of the world.
Psalm 33:10-11 reads: "The Lord brings the counsel of the nations to nothing; he frustrates the plans of the peoples. The counsel of the Lord stands forever, the plans of his heart to all generations."
God is a planner who is involved in our world. He is sitting on His throne observing all of creation (Ps. 33:13-15).
We put our trust in Him, not in our government and not in our military (Ps. 33:16-17). We rest in God's love and ask Him to act on our behalf.
As children of the King of kings and Lord of lords, we are indeed blessed. As a nation, we must fear the Lord and give Him glory.
From His vantage point on His heavenly throne, God is our ever-present help in these troubled times. Thank you for standing with us in agreement for our ministry and for our nation!
Your missionaries to Washington D.C.,
The Faith & Liberty team
You are an important part of our ministry. Our supporters form the backbone of Faith & Liberty because of your prayerful and financial support. Please pray about becoming one of our vitally important monthly contributors. Sign up for monthly giving on our website using the DONATE button below and select the option, "I would like to make this a recurring donation." You can also call and ask for Patty Bills at the Faith & Liberty office at 202-737-1776, and she will gladly assist you.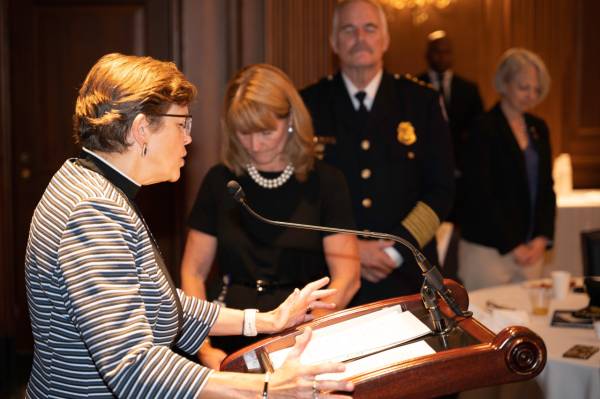 House Chaplain Margaret Kibben praying in the US Capitol


THE MONDAY RECAP
We hosted men and women from the Changed Movement, and Peggy Nienaber and Jonathan Alexandre spoke to the group. These men and women came to Christ out of the LGBTQ lifestyle and were praising the Lord for the positive impact they had last week while meeting with leaders and staff on Capitol Hill.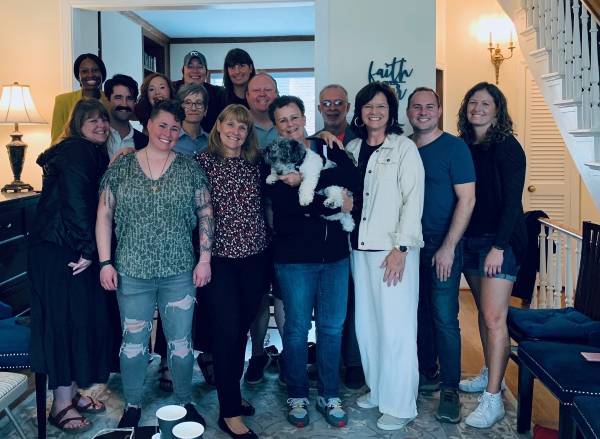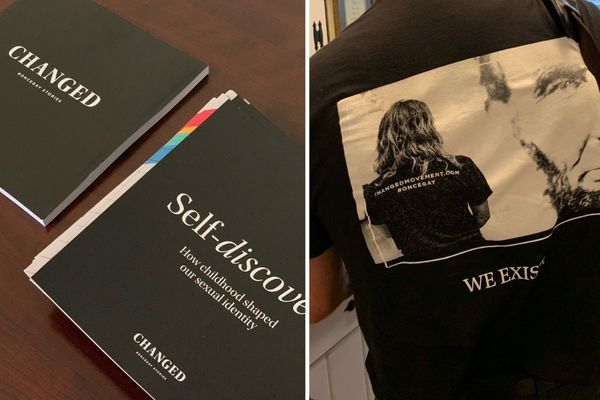 We are thankful for those who came to support Faith & Liberty in churchwide prayer for our Ministry Center. Guests gathered in all corners of the Ministry Center to pray for the safety of the building, the programs and work the Ministry Center is now hosting, for the outreach and for the future of our ministry.



COMING SOON
Peggy will also participate in the Chosen Experience event this week at the Museum of the Bible, which has partnered with The Chosen. The museum is hosting a special screening of the new film Unfiltered: Gen-Z Reacts to The Chosen. What does Gen-Z think about Jesus? Nine strangers, many of whom don't identify with any faith, were gathered and asked to binge-watch The Chosen and give their unfiltered feedback. This new film is the result.

The Rooftop is hosting the largest gathering of Christians there has ever been. Millions will come together online on Sunday, October 2, 2022, in more than 100 countries for one purpose: To unite behind the mission of Jesus. Our team will participate in leading the prayer from Washington, D.C.



Friday will be a busy day. Peggy Nienaber, who received congressional honors last year, will help in presenting the awards this year to 10 ladies at the She Leads America 2nd Annual Gala at the Museum of the Bible. This event will honor recipients who have made a profound impact for good in America as 2022 She Leads America Distinguished Christian Women.



The She Leads America Commissioning Service and Prayer will be held in front of the U.S. Supreme Court on Saturday. During this time, we will worship together and make declarations for LIFE from the womb to the tomb and beyond. Peggy Nienaber will be overseeing this prayer event in front of the Supreme Court gathering women from across the U.S.
Finally, although our annual Live Nativity may seem far away on the calendar, planning has begun for this special event with some new exciting additions for Christmas 2022!

CLICK HERE TO SUBMIT YOUR PRAYER REQUEST.
To stay informed on issues in Washington and play your part as a citizen and a Christian look for the Faith & Liberty emails throughout the week. We are in this fight together to defend and preserve those values and principles we all cherish.


---

Legislation Alert: Congress is in session, and many lawmakers are pushing to pass the misnamed "Respect for Marriage Act" (HR 8404). The House already passed the bill, and the Senate is rushing to have a full vote anytime now. This bill will not only push same-sex marriage by law into every state, but it also overrides states' rights and brings the full weight of the federal attorney general's office to file suits. As it is written, if just one state allowed incestuous or child bride marriages, this bill would force all 49 states to recognize and respect that "marriage."
Urge the Senate to block HR 8404 by sending a fax and adding your name to our petition. Thanks!


---

PRAYER CONCERNS
Pray that our light for Christ would shine brightly in the nation's capital.
Protests are expected as the Supreme Court opens Monday. Pray for protection for the Justices and for peace to prevail against evil.
Thank the Lord for the interns and staffers who have chosen to follow Christ and are being baptized. Pray they will be fully established in their faith and be able to lead others to Christ.
Pray for good health and stamina for the Faith & Liberty team.
Pray for the Let Us Worship event with Sean Feucht to be held October 22 in Washington, D.C.
Our efforts to bring the Word of God to bear on the hearts and minds of our public policy makers are only possible because wonderful friends like you stand with us both in faithful prayer and in your generous financial support! Thank you!
Make a difference and partner with us.