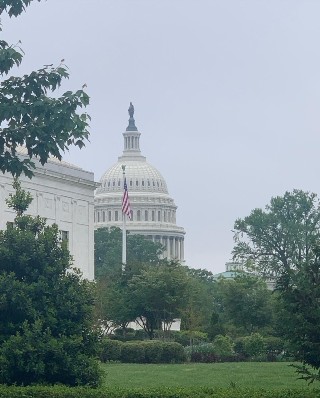 September is upon us, and it brings a veritable flood of opportunities here in our nation's capital. Our schedule is replete with planning sessions, so we ask for your prayers for wisdom and guidance as we collaborate with other organizations for upcoming special events.
September also brings a busy schedule politically speaking as Congress comes back in session. Some of the bills or resolutions that have captured the attention of our lawmakers recently are the "Respect for Marriage Act" and the "Transgender Bill of Rights." When you go online and read what these bills are all about or learn about them from Liberty Counsel (which our chairman founded and leads) or other freedom-loving groups, you realize that they do not align with a scriptural view of marriage and family.
It's important for believers to take a strong stand against these and similar bills that, if passed, would lead our nation down the wrong path. This would also hold true with any bill seeking to codify abortion at the federal level. We surely want to see the blessing of God, not His judgment, on our "land of the free and home of the brave."
At Faith & Liberty, we aim to make a difference through prayer and action. Won't you stand with us both prayerfully and financially in support of our strategic ministry on Capitol Hill? We thank you for coming alongside us in any way you can—for freedom in America and, ultimately, for the glory of God.
Shining His light on Capitol Hill,
The Faith & Liberty team
You are an important part of our ministry. Our supporters form the backbone of Faith & Liberty because of your prayerful and financial support. Please pray about becoming one of our vitally important monthly contributors. Sign up for monthly giving on our website using the DONATE button below and select the option, "I would like to make this a recurring donation." You can also call and ask for Patty Bills at the Faith & Liberty office at 202-737-1776, and she will gladly assist you.



COMING SOON
The new congressional interns are arriving to begin their work in Washington. We always look forward to getting to know these young people and engaging them in various activities and Bible studies.

Bible studies are resuming at our Ministry Center, and we look forward to seeing how God will move in the lives of congressional interns, staffers and others who work on Capitol Hill.

We continue our preparations for the U.S. Capitol Police Officer Recognition Breakfast honoring those officers who keep us safe on Capitol Hill. We have been a part of this event for more than a quarter-century! Please pray for this important event coming up next month.

Faith & Liberty will be co-sponsoring the "Women on the Hill Prayer Breakfast." This will be a special time of prayer, encouragement and fellowship with women members of the U.S. House and Senate.

Proponents of the Changed Movement—men and women who have left behind the LGBTQ lifestyle—will visit Capitol Hill later in September. We are hosting this group at our Ministry Center, and Jonathan Alexandre and Peggy Nienaber will both be speaking to the group.

Fellowship Nights with various themes are in the works for this Fall, from mystery dinners at a local church to women's dinners and hiking!

The Women's and Men's Prayer Breakfasts will resume in September, bringing staffers and others who work on Capitol Hill together for prayer and fellowship.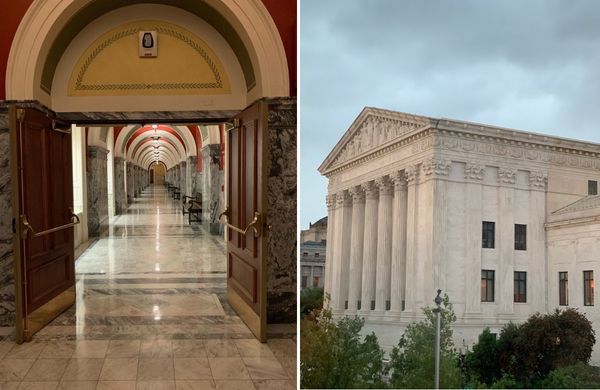 CLICK HERE TO SUBMIT YOUR PRAYER REQUEST.

To stay informed on issues in Washington and play your part as a citizen and a Christian look for the Faith & Liberty emails throughout the week. We are in this fight together to defend and preserve those values and principles we all cherish.


---

Legislation Alert: The U.S. House has passed a bill that attacks marriage (HR 8404), and the U.S. Senate is rushing to have a full vote soon. This bill will not only push same-sex marriage by law into every state, but it also overrides states' rights and brings the full weight of the federal attorney general's office to file suits. As it is written, if just one state allowed incestuous marriage, this bill would force all 49 states to recognize and respect that "marriage."
Urge the Senate to block HR 8404 by sending a fax and adding your name to our petition. Thanks!


---

PRAYER CONCERNS
Please reflect on these scriptures and pray for our Faith & Liberty team. Thank you!
That God would fill us with wisdom and understanding and empower us to bear spiritual fruit (Colossians 1:9-12).
For protection from the evil one and from those who do his bidding, and that we might be refreshed in fellowship (Romans 15: 31-32, 2 Thessalonians 3:2-3).
That we would speak the truth in love and stand firm in God's truth (Ephesians 4:15).
For courage and clarity in our witness for Christ (Ephesians 6:19-20).
That God would open up opportunities to share Christ with key leaders (Colossians 4:3-4).
For good physical health for us and our family members and that our youth would be renewed (Psalm 103:2-5).
Our efforts to bring the Word of God to bear on the hearts and minds of our public policy makers are only possible because wonderful friends like you stand with us both in faithful prayer and in your generous financial support! Thank you!
Make a difference and partner with us.