On Saturday, October 2, hundreds of pro-life individuals gathered in front of the U.S. Supreme Court for Praying for Life. It was an event to usher in the 2021-2022 SCOTUS term that could prove to be a monumental year for life, as the Court is set to hear Dobbs v. Jackson Women's Health Organization.
We prayed for our Supreme Court Justices as well as the police officers and S.W.A.T team members who provided a protective barrier between our group and the other protest that showed up that day—the pro-abortion Women's March.
Though the Women's March protesters screamed loudly and offered up some less than kind gestures, the worship music and prayers continued and outlasted the angry throng. Eventually they dispersed. It was a powerful picture of the spiritual battle that is raging around us. And we know who is victorious!
Continue to pray with us as the Court will hear oral argument for Dobbs on December 1.
Blessings in Christ,
The Faith & Liberty team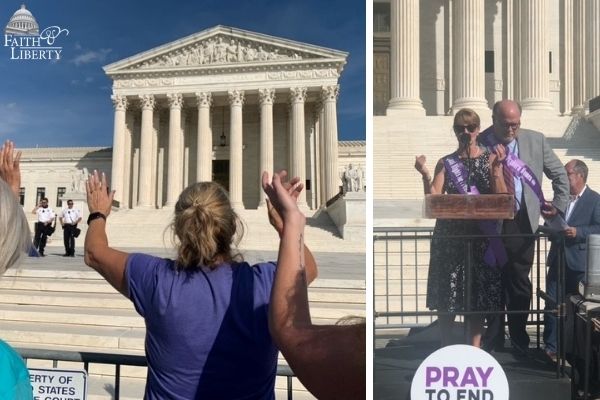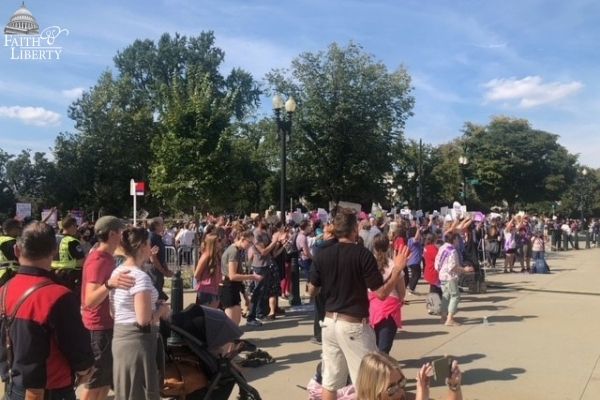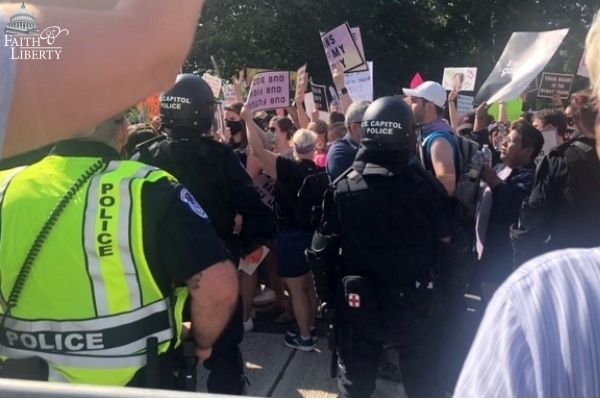 THE MONDAY RECAP

Faith & Liberty Vice President Peggy Nienaber was nominated by the Advisory Board of She Leads America as a "Christian Woman of Distinction" and was awarded a Certificate of Congressional Recognition for her tireless work and leadership on Capitol Hill. Peggy was recognized by Elizabeth Dole, the founder and executive director of She Leads America and Congresswoman Lisa McClain at a Gala in Washington D.C. on October 1. Peggy was one of 10 Christian women to be recognized for exemplary work. Peggy has built strong alliances on Capitol Hill and has set an example of leadership. This honor was also recognized by the U.S. House of Representatives and an acknowledgment will be placed in the Congressional Records.
Read the press release HERE.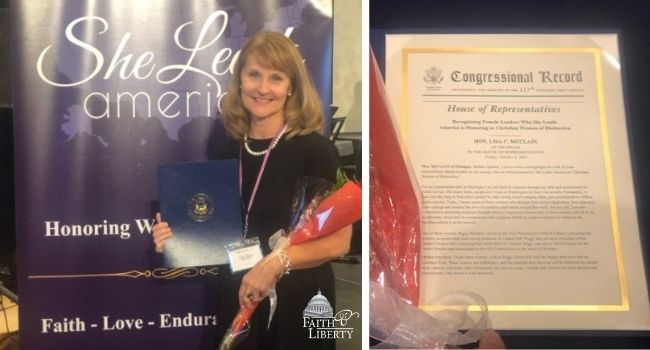 COMING SOON

The U.S. Supreme Court is set to hear oral argument for Dobbs v. Jackson Women's Health on December 1, 2021. We will be holding another prayer gathering on that day in front of the Supreme Court. Join us!

Preparations continue for the Live Nativity. There are several new exciting additions to this year's event so be sure to mark your calendar!

Weekly Bible studies continue at the Ministry Center.

Our prophetic missionary work in Washington, D.C., continues during this critical time in history. CLICK HERE TO SUBMIT YOUR PRAYER REQUEST.

We must all stay tuned in to what's happening in our nation's capital. To stay informed on issues in Washington (e.g., "Freedom to Vote Act," "Equality Act") and play your part as a citizen and a Christian, look for Faith & Liberty's ACTION emails throughout the week.
PRAYER
Please pray for LIFE in America. Pray for lives to be saved, for the women that are facing these decisions and the crisis pregnancy centers that minister to them. Pray for the Supreme Court Justices and the pivotal cases they will decide. And pray for these women who were marching in support of killing unborn babies. Pray for their eyes to open and their hearts to be convicted of the truth.
We also ask that you continue to pray for the weekly Bible studies at the Ministry Center, and pray for the congressional staffers as many are returning to their offices after the COVID shutdown.
Our efforts to bring the Word of God to bear on the hearts and minds of our public policy makers are only possible because wonderful friends like you stand with us both in prayer and in your generous financial support! Thank you!
Make a difference and partner with us.