Keen observers in Washington, D.C., will see the bald eagle in many places, including the World War II Memorial, the Lincoln Memorial, the Federal Reserve, and in other locales.
The bald eagle is a national symbol that represents America's strength and dignity. This striking bird is on the Great Seal of the United States and graces some of our coins and paper currency. The bald eagle, which lives only in North America, was officially adopted as the emblem of the United States in 1787.
In Scripture, the eagle is also significant, even prophetic. It symbolizes strength, protection, vision, and holiness. The eagle was even seen as warning of judgment to come (see Rev. 8:13).
Consider this powerful imagery:
Deuteronomy 32:11 speaks of "an eagle that stirs up its nest and hovers over its young, that spreads its wings to catch them and carries them aloft."

Proverbs 30:19 looks at four things that are amazing and difficult to comprehend, including "the way of an eagle in the sky."

Isaiah 40:31 offers this promise: "But they who wait for the LORD shall renew their strength; they shall mount up with wings like eagles; they shall run and not be weary; they shall walk and not faint."
As we look to this powerful symbol of our nation and faith, join with us as we humbly ask the Lord to renew our strength and see all things from His perspective.
Your missionaries in Washington, D.C.,
The Faith & Liberty team
You form the backbone of Faith & Liberty because of your prayerful financial support. As we begin to plan and prepare for the Live Nativity in December, please keep our team and the preparations in your prayers. If you would kindly consider an extra gift toward this event, you can do so on our Faith & Liberty website, or call Patty Bills at the Faith & Liberty office at 202-737-1776, and she will gladly assist you. Thank you!

THE MONDAY RECAP
Peggy Nienaber attended an informational and prayer gathering with the family members of Israeli hostages. The Free the Hostages Event of Solidarity was held at the World Stage Theatre at the Musuem of the Bible. She learned firsthand of the horrific attacks that took place in Israel.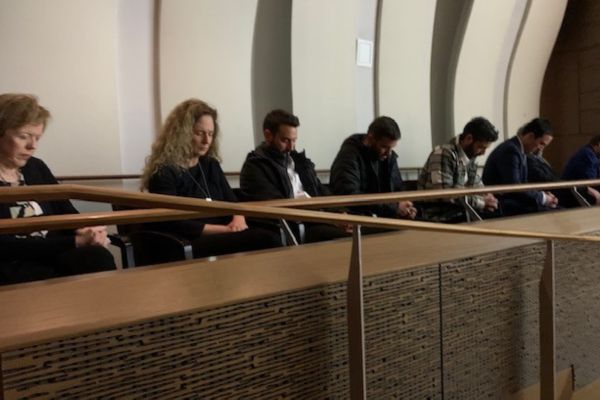 Our Monday Club Bible Study continues to increase in numbers. Each week our topics help the congressional staffers deal with life on Capitol Hill.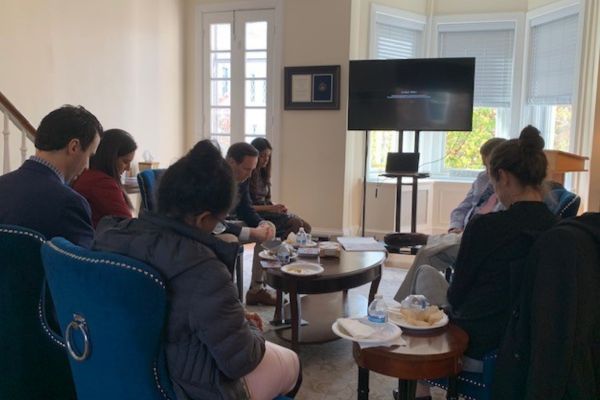 Peggy appreciated the opportunity to participate in Tuesday's Senate Bible study with Senate Chaplain Barry Black.
The Bible tells us to pray for those in authority, so we have been doing Supreme Court Prayer Walks. Our prayers are for our leaders and the Justices during these challenging times.
Critical votes are taking place in our nation's capital. The Faith & Liberty team is there for late-night votes and prayer times with members of Congress. We pray whether inside or outside, and we make sure these votes are covered by prayer.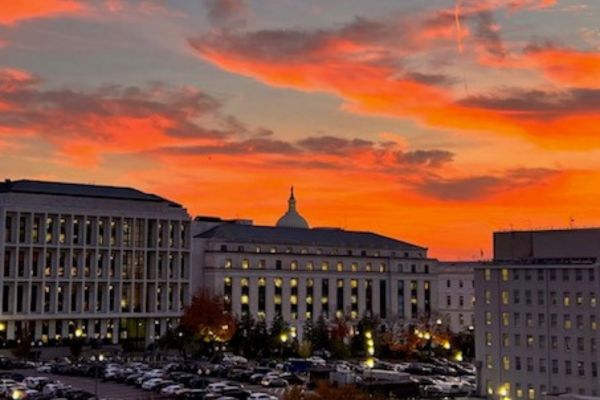 We are preparing now for our LIVE NATIVITY program. The presentation that has the most impact of the Gospel to be proclaimed on Capitol Hill is the LIVE NATIVITY! We have learned that the Good News must be communicated visually and simply to capture the attention of all of our nation's leaders. We look forward to this event held each year in front of the Supreme Court. This year our nativity will be December 7 at 11 a.m. We've been busy preparing some videos to present to churches to recruit volunteers and making phone calls and sending information as needed so anyone who wants to be a part of this wonderful event can do so!
COMING SOON
The Aglow International team is in the capital this week and will stop by our Ministry Center today for an update on what Faith & Liberty is doing on Capitol Hill.
Faith & Liberty will participate in the March for Israel, which is expected to draw thousands to the National Mall on Tuesday, November 14. The event will bring together communities from across the country to show solidarity with the Israeli people while demanding the immediate release of the hostages and condemning the rise of antisemitism.
Last year's Supreme Court decision to overturn Roe v. Wade marked a new beginning for the pro-life movement. The issue of abortion is now in the hands of our state and federal elected representatives. The March for Life Theme Reveal Event on Tuesday, November 14, will feature special speakers and will introduce the 2024 theme to exemplify what it truly means to build a culture of life.
Plans are also coming together for the January 2024 events, including the LIFE Reception, March for Life Rally, March for Life, and Prayers and Remembrance: Victims of Roe.
The Rock Wednesday early-morning prayer time is becoming very popular. What a wonderful way to start the workday in the U.S. Capitol! Prayer & blessings!
The Senate Chaplain's office will host a Thanksgiving Senate Bible study and luncheon on Tuesday. The staff will enjoy this time to give thanks together with Thanksgiving food to fill our stomachs and the Word of God to fill our hearts and minds.
PRAYER
Pray that on busy weeks, like this one, our strength would be renewed as the eagle's.
Pray that we would have strong spiritual impact as God directs us to engage with key leaders.
Pray for the interns and staffers who recently became Christians to be discipled in the faith.
Pray that our Bible studies and prayer times would bear much spiritual fruit.
Pray for direction for our many upcoming events, including the Live Nativity on Capitol Hill!
Pray that each member of the Faith & Liberty team will continue to have a heart to serve others.
Praise the Lord for all that He is accomplishing through our ministry with your support!
CLICK HERE TO SUBMIT YOUR PRAYER REQUEST
Our efforts to bring the Word of God to bear on the hearts and minds of our public policy makers are only possible because wonderful friends like you stand with us both in faithful prayer and in your generous financial support! Thank you!
Make a difference and partner with us.