After a decade of covering up Ethiopia's cholera crisis, the country's public health minister was forced to step down and admit he publicly lied about his government's role in killing more than 700 peaceful harvest festival attendees.
Three months later, Tedros Adhanom Ghebreyesus arose from this shame and became director-general of the United Nations' World Health Organization (WHO), where he repeatedly lied about the origins and impact of the COVID crisis.
Now Joe Biden is poised to put this serial liar, who isn't even a medical doctor, in charge of U.S. health, climate, and even border policies.
Congress must act NOW to stop Biden's plans to put the corrupt U.N.'s WHO in charge of YOUR family's health care and much more. Fax Congress now, then read on for more insight into Tedros' awful resumé. — Your Faith & Liberty team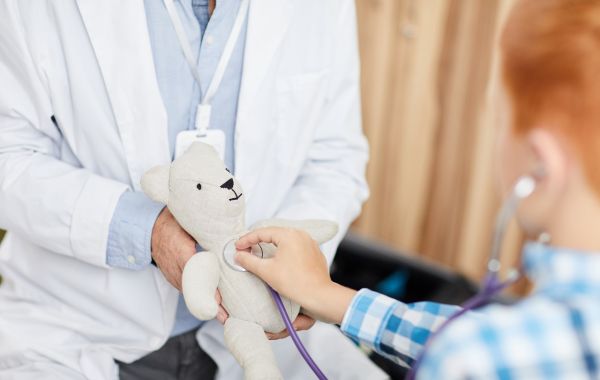 As a subsidiary of the United Nations (U.N.), the World Health Organization (WHO) was intended to be an advisory body, simply offering advice on matters of international health.
But thanks to a collective mindset seeking to diminish "colonialism," in 2017 the WHO appointed a disgraced public health minister, who isn't even a medical doctor, to become its director-general.
And now Joe Biden wants to put this man in charge of YOUR health by signing America on to the WHO Pandemic Treaty and International Health Regulations (IHR), which change the WHO from an advisory body to an enforcement body whose proclamations will be backed by international law.
Tedros Adhanom Ghebreyesus rose to power in Ethiopia through his membership in the Tigray People's Liberation Front (TPLF), a U.S. State Department-designated terror group.
Beginning in 1991, the TPLF ruled Ethiopia for the better part of three decades with a bloody and iron fist.
Despite not being a medical doctor, Tedros led the Tigray Regional Health Bureau before becoming Ethiopia's health minister from 2005 to 2012. Tedros was near the top of the list to become the African nation's prime minister in 2012. Instead, he was appointed foreign minister and given a seat on TPLF's nine-member executive committee that governs Ethiopia.
As public health minister, Tedros claimed to have eradicated cholera, a highly treatable bacterial infection of the intestines, in Ethiopia. However, it was later found that the disease had not been wiped out at all. In fact, cholera wreaked havoc on Ethiopia's population, killing thousands during outbreaks in 2006, 2008, and 2011, among others, all of which occurred during Tedros' oversight.
Tedros had not eradicated cholera at all. Instead, he ordered Ethiopian health officials to LIE, renaming the disease by classifying cholera deaths simply as death from "watery diarrhea," even when tests proved that the "watery diarrhea" was caused by cholera.
Even today Ethiopia continues to be riddled with cholera, despite the fact the disease is easily treatable with simple rehydration and antibiotics.
In 2016, Tedros' party caused controversy when armed soldiers stormed the stage of an opposing tribe's harvest festival, firing tear gas and machine guns at festival goers. At least 700 were killed in the incident. However, Foreign Minister Tedros declared that there was "no shooting" and that his party's "police" were "unarmed," despite videos and pictures of the event that showed civilian bodies riddled with bullets.
The Ethiopian people revolted shortly after the festival massacre, forcing Tedros and his cronies from power. But just three months later, the man with no medical training, who lied about cholera, and lied about attempted genocide somehow managed to become the director-general of the United Nations' World Health Organization.
Some, including French diplomats involved in the process, claim Tedros' appointment to the WHO was a direct result of Bill Gates and his foundation lobbying on behalf of the Ethiopian tyrant. That allegation may have merit, considering the vast amounts of "investment" money Gates gave Tedros to implement Gates' health initiatives in Ethiopia.
But Tedros' compulsion for lies and disease cover-ups did not end when he left Africa for Geneva, Switzerland. As director-general of the WHO, Tedros regularly spread propaganda from the Chinese Communist Party (CCP), including a 2020 social media post in which Tedros' WHO claimed that there was "no clear evidence of human-to-human transmission of novel Coronavirus 19."
Just a few months later, millions worldwide would be dead, thanks to Tedros' lies and refusal to endorse effective treatments like ivermectin against COVID. Tedros Adhanom Ghebreyesus is a serial liar and a member of an internationally recognized terror organization.
If Joe Biden signs the WHO's upcoming Pandemic Treaty and revised International Health Regulations, the man whose lies killed thousands of Ethiopians and millions of people around the world will be fully in charge of AMERICA's health system!
That's because the new WHO Pandemic Treaty and IHR change the WHO from an advisory body to an enforcement body, backed by international law. If signed, the WHO will be able to force America to comply with Gen. Tedros' dictates by suing the U.S. into compliance in international courts.
The Treaty and IHR are far reaching, demanding countries comply with the U.N. affiliate's rulings on everything from mandatory vaccination and medication policies, border policies, and even dictating Bill Gates' "climate change" initiatives like replacing meat with insect protein.
It is insanity, and it must be stopped. Please take a moment right now to fax Congress and demand they STOP Joe Biden's WHO takeover plans!
We know you value faith, family, and freedom as much as we do. Please consider a recurring monthly donation or a one-time donation to fund the critically important mission of Faith & Liberty in Washington, D.C. Every donation made today will be DOUBLED IN IMPACT by a generous Challenge Grant!
We are grateful for your prayers and financial support as we uphold godly values in our nation's capital.
Peggy Nienaber, Vice President
Mat Staver, Chairman
Rev. Gregory Cox, Senior Pastor
P.S. Don't forget! Fax Congress and demand they STOP the WHO Treaty and IHR Amendments!
---
SOURCES:
"Fuel on the Fire." Human Rights Watch, September 19, 2017. https://www.hrw.org/report/2017/09/20/fuel-fire/security-force-response-2016-irreecha-cultural-festival
Huet, Natalie, and Carmen Paun. "Meet the World's Most Powerful Doctor: Bill Gates." POLITICO, May 4, 2017. https://www.politico.eu/article/bill-gates-who-most-powerful-doctor/.
Martel, Frances. "Tedros Accused of 'Covering up Epidemics' before Becoming W.H.O. Chief." Breitbart. April 17, 2020. https://www.breitbart.com/national-security/2020/04/17/tedros-accused-of-covering-up-epidemics-before-becoming-w-h-o-chief/.
"Three Candidates from Three Continents Vie to Be Next Global Health Chief." POLITICO, January 25, 2017. https://www.politico.eu/article/three-candidates-from-three-continents-vie-to-be-next-global-health-chief/.
‌"WHO Chief Tedros Walking Tightrope on Ethiopia's Tigray." The New Arab, November 9, 2022. https://www.newarab.com/news/who-chief-tedros-walking-tightrope-ethiopias-tigray.