Today, as you know, is a powerful day of remembrance in Washington, D.C., and across America as we mark the tragic events of 9/11. It's hard to believe, in some ways, that it was two decades ago that terrorists took over planes in America and the result was thousands of lives lost.
U.S. flags were flying from cars and everywhere, it seemed. There was a different attitude in the country. Some say it was a time when politics didn't matter. There was no division between Republicans and Democrats. We stood as one — united. No one was going to take America down!
Our churches also were filled with people seeking answers to their anxiety. Would America be struck again? Was this the start of war? Will our country ever be the same again?
Now, a mere 22 years later, that stand-as-one unity has largely dissipated. From the halls of Congress to public school board meetings, we see disunity and division. Our culture has succumbed, in many ways, to rapid decline.
But all is not lost! Take heart! The cross found two decades ago at 9/11's Ground Zero points to the cross of Jesus Christ of 2,000 years ago. The cross of Jesus Christ and the death to self and sin that we experience there is where true, enduring unity is found. Ultimately, this is what we need in America. We love our country, but the unity we seek above all comes as we kneel at the cross.
Pray with us today on this special day of remembrance that we would follow our national motto, "In God We Trust." Thank you for standing with us for faith and for liberty!
Your missionaries in Washington, D.C.,
The Faith & Liberty team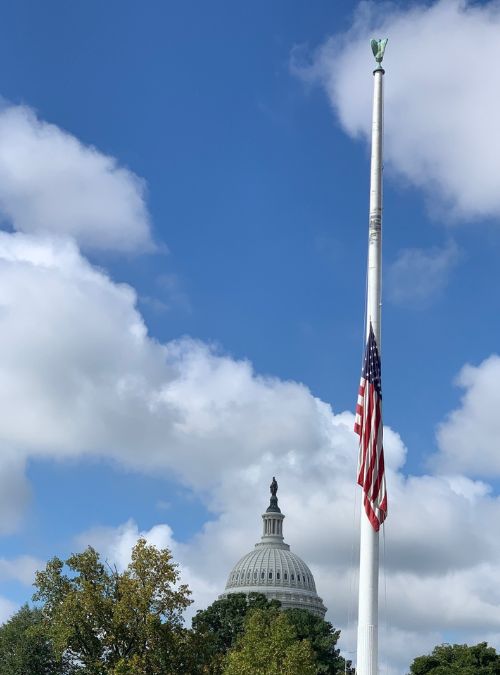 You are an important part of our ministry. Our supporters form the backbone of Faith & Liberty because of your prayerful and financial support. Please pray about becoming one of our vitally important monthly contributors. Sign up for monthly giving on our website using the DONATE button below and select the option, "I would like to make this a recurring donation." You can also call and ask for Patty Bills at the Faith & Liberty office at 202-737-1776, and she will gladly assist you.