It is hard to believe we are living at a time when:
Parents are being belittled by school boards for wanting to have a say about what's being taught in the classroom.

People — even the very young — are being led astray and told they can change their gender at will.

Physicians hardly blink an eye when taking an infant's life.

Politicians are considering giving away our sovereignty to globalists in the name of "public health."
We could go on …
From our vantage point in the nation's capital, we are well-acquainted with the battle for faith, the family, and our freedom.
It's easy to pick a political side and discount the other one, especially when ideologically they are often as far apart as the East is from the West. Ultimately, we must look to God's Word for our perspective on earthly life:
"For we do not wrestle against flesh and blood, but against the rulers, against the authorities, against the cosmic powers over this present darkness, against the spiritual forces of evil in the heavenly places" (Eph. 6:12).
"If God is for us, who can be against us?" (Rom. 8:31b)
If the Lord is on our side, our victory is secure. But for now, we worship, we fast, we intercede, because while the war has been won, the battle rages on and reaches down to earth, where we minister day by day.
We leave you with one final verse for your encouragement:
"With him is an arm of flesh; but with us is the LORD our God, to help us and to fight our battles" (2 Chron. 32:8).
We need you! Thank you for joining us in the fight for faith, freedom and life!
Your missionaries to Washington, D.C.,
The Faith & Liberty team
You are an important part of our ministry. Our supporters form the backbone of Faith & Liberty because of your prayerful and financial support. Please pray about becoming one of our vitally important monthly contributors. Sign up for monthly giving on our website using the DONATE button below and select the option, "I would like to make this a recurring donation." You can also call and ask for Patty Bills at the Faith & Liberty office at 202-737-1776, and she will gladly assist you.




THE MONDAY RECAP
M

ore than 500 attended the evening's gala in celebration of Israel's 75th Diamond Anniversary. Peggy Nienaber participated in the gala as well as the Jerusalem Day on Capitol Hill — Congressional Reception with members of Congress and the Israeli Knesset.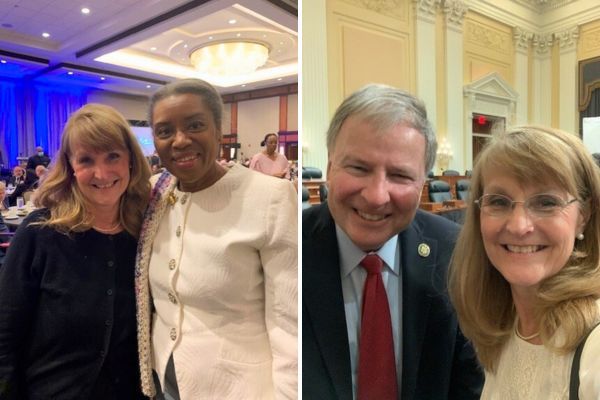 (L to R) Peggy with Winsome Sears, Lieutenant Governor of Virginia, Congressman Doug Lamborn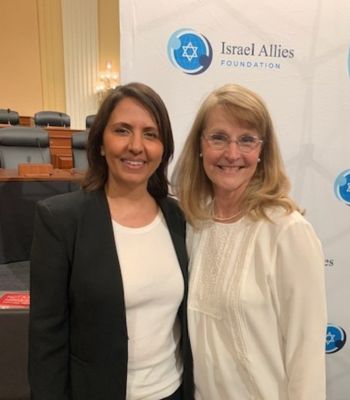 Peggy with Gila Gamliel, Israel's Minister of Intelligence
Peggy also participated with about 50 female congressional staffers in an event dubbed "Flower-Power Hour," a time of fellowship, fun, and making floral arrangements.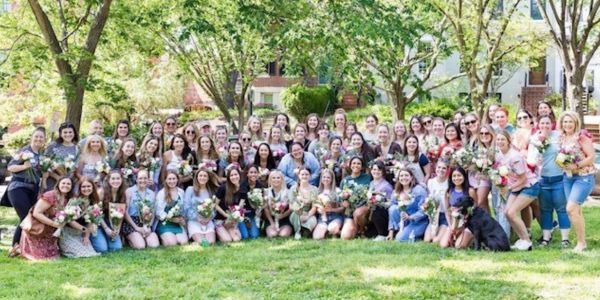 As new interns made their way to Capitol Hill over the weekend, we offered a warm welcome and invited them to our activities, including our weekly Intern Night with games, fellowship, and Bible studies. More than 20 new interns have participated to date.

We also joined with many congressional staffers for a picnic and prayer to send off a staffer who recently became a Christian and is headed back to his home country.




COMING SOON
Around 2,500 are expected for House Chaplain Margaret Kibben's Ministry Fair in the historic Cannon House Office Building on Wednesday. Faith & Liberty will have an exhibit at the fair to welcome and invite interns to our Bible studies and fellowship activities.

Along with the two congressional Bible studies we're already leading, we have more expected to start soon on Capitol Hill, PTL!

Dobbs pro-life anniversary activities are in the works for next month:

— On Friday, June 23, Faith & Liberty is sponsoring and co-hosting the Fresh Start 4 Life congressional breakfast for key pro-life leaders and women on the Hill, and we will be organizing prayer walks on Capitol Hill as well.

— On Friday evening, our Team will host a private Life Reception for pro-life leaders at our Ministry Center for a time of reflection and fellowship.

— On Saturday, June 24, we will co-host the Make Abortion Unthinkable rally.

— We will also co-sponsor a praise and worship time Saturday afternoon at Union Plaza on Capitol Hill. Please call our office (202-737-1776) if you would like to attend.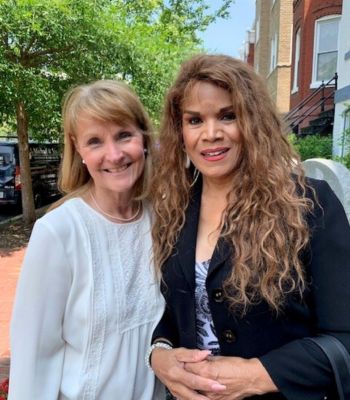 Peggy with Day Gardner, National Black Pro-Life Union

To stay informed on issues in Washington and play your part as a citizen and a Christian look for the Faith & Liberty emails throughout the week. We are in this fight together to defend and preserve those values and principles we all cherish.

PRAYER
Pray for the ministry fair on Wednesday and the outreach to congressional staff and others who work in the congressional buildings.
Let's also remember in prayer our ongoing Bible studies in the Ministry Center and the Bible studies we lead for members of Congress. Pray for those who take the time to participate, that these times would deepen their faith walk.
Pray for the Faith & Liberty team to be a light for Christ in D.C. and for ordinary conversations to become extraordinary for the gospel's sake.
Pray for the events that many Christian leaders will be hosting on Capitol Hill in the next several weeks.
CLICK HERE TO SUBMIT YOUR PRAYER REQUEST
Our efforts to bring the Word of God to bear on the hearts and minds of our public policy makers are only possible because wonderful friends like you stand with us both in faithful prayer and in your generous financial support! Thank you!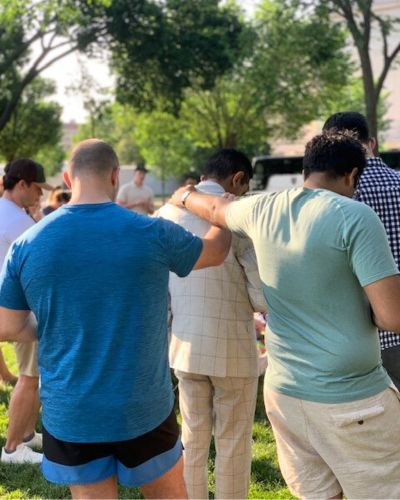 Make a difference and partner with us.