When God seems far away …
When life isn't going the way we want …
When we have challenges in our personal or professional lives …
When the "side" we voted for at the ballot box isn't advancing …
When we don't understand why …
It's good to remind ourselves of the end of the Book. We know how things turn out because we are children of the King of kings. When we start to feel out of sorts, we need only look to the throne room of our heavenly King.
Consider Revelation 4. In preaching through Revelation, one pastor recently said, God was "flexing." Although that may not be the best metaphor, it gets the point across. God is demonstrating His power and authority through "flashes of lightning and rumblings and peals of thunder." And God wasn't just being melodramatic!
Our God is completely "other" than us. He transcends all that is happening on Earth. He isn't in a state of bother or worry. He's not wringing His hands. He is so set apart from the earthly fray that when the word "holy" is used before the throne, it was on repeat. Without stopping 24/7, the four living creatures offered this refrain: "Holy, holy, holy, is the Lord God Almighty, who was and is and is to come!"
Our God is in charge. He is sovereign.
In the week ahead here in our nation's capital, we celebrate with the modern state of Israel its 75th year of existence. Surely it was God who brought the diaspora back to their homeland and saw the establishment of the Jewish state in the face of relentless opposition. He "changes times and seasons; he removes kings and sets up kings" (Dan. 2:21a).
As we ponder these things, let us join with all in His throne room to exalt the King of glory and honor Him above all!
Your missionaries to Washington, D.C.,
The Faith & Liberty team
You are an important part of our ministry. Our supporters form the backbone of Faith & Liberty because of your prayerful and financial support. Please pray about becoming one of our vitally important monthly contributors. Sign up for monthly giving on our website using the DONATE button below and select the option, "I would like to make this a recurring donation." You can also call and ask for Patty Bills at the Faith & Liberty office at 202-737-1776, and she will gladly assist you.




THE MONDAY RECAP
Peggy Nienaber and Jonathan Alexandre had the opportunity to meet and talk with Dr. Ben Carson. He shared his thoughts about COVID, school lockdowns, and the effects on children across the country.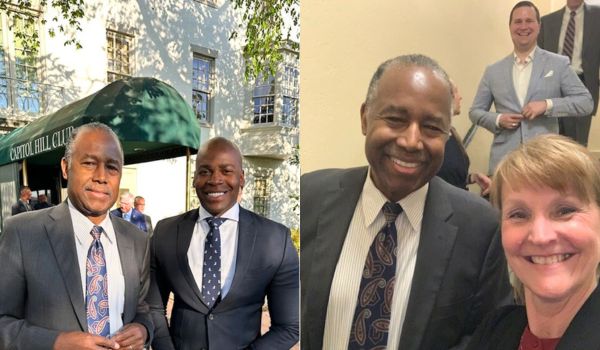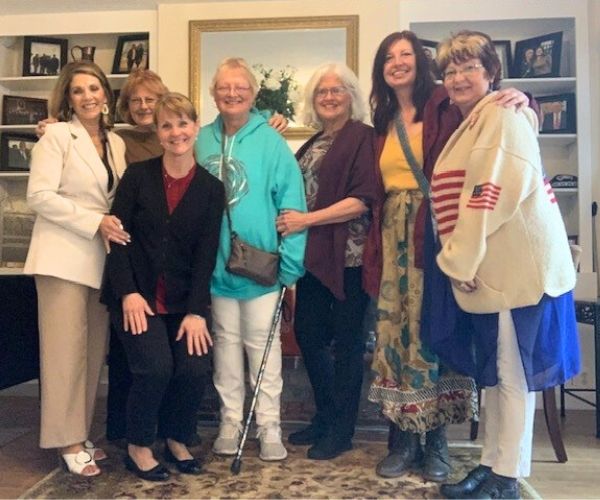 Peggy also met with staff on Capitol Hill to plan for the next congressional Bible studies.

Peggy participated in the congressional prayer with staffers from Capitol Hill, praying for the capital, for the country, and for life.

COMING SOON
Peggy Nienaber will participate in Israel's 75th Diamond Anniversary. She will be attending the congressional reception with members of Congress and the Israeli Knesset and will go to the evening's gala.

New interns are on their way to Capitol Hill on Saturday, and we will be making them feel welcome and inviting them to our activities, including Intern Night every Thursday evening with games, fellowship and new Bible studies.

A mission group will be visiting this week to pray with the Faith & Liberty team. We appreciate their prayerful support!

Peggy will be participating in "Flower-Power Hour," a time of fellowship, fun, and making flower arrangements with staffers in Washington.

Dobbs pro-life anniversary activities are in the works:

On Friday, June 23, Faith & Liberty is sponsoring and co-hosting the Fresh Start 4 Life congressional breakfast for key pro-life leaders and women on the Hill, and we will be organizing prayer walks on Capitol Hill as well. That evening, we will host a private Life Reception for pro-life leaders at our Ministry Center.

On Saturday, June 24, we will co-host the Make Abortion Unthinkable rally. We will also co-sponsor a praise and worship time on Saturday afternoon, June 24, at Union Plaza on Capitol Hill. Please call our office (202-737-1776) if you would like to attend.
PRAYER

Lord, we pray:
For the hundreds, even thousands, of young adults we were able to reach at the Ministry Fair hosted by House Chaplain Margaret Kibben. Pray that they would connect with us and attend Bible studies and Fellowship Nights.
That our Ministry Center would be a haven for the interns and staffers amid the burdens and battles of life and work on Capitol Hill.
We have some congressional members meetings on our schedule, so we value your prayers for those important times of connection.
That the congresswomen who participate in our Bible studies would find this time valuable in their walk with the Lord. Pray that even more would come and prioritize their spiritual life.
That we would effectively stand in Washington for life, liberty, and the family as God designed it.
CLICK HERE TO SUBMIT YOUR PRAYER REQUEST
Our efforts to bring the Word of God to bear on the hearts and minds of our public policy makers are only possible because wonderful friends like you stand with us both in faithful prayer and in your generous financial support! Thank you!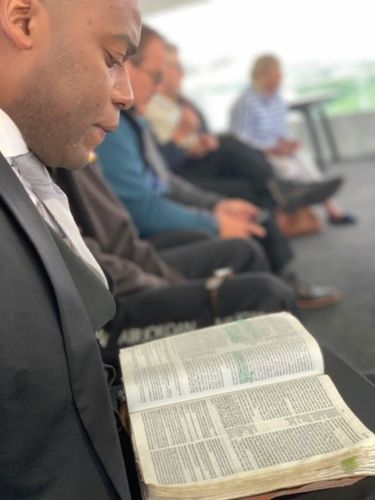 Make a difference and partner with us.