There's a powerful scripture in 2 Corinthians 5:20 that speaks to our vital ministry in the nation's capital. Under the inspiration of the Holy Spirit, the apostle Paul wrote: "Now then, we are ambassadors for Christ, as though God were pleading through us: we implore you on Christ's behalf, be reconciled to God."
What does it mean to be an "ambassador"? In that role, a person is appointed by a higher authority to represent their country to another country or to a significant body like the United Nations. An ambassador must be one who engages relationally with other leaders, negotiates well and acts as a peacemaker when conflict arises.
As "ambassadors for Christ" on Capitol Hill, we not only represent Faith & Liberty, but most importantly, we represent Christ. Along with other faithful Christians on Capitol Hill, we are His hands and feet. As His ambassadors, we act on His behalf and seek to show who He is and His heart for those who don't know Him.
We love America and believe in being good citizens, but most of all, we are citizens of another kingdom — the kingdom of God. We are commissioned by Him to seek those are spiritually lost and urge them to be reconciled to God.
Pray with us that Faith & Liberty will be effective ambassadors for Christ on Capitol Hill and through our Ministry Center. We are so thankful for your powerful prayers and generous gifts that sustain our vital ministry as ambassadors in our nation's capital!
Your missionaries to Washington, D.C.,
The Faith & Liberty team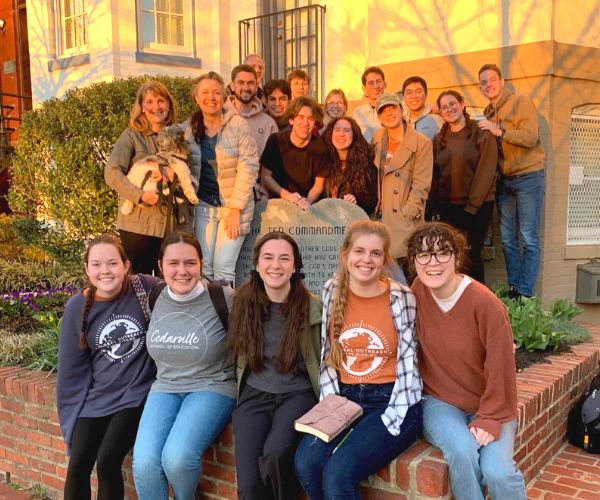 You are an important part of our ministry. Our supporters form the backbone of Faith & Liberty because of your prayerful and financial support. Please pray about becoming one of our vitally important monthly contributors. Sign up for monthly giving on our website using the DONATE button below and select the option, "I would like to make this a recurring donation." You can also call and ask for Patty Bills at the Faith & Liberty office at 202-737-1776, and she will gladly assist you.

THE MONDAY RECAP
A new Bible study on the book of James started last Wednesday night. Nine people attended and we hope to add more this coming week!

Thursday night's Career Interest Panel for the interns was well attended. More than 40 attended for information and advice to help direct them in their future. Discussing the challenges of Capitol Hill but how to overcome the fears by using their faith.

We also had some fellowship gatherings for new interns and congressional staffers on Capitol Hill. We enjoyed some delicious Italian food as we met to get to know each other.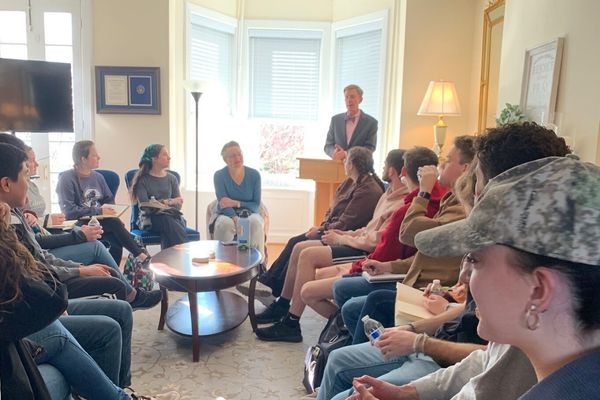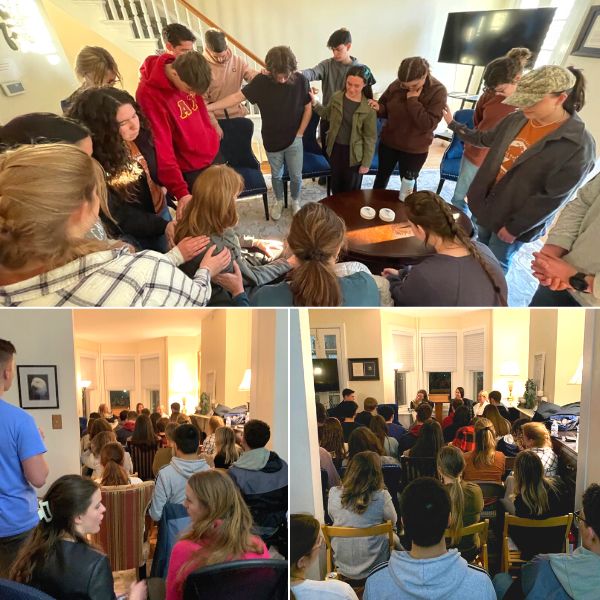 COMING SOON
Peggy Nienaber has the opportunity to meet and pray with NASA staff. We praise the Lord as He is opening a door for this ongoing ministry.

House Chaplain Margaret Kibben is hosting a Ministry Fair for ministries who serve on Capitol Hill. We are preparing to have a booth there to engage with interns, staffers, and any others who work in the congressional offices on Capitol Hill.

A former Muslim staffer will be sharing at a special Bible study at our Ministry Center about Islam, what is in the Quran and how to minister to Muslims. All are invited!

In May, we are participating in the 72nd annual National Day of Prayer events to be held on Capitol Hill. "Pray Fervently in Righteousness and Avail Much" is this year 's theme. Our team has been invited to participate in the Celebration Dinner, Prayer Lunches and public observance in the congressional buildings.

Several groups of missionaries are visiting our Ministry Center starting this week. We will also assist these groups as they plan to visit congressional offices and volunteer at the local pregnancy centers.

This week, with the help of the First Baptist Missions group from Texas, we will be going office to office in the congressional buildings, inviting members to read at the Bible Reading Marathon and inviting interns and staffers to our many events and Bible studies.

The Men of Isaachar from Aglow International will be with us this week, supporting Faith & Liberty in prayer. This team will have members from across the states to come pray for our Faith & Liberty team.

The planning continues with Seedline International for the annual D.C. Bible Reading Marathon on April 22-26. The Faith & Liberty team is working on scheduling a room to make it easier for members of Congress to participate. If you would like to participate by reading virtually or in person, please sign up now for your time slot to read during the marathon.
To stay informed on issues in Washington and play your part as a citizen and a Christian look for the Faith & Liberty emails throughout the week. We are in this fight together to defend and preserve those values and principles we all cherish.


PRAYER

Lord we pray for all levels of our nation's government, from local to state to federal. We pray that the leaders in our judicial, legislative, and executive branches will seek your face and acknowledge you in all of their ways.
Lord, we ask you to guide Faith & Liberty team according to your good and holy will. May they keep in step with your Holy Spirit daily.
Lord, we ask you to lead the Faith & Liberty team as they serve in these ways:
Uphold the Word of God through the Bible studies at the Ministry Center.

Lead the Bible study with women members of Congress.

Engage with members of Congress and their staff to support them spiritually.

Meet with and mentor young interns at this critical stage of their life.

Witness to what God has done in their own lives.

Handle every detail of planning events and activities.
Lord, we pray for each of the prayer and financial supporters of Faith & Liberty. Please meet their needs and may spiritual fruit come as a result of their praying and giving.

CLICK HERE TO SUBMIT YOUR PRAYER REQUEST


Our efforts to bring the Word of God to bear on the hearts and minds of our public policy makers are only possible because wonderful friends like you stand with us both in faithful prayer and in your generous financial support! Thank you!
Make a difference and partner with us.