At Faith & Liberty, we are privileged to be based on Capitol Hill and to absorb its history. It's a delight to walk the halls of Congress or hold a Bible study in a quiet place in the Capitol away from the hustle and bustle. We value the history of our nation because it is foundational to our future.
For President's Day, Psychology Today compiled quotes from U.S. presidents. Here are some worth pondering:
"If you always support the correct principles then you will never get the wrong results!" — Andrew Johnson
"I can never consent to being dictated to." — John Tyler
"It is amazing what you can accomplish if you do not care who gets the credit." — Harry S. Truman
"Efforts and courage are not enough without purpose and direction." — John F. Kennedy
"We must dare to be great; and we must realize that greatness is the fruit of toil and sacrifice and high courage." — William Howard Taft
"In the time of darkest defeat, victory may be nearest." — William McKinley
We can learn a lot from history. Look how often our leaders spoke of great concepts like love, service, sacrifice, courage and purpose. The principles in these inspiring quotes are not just in the pages of leadership bestsellers but are found in God's Holy Word.
As we learn from the past, we also look to the future of our country. Yesterday, I (Peggy) joined in the celebration at a church where many of our interns publicly testified to their faith in the waters of baptism! We are thankful that God is using Faith & Liberty in mentoring and ministering these interns who are very much a part of our nation's future.
We praise the Lord for all the good things He is doing in our country, from making our universities places of praise in times of revival to leading promising young people to Washington where they are learning what it means to wholeheartedly follow Christ. God is at work in Washington, D.C.!
Thank you for standing with us as we seek the good of our nation for the glory of God!
The Faith & Liberty team
You are an important part of our ministry. Our supporters form the backbone of Faith & Liberty because of your prayerful and financial support. Please pray about becoming one of our vitally important monthly contributors. Sign up for monthly giving on our website using the DONATE button below and select the option, "I would like to make this a recurring donation." You can also call and ask for Patty Bills at the Faith & Liberty office at 202-737-1776, and she will gladly assist you.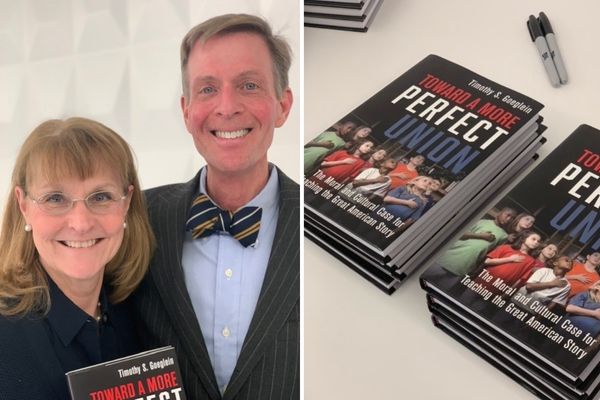 Peggy met Tim Goeglein, author of Toward a More Perfect Union


THE MONDAY RECAP
Peggy Nienaber had scheduled a number of meetings this week on the Hill with congressional members and staff for prayer, discussion and an open invitation to the many opportunities our Ministry Center offers.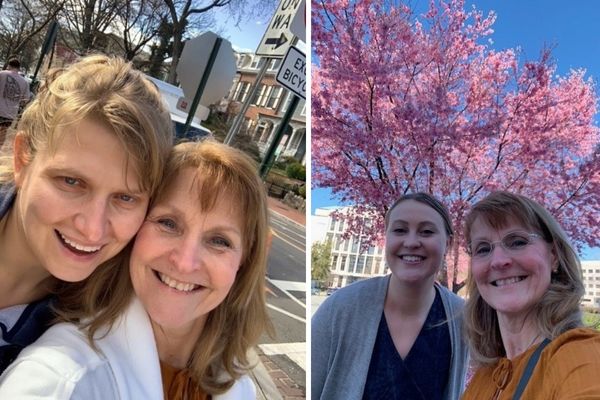 Peggy meeting with staffers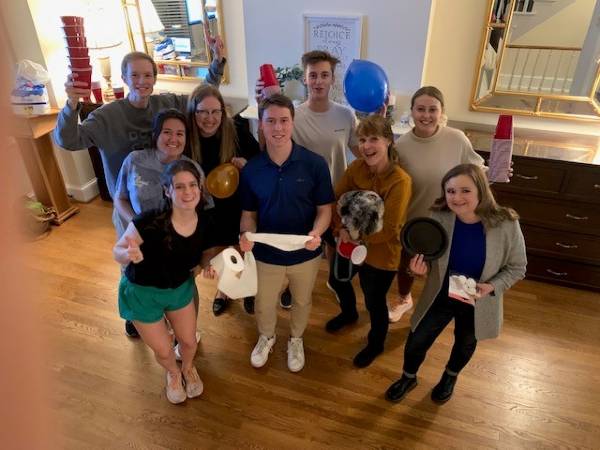 Minute to Win It Intern Fellowship Night

As mentioned above, many interns and staffers have given their lives to Christ, and this weekend, joined the church and were baptized. It's great to see the growth in their lives!
We are working diligently to fight the attempted power grab by the World Health Organization. Their goal is to use COVID and other potential "health" crises to usurp our national sovereignty and subserviate us all to U.N. elitists.
COMING SOON
Yes — it's only February — but meetings and conference calls regarding the Live Nativity are beginning now to ensure the best preparation, including security, for the event.

To stay informed on issues in Washington and play your part as a citizen and a Christian look for the Faith & Liberty emails throughout the week. We are in this fight together to defend and preserve those values and principles we all cherish.


PRAYER

We seek your prayers as we plan and prepare for events to come, including the new events just added to our schedule.

Pray that we follow the Holy Spirit's lead as we connect with many on Capitol Hill, from interns to staffers to senators and representatives. Each person is important to God!

Lent started this past week. Whether you participate in Lent or not, please join us as we prepare our hearts to celebrate the resurrection of our Lord at Easter.

We are planning together with Seedline International the annual D.C. Bible Reading Marathon, which is scheduled for April 22-26. The Faith & Liberty team is working on scheduling a room in the congressional buildings to make it easier for members of Congress to participate in the reading. You are also invited to sign up now for your slot to read during the marathon.


CLICK HERE TO SUBMIT YOUR PRAYER REQUEST
Our efforts to bring the Word of God to bear on the hearts and minds of our public policy makers are only possible because wonderful friends like you stand with us both in faithful prayer and in your generous financial support! Thank you!
Make a difference and partner with us.