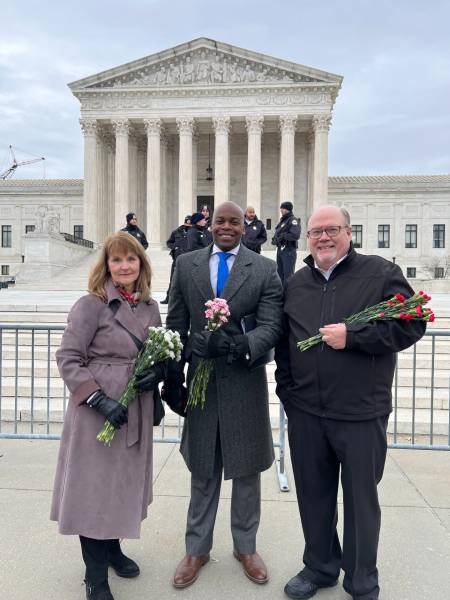 Every year we host the "Prayers & Remembrance: Victims of Roe" event, and it truly is a special time.
Yesterday — which also was National Sanctity of Human Life Day — we gathered in front of the U.S. Supreme Court. As the memorial event started, the many media outlets in attendance jockeyed to gain a spot in front of the podium. Not to be outdone, a protester with a megaphone yelled and spit at attendees. Thankfully, the Supreme Court officers stepped in immediately, and with prayers from the crowd, the protester ended up moving on, and the media found their spot.
Peggy Nienaber, Rev. Greg Cox and Jonathan Alexandre, senior counsel for governmental affairs with Liberty Counsel, were among the many speakers at the event. Abortion survivors gave their testimonies in tears — and brought many a tear to those in attendance as well.
We organized volunteers to carry the 3,000 flowers in procession and distribute them at the event. The flowers were laid in front of the Court during the songs of praise, prayers and scriptures shared by speakers in remembrance of the thousands of victims in the wake of the unconstitutional Roe v. Wade decision 50 years ago.
Thank you for praying with us for this event and other pro-life activities around the March for Life. We were so thankful when Roe was overturned in the Dobbs decision last June, but the battle for the unborn is still on in the states and on Capitol Hill. We know you will stand with Faith & Liberty for life!
"Worthy are you, our Lord and God, to receive glory and honor and power, for you created all things, and by your will they existed and were created" (Rev. 4:11).
Your missionaries to Washington, D.C.,
The Faith & Liberty team
You are an important part of our ministry. Our supporters form the backbone of Faith & Liberty because of your prayerful and financial support. Please pray about becoming one of our vitally important monthly contributors. Sign up for monthly giving on our website using the DONATE button below and select the option, "I would like to make this a recurring donation." You can also call and ask for Patty Bills at the Faith & Liberty office at 202-737-1776, and she will gladly assist you.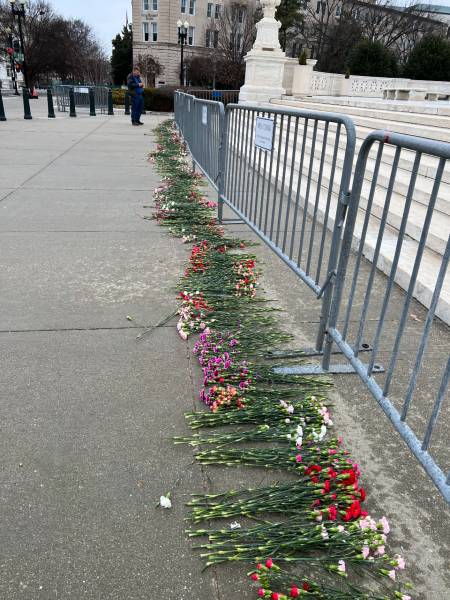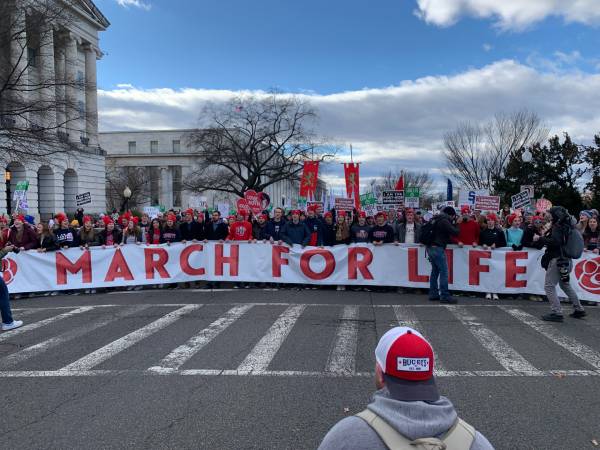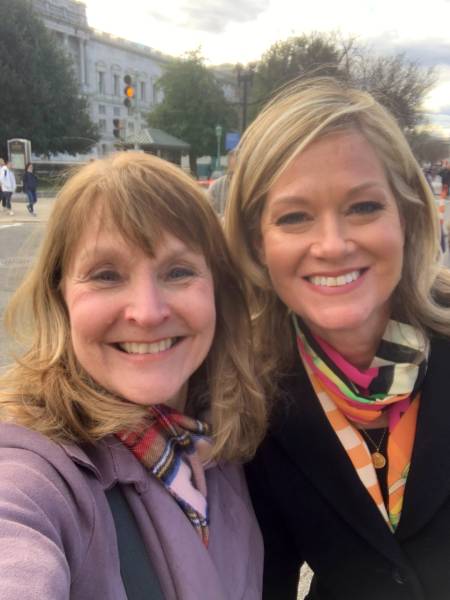 Peggy Nienaber & March for Life President Jeanne Mancini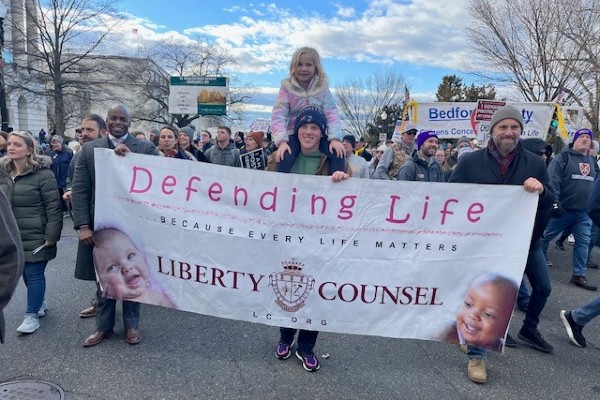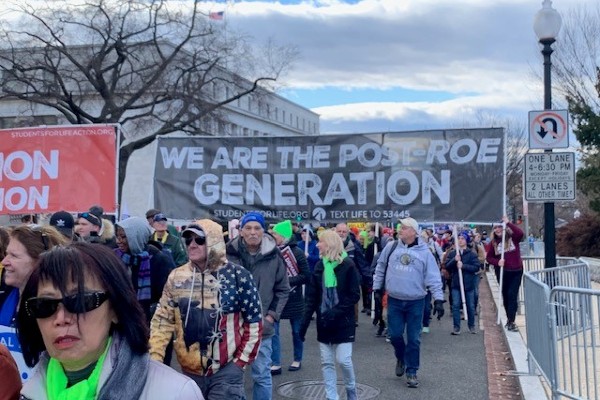 THE MONDAY RECAP
Along with "Prayers & Remembrance: Victims of Roe," around 125 people attended our Life Reception at the Ministry Center last Friday. We were amazed and appreciated that so many stopped by to celebrate life. One woman even gave her life to Christ — glory to God!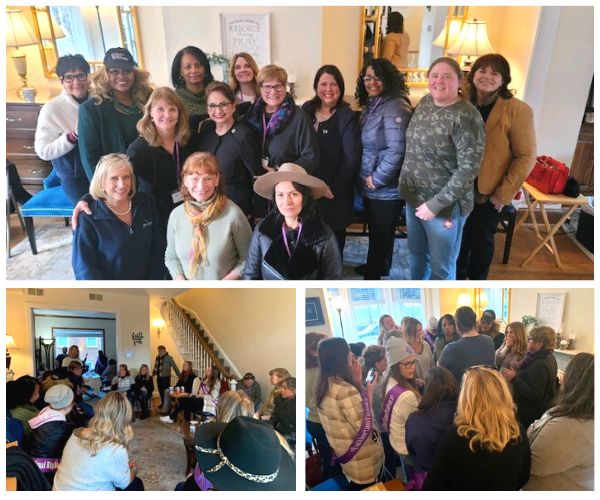 Last Friday night after all of the pro-life events of the day, Patty Bills and Peggy Nienaber joined a group of new congressional interns at the National Gallery of Art ice skating rink. It was just what the doctor ordered (so to speak), as everyone enjoyed getting together for some fun after a jam-packed day.
Last week, Peggy and Patty walked all seven floors of the Longworth House Office Building to every congressional office to share Blessings Cards and invitations to the Staffer Bible Studies and the new Congressional Bible Study. The effort was well received and gave us an opportunity to visit new members and their staff members who had just arrived in Washington.

COMING SOON
We are excited to host the former president of Mongolia, Tsakhiagiin Elbegdorj, at a forum this week at our Ministry Center. A well-respected champion of freedom in Mongolia, President Elbegdorj translated the Bible from English into the language of his people. He hopes that this forum will help the American people understand the Constitution and appreciate our God-given rights.
A helpful informational gathering for congressional interns will take place at our Ministry Center this week. Along with fellowship, the "Intern Do's & Don'ts" gathering will help the interns get acclimated to Washington, D.C., and the surrounding area.

To stay informed on issues in Washington and play your part as a citizen and a Christian look for the Faith & Liberty emails throughout the week. We are in this fight together to defend and preserve those values and principles we all cherish.


PRAYER
Thank the Lord for the tens of thousands who attended the March for Life in Washington, D.C. (and across the country). We're grateful that so many people still consider life a priority even after the Supreme Court overturned Roe v. Wade.
Thank the Lord for His protection during the March for Life and other pro-life activities over the weekend. We are grateful for the officers who stepped in to help with an unruly protester during our memorial event.
We praise the Lord most of all for the women who got saved in our Ministry Center. I expect that others also were led to the Lord this past weekend, but we know that the angels rejoice even over one sinner who repents (Luke 15:10)!
Pray for the members of Congress as they try to schedule time to attend Bible studies as this may be the most important priority on their schedule.
Pray that the interns and staffers also would follow Christ and be discipled through our Bible studies and other activities.
We join with the former president of Mongolia in prayer that the American people will value our Constitution and appreciate our God-given rights. Pray for this week's event with our special guest.
How can we pray for you? Please submit your prayer request at the link below.
CLICK HERE TO SUBMIT YOUR PRAYER REQUEST
Our efforts to bring the Word of God to bear on the hearts and minds of our public policy makers are only possible because wonderful friends like you stand with us both in faithful prayer and in your generous financial support! Thank you!
Make a difference and partner with us.