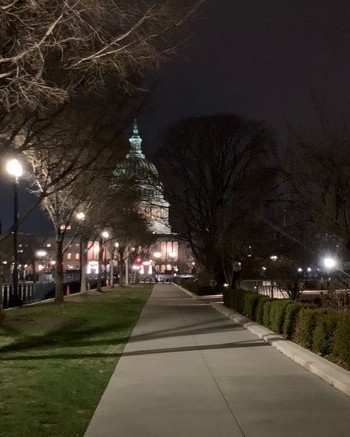 We were blessed to have a visit this week from the Men of Issachar. This group is the counterpart to the women's ministry in Aglow International. Their unusual name is based on God's Word and comes from 1 Chronicles 12:32. They were men who understand the times and knew what Israel should do.
Do we not need such leaders today in our nation? We surely do! This past week, we rejoiced as we've seen some members passing pro-life measures in the U.S. House. Although these measures (a bill and a resolution) still must go through an extensive process to become the law of the land, this movement is a hopeful sign. God is the One who judges hearts, but we celebrate the passage of these life-giving measures.
January is the month of the March for Life. Faith & Liberty staff members will also lead and participate in events marking the demise of unlawful Supreme Court decisions that saw many lives taken over a half-century in America. We know we've won one battle, but the war is not yet over. We look to a future in America where unborn life is cherished and where the womb is once again a safe place.
Even in Congress, members who profess to be "Christian" don't think their personal beliefs should have any bearing on the laws they pass. Please join with us in praying for the hearts of our leaders to be turned to God and to life. We must be like the men of Issachar who understood the times and know what we should do, God guiding us!
Your missionaries to Washington, D.C.,
The Faith & Liberty team
You are an important part of our ministry. Our supporters form the backbone of Faith & Liberty because of your prayerful and financial support. Please pray about becoming one of our vitally important monthly contributors. Sign up for monthly giving on our website using the DONATE button below and select the option, "I would like to make this a recurring donation." You can also call and ask for Patty Bills at the Faith & Liberty office at 202-737-1776, and she will gladly assist you.

THE MONDAY RECAP
We have been helping the new interns get settled by meeting them, providing our contact information and letting them know of our Bible studies and other activities they can join.

The Men of Issachar (the men's counterpart in Aglow International) visited our Ministry Center to pray with the Faith & Liberty staff.
COMING SOON
After the March for Life on January 20, we will host a Life Reception with Women on the Hill — and some men as well!

On January 22 at 10 a.m., we will also mark the loss of 63 million lives to abortion in this country with our "Prayer & Remembrance — Victims of Roe." We will hand out 3,000 flowers that will be placed in front of the Supreme Court to memorialize infant lives lost in this country every day and remembering women who have been killed or hurt by abortion.

Faith & Liberty will join in a Hill Ministries luncheon this week where we will enjoy fellowship and discuss how we can better work together in ministry on Capitol Hill.

Peggy Nienaber and Patty Bills will join the interns and congressional staffers for ice skating this week — but they will be the ones on the sidelines taking pictures!

Peggy Nienaber will be visiting the German Ambassador to the United States Emily Haber for a table discussion, "Guns n' Rosé — Conservative Women Conquer the USA," this week.
To stay informed on issues in Washington and play your part as a citizen and a Christian look for the Faith & Liberty emails throughout the week. We are in this fight together to defend and preserve those values and principles we all cherish.
PRAYER
The March for Life and many related events will be held this month in Washington and across the country. Pray for us as we prepare for "Prayer & Remembrance—Victims of Roe" and for protection from protestors against life. May we have a repentant spirit in America as so many lives have been lost or affected in the 50 years since Roe v. Wade.
Pray for wisdom as we consider which upcoming events and activities would be most helpful. We want to steward well the resources God has provided and be effective in ministry. Pray, too, that God would bring new supporters to Faith & Liberty that we might expand our reach for the sake of the gospel.
Pray for the new interns who are getting acclimated to life in the capital and to working in government offices. Many of them come from Christian universities to learn and be a light for truth on Capitol Hill.
How can we pray for you? Please submit your prayer request at the link below.
CLICK HERE TO SUBMIT YOUR PRAYER REQUEST
Our efforts to bring the Word of God to bear on the hearts and minds of our public policy makers are only possible because wonderful friends like you stand with us both in faithful prayer and in your generous financial support! Thank you!
Make a difference and partner with us.