WASHINGTON, D.C. – Three Capitol Hill police officers were recognized for their meritorious service on Monday, September 19, at the U.S. Capitol Police Officer Recognition & Honors Breakfast hosted by Faith & Liberty and sponsored by the Capitol Hill Forum and the Chief of U.S. Capitol Police.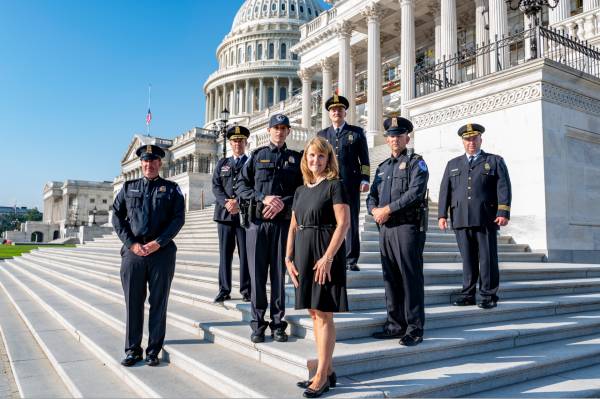 Faith & Liberty Vice President Peggy Nienaber is president of the Capitol Hill Forum Club and presented the awards to Officer Peter Campopiano, Officer Raymond Mooney and Officer Stephen Sherman for their excellent performance in the line of duty. The entire U.S. Capitol Police force was also recognized for helping to maintain safety in D.C.
The porcelain bowls presented to the officers were designed especially for the U.S. Capitol Historical Society with four images depicting the phases of the development of the Capitol Building framed in wreaths of green and highlighted with 22Kt trim. Inside in the bowl is an eagle clutching a banner proclaiming "E Pluribus Unum" ("Out of many, one").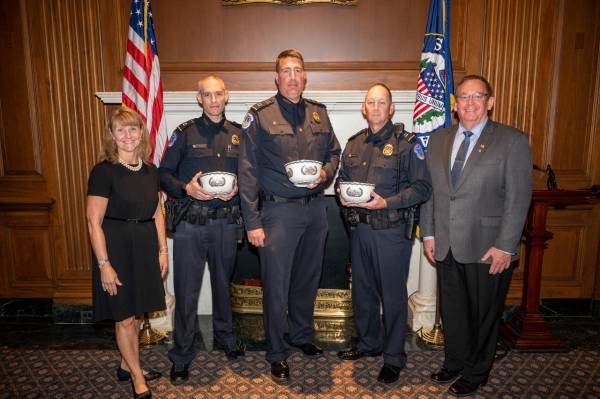 The breakfast was held in the historic Mansfield Room on the Senate side of the Capitol building.
Other attendees included U.S. Capitol Police Chief Thomas Manger; the Sergeant at Arms of the U.S. Senate; a representative from the Office of the Sergeant at Arms of the U.S. House; House Chaplain Margaret Kibben; J. Brett Blanton, the Architect of the Capitol; Keith Davidson, founder and director of Seedline International.
Liberty Counsel Senior Counsel for Governmental Affairs Jonathan M. Alexandre sang "The Star-Spangled Banner" and "God Bless America."
The Capitol Hill Forum Club was founded in 1973 from a group of veterans lobbying to increase benefits for military service members and their families. Sergeant Major Mack McKinney, USMC (Ret), was the founder and persuaded members of the House and Senate Armed Services Committees to enact legislation to increase survivor benefits for military families and making parachute pay for officers and enlisted men equal. McKinney voted Nienaber in as the first women president of the club in 2006. Throughout the years the club has changed its focus to more of an informational breakfast meeting.
Faith & Liberty is America's premier Christian outreach to top-level government officials in Washington, D.C. Faith & Liberty accomplishes its mission through building personal relationships with individuals serving in government, distributing Scripture and informative materials, and staging special events and Bible studies.

---
Thank you for partnering with Faith & Liberty
Your generous support forms the backbone of this gospel outreach in our nation's capital. Because of you, we are able to bring the Word of God to bear on the hearts and minds of those that make public policy in America. Click here to give.