The U.S. House just passed HR 8373, a bill that will codify abortion-inducing drugs and devices. This bill will force states, private employers and medical providers to support, allow, offer or even pay for chemical abortion.
Today's vote is the sixth abortion bill that is swirling around Congress that would force all 50 states to continue abortions. Any one of them could pass the U.S. Senate at any time, and radicals are just two votes away from these bills passing and pushing abortion nationwide.
Abortion protesters in D.C. have moved from the Supreme Court to Congress because they know this is where the battle is happening.
Meanwhile, violent groups are even threatening members of Congress to vote yes on any or all of these bills mandating abortion in all 50 states. Fight for life with your faxes to push back now! — Your Faith & Liberty team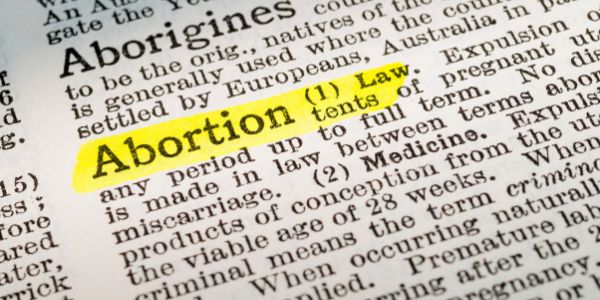 HR 8373 specifically erases the Religious Freedom Restoration Act (RFRA) in the face of any request for abortion-inducing drugs and devices. This bill includes a clause that bans any appeal to RFRA. This could apply to anyone: a religious employer, insurance company, health care providers and facilities or anyone else.
This is deeply concerning. The Supreme Court has corrected its bloody mistake and clarified that there is no federal constitutional right to abortion. However, these radicals now want to elevate something that is not a right, above the right to life and the right of religious freedom.
They want to erase life and religious freedom! We must stop the genocide.
Remember the abortion coalition called "Jane's Revenge" that issued its manifesto listing the cities where they firebombed and damaged pro-life centers? It wrote: "We have demonstrated in the past month how easy and fun it is to attack. We are versatile, we are mercurial, and we answer to no one but ourselves. We promised to take increasingly drastic measures against oppressive infrastructures. Rest assured that we will, and those measures may not come in the form of something so easily cleaned up as fire and graffiti."
In response this week, Democrats blocked a Republican House resolution that would have condemned this violence by radical abortion activists at churches and pro-life pregnancy centers and organizations. This resolution would have asked the Biden administration to assign all law enforcement necessary to bring the perpetrators of violence to justice. But Democrats couldn't even do this! This is chilling coming out of Congress.
This is a clear message to these violent protesters to "carry on" against religious groups! In the minds of these radicals, violence is OK if it is directed toward people of faith, like you and me.
Between the protesters outside and the radicals inside—this is the environment at the U.S. Capitol right now. Religious freedom is out, and violence is in!
This is why your faxes are so critical. They penetrate through the noise and land straight on the desks of key legislators that can block all six of these shockingly radical abortion bills and urge them to Protect Life and End Abortion now!
At 13, Claire Culwell's mother found out that she was pregnant. Abortion seemed the only option. She went to the abortion clinic and had the procedure. But several weeks later, she found out that she was—miraculously—still pregnant. Her daughter's story is below:
"I am the surviving twin of a botched D and E (dilation and evacuation) dismemberment abortion. I found this out ten years ago when I met my birth mother. After thanking my birth mother for giving me my life, she broke down into tears at this moment. She described her abortion that successfully aborted my twin. The pain in her eyes is something I will never forget. Her abortion explained a lot of things for me: my physical complications because of my prematurity and being a twin — a surviving twin; my curiosity and longing for another sibling; my deep appreciation for being wanted by my adopted parents who stand here with me today."
Claire continues, "My life was a miracle. I realize that there was a face, a name, a story with the unborn child and with the woman contemplating an abortion like my birth mother. You see, when you look at my face you see my twin, and when you look at my life you see the almighty hand of God."
One twin lived and one twin died.
It is impossible to avoid the humanity, the lives, that are being destroyed on a daily basis by abortion. Yet this murder and destruction is exactly what radical legislators in Congress are so desperately pushing to pass.
Now we have the chance to speak out for children like this twin whose voice was permanently silenced or children who will be silenced as abortion continues. Encourage these legislators and governors to Protect Life and End Abortion.
With Rule 14 in the Senate, Democrat leaders can throw these abortion bills on the schedule and pass them at any time (like a different bill they tried to pass at 4 a.m.—which Sen. Ted Cruz was able to block). Every one of these abortion bills can be voted on at any moment in the Senate. There is no time to delay. Send your urgent faxes to as many U.S. senators as possible to oppose this bill.
Faith & Liberty can only sound the alarm and have this impact because of the support of donors like you. We accept donations of stock, annuities, bank drafts and corporate gifts. Support us with a monthly donation or a one-time gift to DOUBLE the impact of your resources today.

We want to encourage you with Hebrews 12:12-13, "Therefore lift your drooping hands and strengthen your weak knees, and make straight paths for your feet, so that what is lame may not be put out of joint but rather be healed."
Join us in praying for an end to abortion and for our nation to be healed. And then work to be a part of the answer to this prayer.
Your missionaries to Washington, D.C.,
Peggy Nienaber, Vice President
Mat Staver, Chairman
Rev. Gregory Cox, Lead Missionary
P.S. Sign our petition to protect these children.


---

Sources:
Culwell, Claire. "Choosing Boldness." Called To Be Bold Podcast. Accessed July 20, 2022. Claireculwell.com/podcast.html.
"H.R. 8373—Right to Contraception Act." House of Representatives Committee on Rules. July 15, 2022. Rules.house.gov/bill/117/hr-8373.
‌Kapur, Sahil. "House Passes Legislation to Enshrine a Right to Contraception in Federal Law." NBC News, July 21, 2022. Nbcnews.com/politics/congress/house-passes-legislation-enshrine-right-contraception-federal-law-rcna39167.