Last week, the U.S. House passed an extreme abortion and LGBTQ bill. The so-called "Women's Health Protection Act" is intended to protect all people with the capacity for pregnancy—"cisgender women, 'transgender' men, non-binary individuals, those who identify with a different gender, and others" to kill by abortion a baby through ALL nine months of pregnancy!
Declaring that abortion "is essential health care," the act bans ALL abortion regulations, including informed and parental consent and clinic safety laws. This act, along with the "Ensuring Access to Abortion Act," now heads to the U.S. Senate where Sen. Chuck Schumer (D-NY) is ready to blow up the filibuster rule to force prenatal genocide on all the states, including religious health care providers, medical workers and pharmacists.
A coalition of radical, violent groups and people are now targeting the Senate to force the passage of these bills. Members of the Senate need to hear from you. – Your Faith & Liberty team
Demand senators VOTE NO on ANY and ALL ABORTION-ENABLING BILLS!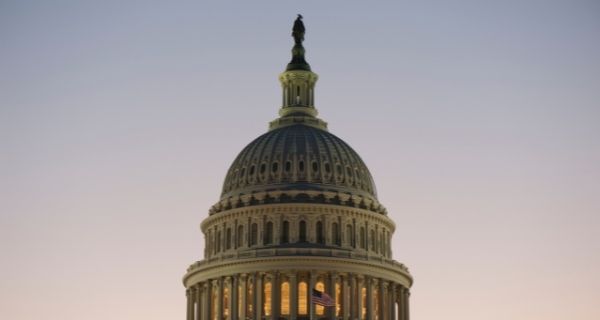 The stakes couldn't be higher. HR 8296 and HR 8297 both passed the House on Friday. These bills go FAR BEYOND Roe v. Wade. The Women's Health Protection Act could not be more extreme. It would restore the horrid partial-birth abortion procedure, which is the most brutal butchery imaginable. The passage of these two bills adds up to five separate abortion bills that have now passed the House and await a Senate vote.
The Senate is evenly split on the issue of abortion. The question of whether abortion carnage will become federal law largely rests on the votes of four senators and whether they will allow Senate Democrats to demolish the filibuster. That would bring abortion and the rest of a radical agenda to the Senate floor with Kamala Harris casting any tie-breaking vote.
The pro-death camp needs only two more senators willing to discard the filibuster for abortion to become the law of the land. If the filibuster goes, every other outlandish bill pending in the Senate will also pass—and there are many.
Republican Senators Murkowski (AK) and Collins (ME) have already co-sponsored their own bill to codify Roe and Casey. Incredibly, although this bill would turn back the clock prior to June 24, 2022, it is not enough for the Democrats.
Democrat Senators Sinema (AZ) and Manchin (WV) also support abortion.
The filibuster is an important Senate rule that helps ensure our nation operates as a republic – in which the minority retains a say in governance – as opposed to a pure democracy that the founders called "mobocracy."
To put the matter more simply, a democracy is like three wolves and a pig debating what to eat for dinner. The minority loses every time. The filibuster, on the other hand, gives the minority the ability to speak … and stall an errant majority from eating the minority alive.
At various points in their careers, Senators Murkowski, Collins, Sinema and Manchin have all voiced opposition to eliminating the filibuster. But the pro-abortion camp has turned up the heat with unprecedented pressure.
In Sen. Sinema's home state, pro-abortion radicals attempted to break down the doors of the Arizona legislature.
In Sen. Manchin's home state of West Virginia, on June 28 a historic church which was listed on the National Historic Register was burned to the ground by abortion terrorists seeking to force pro-abortion laws to pass.
Further, Senator Collins' Maine office has been surrounded by groups of pro-abortion protestors on a near-daily basis since the Dobbs decision.
And as recently as June 24, Sen. Murkowski said that she was making pro-abortion legislation a "priority," stating that she would continue "to work with a broader group to restore women's freedom to control their own health decisions wherever they live."
And who could forget Sen. Schumer's threats to the Justices over abortion two years ago, saying, "I want to tell you, Gorsuch, I want to tell you, Kavanaugh, you have released the whirlwind and you will pay the price! You won't know what hit you if you go forward with these awful decisions!"
Take a stand for the unborn! Fax the Senate now!
They just won't stop…
In addition to the two abortion bills passed by the House on Friday, the House now has another bill deceptively named the "Right to Contraception Act." But it's not limited to contraception; this bill includes abortion-inducing drugs and devices.
In the face of this maniacal push for prenatal genocide, we cannot rest or waiver. We must defend life NOW, more than ever! Please take a moment and join us in faxing the Senate demanding they uphold the filibuster and VOTE NO on all abortion-enabling bills!
Please help the ministry of Faith & Liberty defend life, religious freedom and traditional family values with your best gift today. When you donate, a generous Challenge Grant will DOUBLE THE IMPACT of your gift!
Your missionaries to Washington, DC,
Peggy Nienaber, Vice President
Mat Staver, Chairman
Rev. Gregory Cox, Lead Missionary

P.S. You can also sign our petition to urge members of Congress and state leaders to protect life and end abortion.


---

Sources:
"Police at Arizona Capitol Fire Tear Gas, Disperse Protesters." ABC News. Accessed July 18, 2022. Abcnews.go.com/US/wireStory/roe-protest-disrupts-hours-2022-arizona-legislature-85693258.
"Historic Catholic Church Destroyed in Arson as Pro-Abortion Violence Escalates Nationwide." 2022. LifeNews.com. June 28, 2022. Lifenews.com/2022/06/28/historic-catholic-church-destroyed-in-arson-as-pro-abortion-violence-escalates-nationwide/.
"Manning Introduces Legislation to Protect the Right to Contraception." 2022. Representative Kathy Manning. July 15, 2022. Manning.house.gov/media/press-releases/manning-introduces-legislation-protect-right-contraception.