Rhode Island Democrats are pushing a radical bill that will strip personal freedom from every person living or working in their state. It fines every person who doesn't have proof of the COVID shots. Then it doubles their state income tax burden. But that's not all. We'll share more below.
This is not a privately run company. This is the state government considering a MASSIVE launch of mandatory Vaccine Passports for citizens, state employees and even for children!
Although the punishment is severe under this RI bill, 25 states and the District of Columbia have or are considering a Vaccine Passport. Add to this number at least 87 countries. The threat to freedom is serious.
Now, the choice is ours. Demand that state and federal governments stop Vaccine Passports and mandates. — Your Faith & Liberty team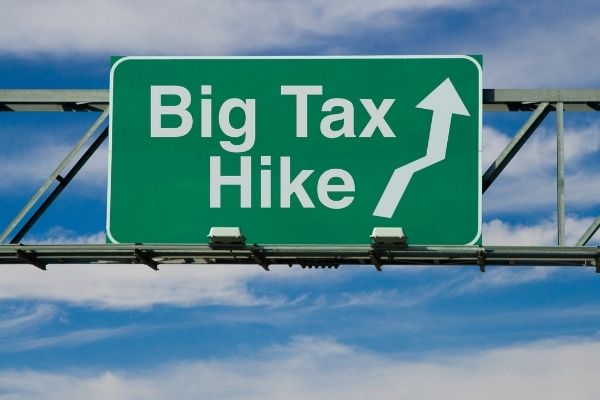 Rhode Island Senate Bill 2552 will punish people who chose not to get the COVID shots. Individuals will be fined 50 dollars, their personal income tax will be doubled, and employers will be fined 5,000 dollars each month for each "unvaccinated" employee.
The bill makes no allowance for religious exemptions, or natural immunity, which even Pfizer admits is highly effective. The medical exemption is nearly impossible to get.
A request for medical exemption must include notarized signatures of THREE "licensed physicians stating that the person is not a fit subject for immunization against COVID-19 for medical reasons."
Children who are "at least 10" must have their signatures notarized. We've never heard of such a requirement of a 10-year-old who has no legal capacity.
Medical exemption requests must be submitted to the state's Department of Health, which has the "power to investigate" the request. And all of this must happen within 40 days of a person becoming eligible for the dose.
This bill applies to anyone "who is eligible for immunization against COVID-19 and who resides in the State of Rhode Island, works in the State of Rhode Island, or pays personal income taxes to the State of Rhode Island," and even if the parents have the shot but their child under 16 does not, they still have to pay twice their state taxes.
No government has the right to infringe on our God-given, constitutionally guaranteed freedom. Make your voice heard to stop digital Vaccine Passports and tracking and tracing.
Every business in Rhode Island that continues to employ even one person without this shot will be fined 5,000 dollars per month for each violation. This is 60,000 dollars in fines per year for just one uninjected person. This could crush businesses with fines.
Businesses will have little choice but to fire every employee who doesn't provide proof of these shots.
The threat to double the income tax on people who are uninjected might be a moot point—because all of them will have been fired already.
In addition, this double layer makes this law apply even to people who just work or live inside the state. Anyone who lives outside the state and works inside, or vice versa, would still be caught by this bill.
Vaccine Passports and mandates pose a serious threat to freedom. Make your voice heard to stop digital testing, Vaccine Passports and constant surveillance on law-abiding Americans.
These vaccine companies already know what Rhode Island politicians won't admit. A recording of AstraZeneca CEO Pascal Soriot reveals they were discussing how millions of people should NOT be injected, and in fact, he said they "can't be vaccinated."
On a December 2020 company-wide Zoom call, Soriot discusses complications of the COVID shots. He states, "Like if you have an immune disease, lupus, or some other immune condition, you cannot – or multiple sclerosis, you can't be vaccinated. So, there are millions of people in the world that will need a protection that cannot be coming from a vaccine."
We also know that Pfizer hid nearly all the 1,291 adverse side effects found in its clinical trials, and the FDA was complicit. No one should be forced to get these shots. Fax governors and legislators demanding the freedom to make our own decisions.
The fight is overwhelming. A video our chairman, Mat Staver, created to help people obtain religious accommodations has nearly 1.1 million views. We are helping tens of thousands of people. Members of our team provide some of the best research available for millions of people and for critical legal cases. For many, our help and resources are a matter of life and death.
Faith & Liberty is committed to help fight this tyranny. We ask for your prayers and support. Thanks to our Challenge Grant, you can DOUBLE the impact of your gift.

We cannot express the gratitude we are hearing from thousands of people we have helped because of your support. However, the cries for help and the desperation of so many more people are increasing because of the actions of states like Rhode Island, the military, schools and employers. Help us help these people. Help us give them hope!
Peggy Nienaber, Vice President
Mat Staver, Chairman
Rev. Gregory Cox, Lead Missionary
P.P.S. Sign the petition to key leaders demanding NO MANDATORY SHOTS OR VACCINE PASSPORTS.



---
Sources:
"AstraZeneca Source Recording from 2020 Shows CEO Pascal Soriot Saying, 'Millions of [Immunocompromised] People Can't Be Vaccinated…Antibody [Treatment] Has Enormous Potential.'" Project Veritas, April 19, 2022. Projectveritas.com/news/astrazeneca-source-recording-from-2020-shows-ceo-pascal-soriot-saying/.
"Resources & Research: COVID Vaccine." Liberty Counsel Action, 2021. Lcaction.org/vaccine.
"Rhode Island SB2552." TrackBill, 2022. https://trackbill.com/bill/rhode-island-senate-bill-2552-an-act-relating-to-health-and-safety-immunization-against-covid-19-mandates-residents-to-be-vaccinated-for-covid-19/2236640/.