The next 72 hours are especially dangerous for election integrity. Today, Joe Biden and Kamala Harris are speaking in Atlanta to attack our voting system. They are opposing the phenomenal efforts Georgia has made to strengthen, and restore faith in, election integrity.
Now is "crunch time" for Democrats to pass election fraud bills this week.
Destroying the filibuster option is being pushed by many high-ranking Democrats. Even if you have faxed before, we cannot give up on our elections now. Remember the scriptural principle of the unrighteous judge who finally gave in to the widow's persistent demands for justice? This holds true for America's politicians too.
We must flood our senators with faxes demanding they STOP the election fraud bills! Click here or the button below. — Your Faith & Liberty team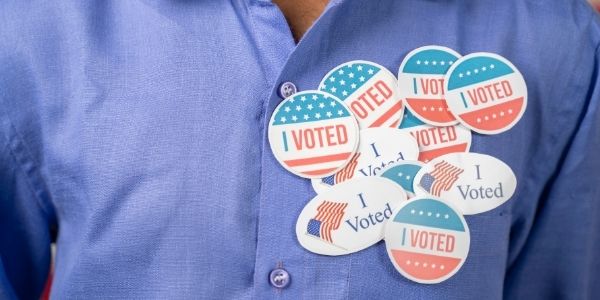 Senate Majority Leader Chuck Schumer (D-NY) is manipulating emotions on Capitol Hill from last January 6 to push senators to support expanding voting fraud. The Democrat Party is desperate to take over future elections before the 2022 midterms.
Biden and Harris are doing everything they can to support these attacks. Rep. Nikema Williams (D-GA) said, "You don't come to Atlanta just for another speech. This is about action."
A big part of the "action" Democrats are pushing is a partial or total destruction of the filibuster option in the Senate. It is expected that Biden will use today's speech to attack the filibuster option as well.
Schumer went public with a deadline to vote on election fraud bills THIS WEEK. Democrats think they have the best shot at passing one of three bills in the next 72 hours. If we can stop them now, we will take the upper hand.
Senators who are still undecided are under pressure to cave from the White House, both the House and Senate, and the media. We have a small window to fight back. Send your urgent faxes to the senators demanding these bills be stopped.
Joe Biden's senior advisor, Cedric Richmond, said the White House is going on offense. "We are doubling down, kicking it into another gear, we are going right to the belly of the beast, or ground zero, for voter suppression, voter subversion and obstruction."
But that is a pack of lies.
Biden's home state of Delaware has a trifecta of Democrat control over the governor's seat, the state house and the state senate. Yet it is still harder to vote in Delaware than it is after the new laws passed in Georgia! One example is that Delaware just relaxed its total ban on all early voting, while Georgia tightened its laws in 2022. However, Georgia still allows nearly DOUBLE the number of days for early voting compared to what Delaware allows!
If Joe Biden wants to worry, he should be worried about Delaware.
This exposes how the attacks on Georgia's laws are not about the voters ... they're about one-party control of our elections. Democrats are so desperate to get control they are willing to attack the filibuster option to get election fraud bills through the Senate.
Rep. Jim Clyburn (D-SC) is the third-highest official in the U.S. House. He went on offense against Sen. Joe Manchin (D-WV) for the idea that there should be bipartisan support for removing the filibuster option. He called Manchin out of touch and labeled his idea "foolishness."
It is critical to stop these bills and this unprecedented attack on the filibuster option. This is the greatest attack on our republic and our right to self-governance. Send your urgent faxes to the Senate to stop fraud from becoming permanent.
It's not just Delaware. ... Major League Baseball made a much-publicized move of the 2021 All-Star Game from Atlanta to Denver to protest the new voting laws in Georgia. However, Colorado allows fewer forms of voter identification than Georgia does for mail-in ballots. Do you get that? As far as voter ID, it's easier to vote in Georgia than it is in Colorado.
Moreover, election law in Colorado says, "If you are voting by mail for the first time, you may also need to provide a photocopy of your identification when you return your mail ballot." Yet in contrast, Georgia allows a voter's driver's license number, the last four digits of the voter's Social Security number or another form of identification in place of signature verification.
Georgia also allows two more days for early voting than Colorado!
The attacks on Georgia are NOT because they are more strict than other states. It's because Democrats are scared about losing the 2022 midterms.
These election fraud bills are "nothing short of a hostile takeover by Democrats to federalize our state and local elections," wrote Kyle Hupfer, general counsel for the Republican National Committee. "All Americans should be alarmed by this power grab."
Democrats have renewed their efforts and calls to abolish the filibuster. So far, Sen. Manchin is holding strong. We must encourage him because he is under immense pressure to oppose his Democrat colleagues.
Our nation is sitting on a precipice with 49 senators ready to push us off this cliff with their co-sponsorship of multiple election fraud bills. It is urgent to flood senators with the outcry of U.S. citizens against this bill. Click here to send your critical fax directly to key senators.
Together, your support is having a real impact. DOUBLE THE IMPACT OF YOUR DONATION NOW through our 2022 Challenge Grant. Support Faith & Liberty by clicking here or below.

Peggy Nienaber, Vice President
Mat Staver, Chairman
Rev. Gregory Cox, Lead Missionary


P.S. To sign a petition against these election fraud bills, select here.
---
Sources:
Barron-Lopez, Laura, and Christopher Cadelago. 2022. "'We Are Going Right to the Belly of the Beast': Biden Takes on Georgia." Politico. January 9, 2022. Politico.com/news/2022/01/09/joe-biden-takes-on-georgia-voting-526801.
CNN. 2022. "5 Things to Know for Jan. 10: Russia, Covid, Voting Rights, Myanmar, Australian Open." MSN. January 10, 2022. Msn.com/en-us/news/politics/5-things-to-know-for-jan-10-russia-covid-voting-rights-myanmar-australian-open/ar-AASCn24.
Lucas, Fred. 2021. "How Georgia's Voting Law Compares to 7 Blue, Purple States' Laws." The Daily Signal. April 8, 2021. Dailysignal.com/2021/04/08/how-georgias-voting-law-compares-to-7-blue-purple-states-laws/.
The Hill. 2022. "This Week: Democrats Face Crunch Time on Voting Rights." Yahoo! News. January 10, 2022. News.yahoo.com/week-democrats-face-crunch-time-110104799.html.