As a defense contractor employee, Nancy* helps build nuclear aircraft carriers and submarines for the military. This is a highly specialized field. She has spent many years honing her skills and knowledge. Now she and her co-workers need help.
About 50% of more than 20,000 employees at Huntington Ingalls Industries (HII) have not received the COVID shots, nor do they want to get them.
HII corporate headquarters sent an email demanding that all employees must get "vaccinated." The email never mentioned if there were any religious or medical exemptions and provided zero direction on how to submit a request.
HII pretends religious accommodations are off the table. But HII must abide by federal law that recognizes people with sincere religious beliefs cannot be brushed aside.
Can you even imagine what would happen if this company attempted to build nuclear submarines and aircraft carriers while missing half their staff or attempting to train every other person as a brand-new employee?? This is a field where everything has to be perfect … literally down to each atom! It would be a nightmare—and, God forbid, a literal nuclear disaster—if something went wrong!
These shot mandates are pushing our nation toward disaster.
Faith & Liberty and our team is pushing back by helping tens of thousands of people. We are working every single day to fight these mandates! We need your help. Your support will be DOUBLED by our Challenge Grant. — Mat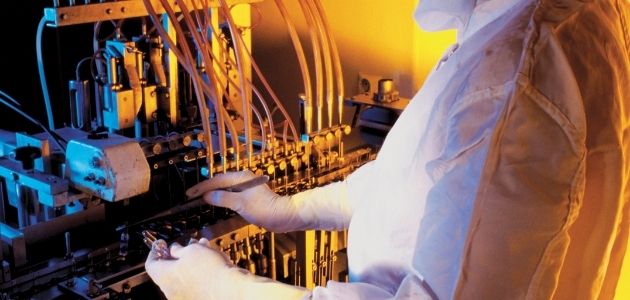 There is a lot at stake for Nancy. Her company is "very procedural oriented," yet it provided no procedure to apply for religious exemptions. Nancy says she has "great concern" about her retirement, which is quickly approaching. She said she doesn't know "how this will affect my pension, retirement and/or unemployment benefits if I am terminated."
Nancy has been building up her retirement for many years. Nancy and millions of people like her are faced with similar inhumane decisions.
She is one of tens of thousands of people who have reached out and asked us for help. We cannot abandon these desperate people simply asking for freedom to make their own medical decisions! We will help provide resources and support to everyone we can. And when you give to our ministry, you help make that happen.
A whistleblower from Pfizer just came forward and confirmed exactly what we have been saying. Not only was the Pfizer shot developed by testing on aborted baby cell lines, but senior level management is fighting to hide this information. And they got caught lying to you about it!
Advait Badkar, a senior director at Pfizer, admitted in an email to Pfizer's senior director of worldwide research, Vanessa Gelman, saying, "This is AFTER we had already confirmed with the customer that no cell lines from an aborted foetus [fetus] were used in the manufacturing process of the COVID-19 mRNA Vaccine … " But this is a complete lie!
Pfizer's chief scientific officer, Philip Dormitzer, admits "HEK293T cells, used for the IVE assay, are ultimately derived from an aborted fetus." However, he pushed Pfizer's polished narrative to omit all mention of aborted fetal tissue to avoid pushback, and Pfizer even doubled down that the public should not be informed about fetal tissue.
Gelman emailed: "We want to avoid having the information on fetal cells floating out there. … We believe that the risk of communicating this right now outweighs any potential benefits we could see, particularly with ... the public who may take this information and use it in ways we may not want ... "
Last year, research confirmed what Pfizer knows and is trying to hide! Our dedicated staff reviews and researches in depth to bring you accurate information. The truth is shocking.
But, we cannot do this alone. The support from our friends and donors is what makes it possible to win this battle for the truth.

"I was given the ultimatum that no Vax meant no job," shared a person identified as A.F., adding, "48 hours after the vaccine to this day my symptoms have worsen[ed]. It started with brain fog and minor neurological issues. Slowly my symptoms grew more concerning, burning in my hands, legs feeling disconnected, loss of balance, pins/needles stabbing throughout my body, blurry vision … I developed tremors and tachycardia. Along with the other symptoms, I have face tingling, an internal vibration throughout my body, muscle spasms in my legs and constant aching in all my extremities."
A.F. took the jab to be able to provide for two children, but now, he said, "I haven't been able to work since the end of August. I am now forced to apply for FMLA [Family and Medical Leave Act] or short-term disability in order to get any source of income."
The shot mandates are spreading. We are now providing research and assistance for a class action lawsuit on behalf of the military, federal employees and federal civilian contractors like Nancy.
Help us fight these shot mandates. The volume and intensity of the pleas for help are overwhelming. We need your help to help these people. Give today through our Challenge Grant that will DOUBLE the impact of your gift and help stop this injustice.

You can also send faxes demanding NO MANDATORY COVID SHOTS OR VACCINE PASSPORTS! Select here or the button below.

Peggy Nienaber, Vice President
Mat Staver, Chairman
Rev. Gregory Cox, Lead Missionary
P.S. Stand with us to defend the urgent requests of these precious people with your gift that will be DOUBLED.
P.P.S. And if you haven't already, send urgent faxes to key leaders today and sign the petition to demand NO MANDATORY COVID SHOTS OR VACCINE PASSPORTS.
*Names in this email have been changed for privacy.
Sources:
A.F. - Massachusetts. 2021. "Real Testimonials." C19 VAX REACTIONS. September 24, 2021. C19vaxreactions.com/real-testimonials.html.
Campbell, Neil. "Leaked Pfizer Executive Emails Confirm Aborted Fetal Tissue Used in COVID Vaccine Testing." Vision Times, October 6, 2021. visiontimes.com/2021/10/06/pfizer-executive-emails-aborted-fetal-tissue-covid-vaccine-testing.html.
"PFIZER LEAKS: Whistleblower Goes on Record, Reveals Internal Emails from Chief Scientific Officer & Senior Director of Worldwide Research Discussing COVID Vaccine ... 'We Want to Avoid Having the Information on the Fetal Cells Floating out There.'" 2021. Project Veritas. Projectveritas.com/news/pfizer-leaks-whistleblower-goes-on-record-reveals-internal-emails-from-chief/.
PROTEST FOR FREEDOM! 2021. Walk Out Wednesday: 12 noon your time zone. WalkoutWednesday.net.
"Resources & Research." Liberty Counsel, 2021. LC.org/vaccine.