Director of Constituency Affairs Patty Bills, Vice President Peggy Nienaber, Bonnie Cox and Lead Missionary Rev. Gregory Cox
Prayer and God's Word undergird our work at Faith & Liberty. We know we must rely on these to be effective. Otherwise, what we do is futile.
Tomorrow is an important day at the U.S. Supreme Court as the Justices hear the Cameron v. EMW Women's Surgical Center case. During oral argument, we will engage in intercessory prayer with other concerned believers at the Ministry Center (more on this below).
We are also happy to report that each of our Bible Studies has been filling to capacity. Each meeting brings lively discussion, new relationships and the sharing of Jesus Christ. Congressional staff who are new to understanding the gospel have opportunities to learn the basic steps of faith. The message of Jesus Christ is most important, as we are your missionaries on Capitol Hill serving those working in the heart of our nation's capital.
Blessings in Christ,
The Faith & Liberty team
We need YOUR help to keep this mission going! Faith & Liberty is 100% donor driven, and we cannot minister in our nation's capital without YOU. Please make your best possible donation today. Select here or the button below.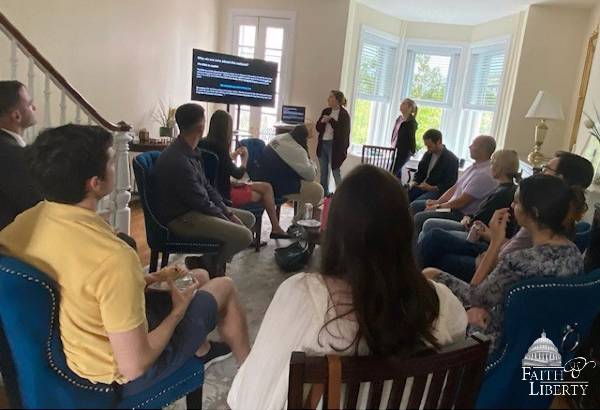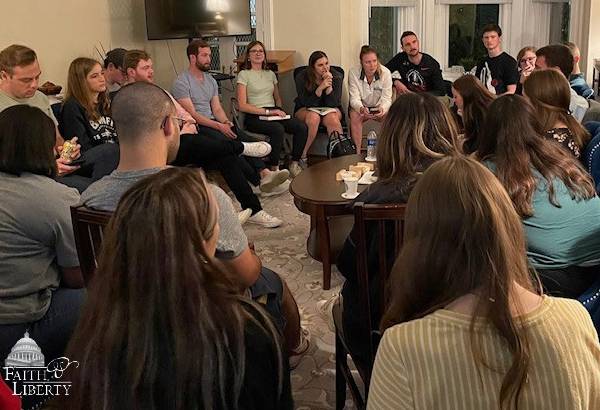 THE MONDAY RECAP & MORE
Faith & Liberty's lead missionary, Rev. Greg Cox, met with a significant group of pastors in Fort Worth, Texas, last Friday. He shared the mission and efforts of Faith & Liberty both in Washington, D.C., and throughout the nation. During a lengthy time of interaction, the pastors expressed their heartfelt gratitude for our work in the nation's capital, particularly focusing on our fight against the "Equality Act" and the COVID injection mandates.
Peggy Nienaber is on the Planning Committee for the Dobbs v. Jackson Women's Health Organization prayer gathering. The late-term abortion case is on the Supreme Court's docket for Dec. 1, and we are planning for 1,000 people to join us in front of the High Court during this powerful argument. If you would like to come, please call Patty Bills for details at 202-737-1776.
COMING SOON
Tomorrow, we will pray at the Ministry Center during the Cameron v. EMW Women's Surgical Center case. The Justices will hear arguments regarding a Kentucky law that makes it a crime for doctors to use the "dilation and evacuation" method, the procedure most used to end a pregnancy in the second trimester. The Kentucky Prayer Coalition Intercessors and Sisters for Life will listen to the "live" audio of the argument from the Ministry Center.
This session, we will also continue to hold prayer gatherings in front of the U.S. Supreme Court with the Justices hearing arguments on critical abortion cases. Ask the Lord to lead us in planning for our Dobbs v. Jackson Women's Health prayer gathering.
Pray that all of the details would come together for the Live Nativity, which will follow the Dobbs case the next day. We've added several new things to this special celebratory event, so be sure to mark your calendar and join us!

Our prophetic missionary work in Washington, D.C., continues during this critical time in history. CLICK HERE TO SUBMIT YOUR PRAYER REQUEST.

We must all stay tuned in to what's happening in our nation's capital. To stay informed on issues in Washington (e.g., "Freedom to Vote Act," "Equality Act") and play your part as a citizen and a Christian, look for Faith & Liberty's ACTION emails throughout the week.
PRAYER
Please pray for LIFE in America. Pray for infant lives to be saved, for the women and men facing these decisions and for the crisis pregnancy centers that minister to them. Pray for the Supreme Court Justices and the pivotal abortion cases they will decide.

Continue to bring our weekly Bible studies to the Lord, particularly that many congressional staffers will hear and respond to the gospel. Pray that the Word of God would permeate and impact their personal and professional lives as they work on Capitol Hill.
Our efforts to bring the Word of God to bear on the hearts and minds of our public policy makers are only possible because wonderful friends like you stand with us both in prayer and in your generous financial support! Thank you!
Make a difference and partner with us.