A 12-year military veteran and current Denver police officer broke down in tears discussing his recent disability after just one COVID shot.
Jose Manriquez had strong natural antibodies to COVID. However, he was still forced to get the jab or lose his job with the Denver Police Department.
This father of four got one shot of Pfizer. Now his 34-year-old body is shaking as if he had advanced Parkinson's disease. "I always carry my kids to bed," he said, but no more. He recently fell over when he was trying to tuck them in bed. Now, his little girls see him as "broken." In tears, he shared what his children said, "Daddy, let's just walk to bed."
"The doctors say it could get worse before it gets better, and if I do get better, it's going to be years," he said, choking up as he thought about how life for his family has changed.
Many are facing the same dilemma as Jose. Officers in California, New York, Washington, Illinois, Wisconsin, Florida, Texas, South Dakota and many more states are all facing these insane mandates. These officers are on the front lines protecting their communities, but now they are under attack.
Some have less than two weeks to be "fully vaccinated" … or be unemployed.
YOU are what makes it possible for us to fight these battles for medical freedom! Join our Challenge Grant to DOUBLE the impact of your gift today. Give to Faith & Liberty today to help stop forced injections. — Mat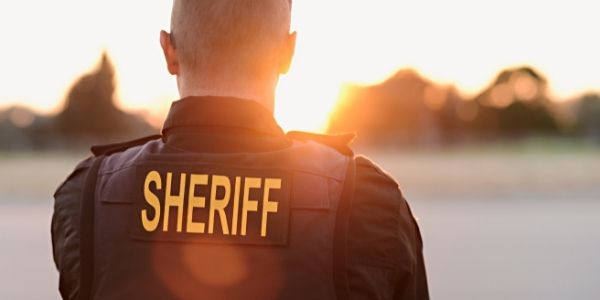 The same week Jose took the first shot he said he felt "body aches and pain in [his] legs." A few days later, "I tried going into work," he said. "My legs hurt a lot more. [I] ended up getting sent home, and on my way home, I couldn't feel my feet anymore. I couldn't feel the gas pedal or the brake pedal and pretty much had to call for help to get home."
"I barely made it," Jose said of his experience with the shot. "It's life-changing."
"It's soccer season and I can't be outside with my kids," said Jose, who can't even walk without assistance. His doctor told him his loss of sensation, shakes and disability were caused by the jab.
Fox News picked up Jose's story. If the media would just air what is happening, the shot mandates would end. But most have an agenda.
Many police officers face the same life-or-death-and-disability decision as Jose. These officers are reaching out to us desperate for help. "I am terrified and need to get an exemption," said one Miami-Dade Police Department member.
The spouse of a Massachusetts state trooper also reached out to us for help. Requests for religious exemptions in their department are being denied. This spouse confided, "I am sick over this. [My husband] is our sole income."
Seattle's mayor is demanding all city employees get the jabs by October 18 or be terminated. "I have a sincerely held religious belief as a Christian that should exempt me from this tyrannical mandate," said another hopeful employee.
In Chicago, one officer said, "Word is they are going to flatly reject all religious exemption requests, and most medical exemption requests."
In Washington state, an officer asking for help said staff could only request a religious exemption if they "affirm or agree that they have never received a vaccine or medicine from a health care provider as an adult."
Much like health care providers, police officers have faced intense pressure for more than a year from the anti-police riots to funding cuts, and from being deployed without proper gear to protecting their own bodies to fake news vilifying them at every turn. Many have been pushed to their limits; some have been killed.
Many police departments are operating below the number of officers they need to keep communities safe. Now they are under attack from within. Many are turning to our ministry for help!
We will not abandon our brave police officers and so many others who are facing cruel pressure. Join our Challenge Grant to DOUBLE the impact of your gift to help them now.
We were contacted by someone who has faithfully served as security for the U.S. Treasury Department. This person is only a few months short of retirement. Now the mandates threaten this faithful worker from full retirement.
My team is in tears daily from the personal stories of so many people in desperate need of help. We are overwhelmed like I have never seen!
Similar to a doctor in an ER filled with people injured in a catastrophic event and all needing help, we are working long hours to help these people. As a result of our work, we receive many responses from thankful people whose exemption was granted.
We are helping over 25,000 people. And our heart breaks for each person. Time is short! We need YOUR HELP to DEFEND AGAINST MANDATORY SHOTS and VACCINE PASSPORTS!
Your missionaries to Washington, D.C.,
Peggy Nienaber, Vice President
Mat Staver, Chairman
Rev. Gregory Cox, Lead Missionary
P.S. Stand with us to defend these precious people with your gift that will be DOUBLED.
P.P.S. If you haven't already, send urgent faxes to key leaders today. Then sign the petition to demand NO MANDATORY COVID SHOTS OR VACCINE PASSPORTS.
Sources:
"Denver Officer Says He Lost Ability to Walk after Being Forced to Take COVID Vaccine." Fox News, October 1, 2021. https://video.foxnews.com/v/6275068282001#sp=show-clips.
"Denver Policeman Crippled after Taking Pfizer Shot as Condition for Employment." 2021. Rumble.com. Accessed October 4, 2021. Rumble.com/vn9uc0-denver-policeman-crippled-after-taking-pfizer-shot-as-condition-for-employm.html.
"Denver Policeman Crippled after Mandatory Pfizer Shot – Are Law Enforcement the Key to Resisting Medical Tyranny?" 2021 Health Impact News. October 3, 2021. Healthimpactnews.com/2021/denver-policeman-crippled-after-mandatory-pfizer-shot-are-law-enforcement-the-key-to-resisting-medical-tyranny/.
"Resources & Research." Liberty Counsel, 2021. LC.org/vaccine.