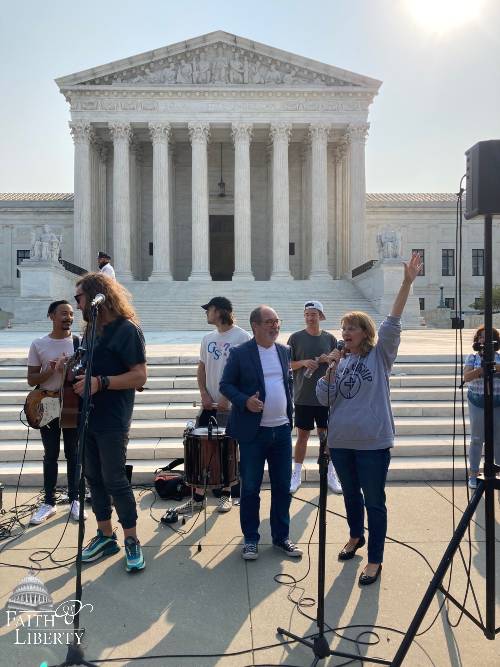 With the 20-year anniversary of 9/11 last week, we were reminded of the need for America to depend on God for protection and provision. He alone is the Sovereign One who extends to us grace and mercy.
The Scriptures call us to pray, seek God's face and repent, then He promises to forgive and heal (2 Chron. 7:14). We must also pray for "all those in authority that we may live peaceful and quiet lives in all godliness and holiness" (1 Tim. 2:1-2).
Isn't that the kind of nation in which we want to live? How do we get there? What does our Lord expect of us? Three things: "To act justly and to love mercy and to walk humbly with your God (Micah 6:8b)."
At this pivotal time in history, join the Faith & Liberty team in praying for our leaders in Washington, D.C., at all levels of government across this great land, at the U.S. Supreme Court and at all levels of our court system. As we work to ensure our freedom in this "land of the free," let us do the three things God asks of us that we might live under the blessing of the Almighty.
Blessings in Christ,


Peggy Nienaber, Vice President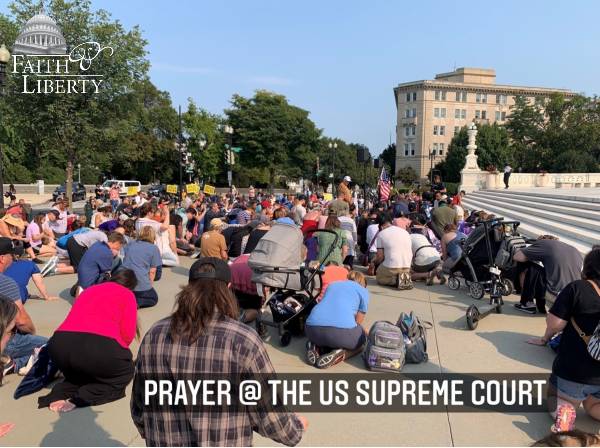 THE MONDAY RECAP

We were privileged to meet virtually with Chaplain of the U.S. House of Representatives Margaret Kibben along with other Hill ministries to pray, support and share about how God is moving in each of our ministries on Capitol Hill. Chaplain Kibben prayed with each of us and offered encouragement.
Peggy Nienaber participated in the "Faith@Work" virtual meeting, in which untold stories were shared of how faith made an impact on Sept. 11, 2001. Former Ambassador Rev. Dr. Suzan Johnson Cook (9/11 first responder and chaplain), Fr. Greg McBrayer (American Airlines chief flight dispatcher and chaplain) and David W. Miller (director of the Princeton University Faith & Work Initiative) relayed what they experienced that day. They shared what they saw through their own eyes and the eyes of the 911 call dispatchers, chaplains and flight dispatchers who were on duty that day and used these experiences to mentor those of us who minister in Washington, D.C., on a daily basis.
Peggy also joined the worship team to help lead praise and worship this past Sunday at the Supreme Court. The "Let Us Worship Prayer Rally" brought over 1,000 people to pray for the Dobbs v. Jackson Women's Health Organization case to be heard this fall at the High Court. Peggy led in prayer, remembering the unborn, the Justices and for revival to bring the hearts and minds of Americans back to God. She also prayed for God to bring a spiritual awakening to our nation's capital.
The Bible Studies have grown and continue weekly at the Ministry Center. The Ladies Prayer Brunch was held last Saturday. The King's Collective series, the first financial seminar for staffers, also was a success. These meetings give the Capitol Hill staff an opportunity for much-needed fellowship.
COMING SOON

The Praying for Life rally will be held in front of the Supreme Court on Saturday, Oct. 2, 2021, at 2 p.m. EDT. Join us if you can!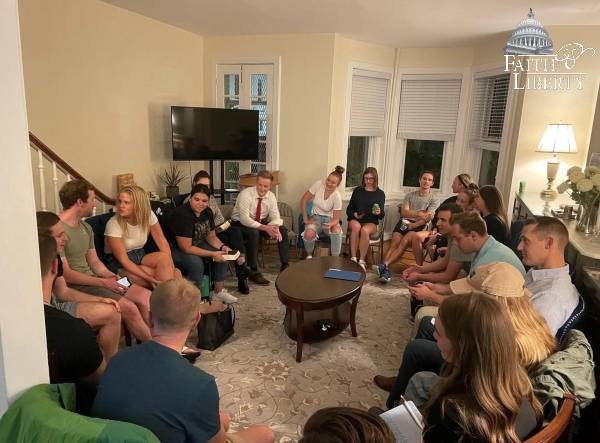 Our prophetic missionary work in Washington, D.C., continues during this critical time in history. CLICK HERE TO SUBMIT YOUR PRAYER REQUEST.

We must all stay tuned in to what's happening in our nation's capital. To stay informed on issues in Washington (e.g., "For the People Act," "Equality Act") and play your part as a citizen and a Christian, look for Faith & Liberty's ACTION emails throughout the week.
PRAYER
Ask God to bring those who care about the lives of the unborn and their families to the Praying for Life rally, to be held in front of the U.S. Supreme Court on Oct. 2.
Pray that the presence of the Lord would linger in Washington as when we prayed this past weekend before the Supreme Court and as Sean Feucht led God's people to worship from the National Mall.
Our efforts to bring the Word of God to bear on the hearts and minds of our public policy makers are only possible because wonderful friends like you stand with us both in prayer and in your generous financial support! Thank you!
Make a difference and partner with us.