Active-duty soldiers, some who served through two decades of war to defend our freedom, need our help. Joe Biden and his secretary of defense are threatening to end their careers if they refuse to take the shots. Our servicemen and women have tirelessly defended our freedom since 9/11.
Faith & Liberty is working with tens of thousands of people—including active-duty military—desperately trying to avoid forced COVID shots. We need your help to support the legal fight for freedom. Please, make your best possible sacrificial gift today. And thanks to a special Challenge Grant, YOUR impact will be DOUBLED! Select here or the button below to FUND THE FIGHT FOR FREEDOM.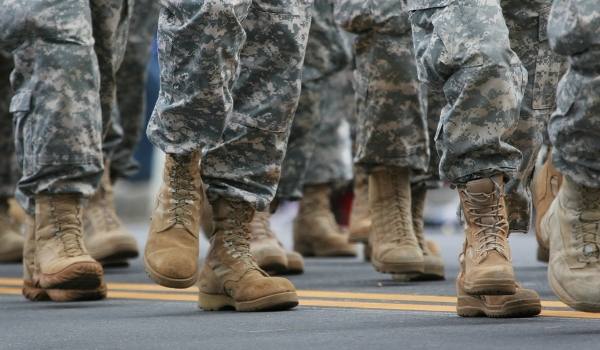 An active-duty soldier, whose name we must keep confidential, contacted our office. We'll call him "Andy." His email reminded us that his generation has been continuously at war for 20 years.
"Our youth wasn't taken from us," Andy writes. "We gave it."
Those who signed up to serve on Sept. 11, 2001, will be eligible for retirement with full benefits this fall unless ...
We are receiving desperate calls from the military—PLEADING FOR HELP!
Thanks to Joe Biden's unlawful shot mandate, career military soldiers are now being told they will be court-martialed and dishonorably discharged, thus forfeiting what they are entitled to receive unless they take the jab. Biden is ordering all military to receive the jab or lose their job by September 15, 2021—20 years, almost to the day, of 9/11.
"For 20 years, we missed birthdays, anniversaries and Christmases," writes Andy, driving home the level of sacrifice these brave heroes have made for us. "We watched friends die in war. Many of us bled ourselves. After returning, we watched the mental toll take more of our friends through suicide."
"We have spent 20 years loving our country and putting the lives of our fellow citizens above our own," Andy says. But now Biden and his vax- pushers are forcing these heroes to risk their lives in a different way—by injecting an experimental drug, the COVID shots.
The military members know about the 7–10 years of skipped safety protocols. They know, too, about the nearly unspeakable number of deaths and injuries these shots are causing worldwide. They know about the heart attacks after the jab. They did not sign up for this.
They know about the miscarriages, stillborn births and babies dropping dead from nursing at their vaccinated mother's breasts.
Our military members may have signed up to risk their own lives in war, but they did not sign up to become Anthony Fauci's human guinea pigs. These soldiers did not sign up to put the lives of their spouses and children at risk.
This isn't the first time innocent Americans have been treated like human guinea pigs.
From 1932 to 1972, the CDC conducted what was then called the "Tuskegee Study of Untreated Syphilis in the Negro Male" on African Americans living in Alabama. Despite being told they would receive free medical care and that the testing would last only six months, the CDC dragged it out for 40 years. And despite the discovery of a simple and effective cure for the disease in 1947, the CDC did not inform participants ... instead letting their symptoms kill them in slow agonizing deaths.
More recently, back in the 1990s, the U.S. Army gave another experimental drug, this time to active-duty soldiers. At the time, the "crisis" was anthrax. Thirty years later, we still have soldiers suffering from drug poisoning from that failed experimental shot.
ENOUGH! These brave men and women defended our freedom—now it is time for us to defend them!

A serviceman's request ...
Andy began his letter with a cry for help, but he ended it with a different kind of request, one that I hope you will help me with—pray for Andy and his fellow service members.
"I do need prayer for my comrades," Andy writes, "that they would know the comfort I have in Christ, that their countrymen would think the best of them in these confusing times"—and that the mandates cease. If they don't, many patriots will be separated from serving America over a failed experimental drug.
There's one more thing you can do to help. Stop the COVID tyranny by faxing governors and Congress. NO MANDATORY COVID SHOTS OR VACCINE PASSPORTS! Select here or the button below.

Your missionaries to Washington, D.C.,
Peggy Nienaber, Vice President
Mat Staver, Chairman
Rev. Gregory Cox, Lead Missionary


P.S. DOUBLE THE IMPACT OF YOUR GIFT with our Challenge Grant.
P.P.S. Don't forget to fax state and federal lawmakers to say NO MANDATORY COVID SHOTS OR VACCINE PASSPORTS.
And sign our petition.
Spread the word about Walk Out Wednesday. Visit WalkOutWednesday.net.


---


Sources:
"Resources & Research." Liberty Counsel, 2021. LC.org/vaccine.
"The OpenVAERS Project." n.d. The OpenVAERS Project. openvaers.com/covid-data.
"Walk Out Wednesday." WalkOutWednesday.net. Liberty Counsel, 2021. walkoutwednesday.net.‌