We've been anticipating this week for some time, and it's finally here!
The 32nd Annual U.S. Capitol Bible Reading Marathon kicked off Saturday, May 1, with a ceremony on the patio of our Ministry Center and continues through Wednesday, May 5. This 90-hour live event exalts God and His Word as it is read in Washington, D.C., and by believers across the country. Several members of Congress are also demonstrating that they value the Bible and its place in our nation's history by reading the Scriptures publicly during the event. Be sure to drop by FaithandLibertyDC.org to view the readings live.
Blessings in Christ,


Peggy Nienaber, Vice President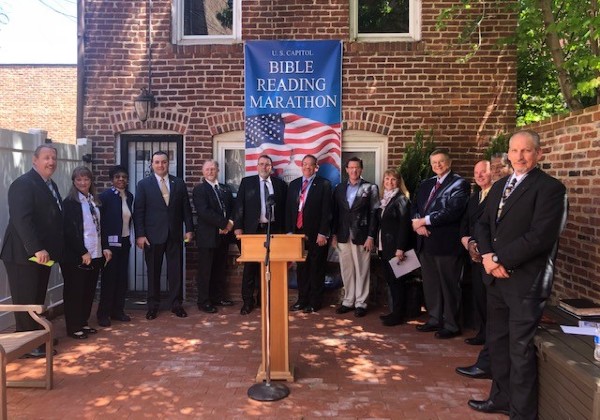 THE MONDAY RECAP
On Saturday, the

opening ceremony for the

U

.

S

.

Capitol

Bible Reading Marathon

was held

at the Ministry Center

.

Seedline

International Ministry hosted

a Sunday morning

church

service in the beautiful outdoor setting

at

the Ministry Center

patio

.

That

evening, we held a Bible study for Capitol Hill staffers

(See our prayer requests below for some

really good

news!)

About

25

people from

the

Chinese

Community C

hurch

of Washington, D.C.

,

came

with

Rev.

Charles

K

oo

to the Ministry Center

in the middle of the night

to participate in the Bible Reading Marathon. They read their Scripture portions in Mandarin

and

Cantonese

.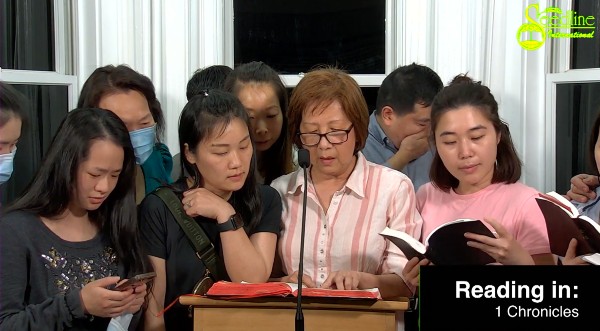 We h

oste

d a

f

ellowship dinner

Sunday evening

at the Ministry Center

with

Seedline

International's

staff and volunteer

s

who set up the equipment

and have been tirelessly manning the feed

for the Bible Reading Marathon.

The Ministry Center was a

buzz with life and ministry as all three floors were being used

at the same time to advance the Gospel!

The new

c

haplain of the U

.

S

.

House of Representatives joined us today to

participate

in

the U

.

S

.

Capitol Bible

Reading Marathon.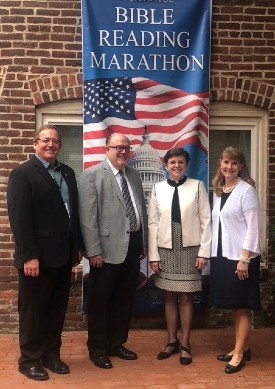 COMING THIS WEEK
The Bible Reading Marathon continues and will close with a ceremony at 10 a.m., Wednesday.

We'll pray on Tuesday at the Rooftop National Encounter as we look out over our nation's capital.

We will meet with the Capitol Hill chief of police on Wednesday and present her with a Bible.

Believers from across the country will intercede for America on the National Day of Prayer on Thursday.

We will have other meetings this week that will open unprecedented doors of ministry opportunity here on the Hill. We'll keep you informed!
Our prophetic missionary work in Washington, D.C., continues during this critical time in history. CLICK HERE TO SUBMIT YOUR PRAYER REQUEST.

We must all stay tuned to what's happening in our nation's capital. To stay informed on issues in Washington (e.g., "For the People Act," "Equality Act") and play your part as a citizen and a Christian, look for the Faith & Liberty ACTION emails throughout the week.


To learn more about the attack on election integrity and access key resources, click HERE.


PRAYER
Praise the Lord with us as several Capitol Hill staffers who came to our Bible study this week gave their lives to Christ!
Pray with us, according to Isaiah 55:11, that the reading of God's Word in the nation's capital will not return empty but will accomplish the purposes of God.
Our efforts to bring the Word of God to bear on the hearts and minds of our public policy makers are only possible because wonderful friends like you stand with us both in prayer and in your generous financial support! Thank you!
Make a difference and partner with us.