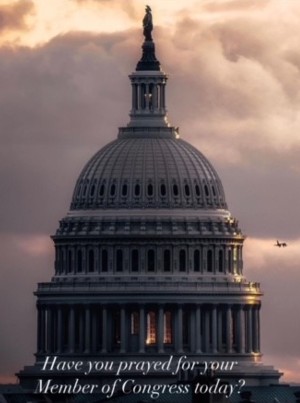 It's easy to get caught up in the busyness of everyday life with our families, jobs and churches and forget the significant decisions our political leaders are making in Washington every day. Some go to Capitol Hill ready to serve the American people, while others have darker agendas in mind. This makes it all the more critical for us as followers of Christ to do what I Timothy 2:1-2 urges us to do:
"First of all, then, I urge that supplications, prayers, intercessions, and thanksgivings be made for all people, for kings and all who are in high positions, that we may lead a peaceful and quiet life, godly and dignified in every way."
Doesn't a peaceful, quiet, godly and dignified life sound appealing? I think I heard you say, "Amen"!
In that light, the Faith & Liberty team will be preparing for our prayer events, including the National Day of Prayer on Thursday, May 6. We sincerely hope you will stand with us as we glorify our God and intercede for our nation at this important time—and we thank you!
Blessings in Christ,


Peggy Nienaber, Vice President


THE MONDAY RECAP
Peggy Nienaber participated in the Zoom call with the U.S. Commission on International Religious Freedom discussing global efforts to combat anti-Semitism. USCIRF released its new 2021 report on anti-Semitism in the OSCE (Organization for Security and Co-operation in Europe) region and ideas for how the U.S. government can further encourage member states to fulfill their obligations to the Jewish community.
Peggy Nienaber participated in the weekly International Religious Freedom Roundtable and was also asked to serve on the steering committee for the International Religious Freedom Summit in July. Thirty countries will be involved in this summit promoting and bringing awareness to persecuted Christians.
Patty Bills and Peggy Nienaber participated in a planning session for the upcoming Rooftop International Prayer event in Washington, D.C. We will gather with a group of national leaders to pray over the nation's capital.


Rep. Kevin Brady (R-TX) (left); Rep. Greg Murphy (R-NC) (right)

COMING THIS WEEK
S

etup for the U.S. Capitol Bible Reading Marathon begins this week. We have much to prepare as the marathon begins this Saturday, May 1, at 2 p.m. You can tune in to hear the Word of God read by visiting

FaithandLibertyDC.org

. Live streams and updates will also be posted on

Faith & Liberty's Facebook

page.
The Faith & Liberty team will be preparing for our prayer events to be held the first week of May. The events are Daybreak Prayer at the Supreme Court, U.S. Capitol Bible Reading Marathon Opening and Closing Ceremonies, Rooftop International Prayer and the National Day of Prayer on Capitol Hill.
Pray for wisdom for the steering committee members during their International Religious Freedom Summit meetings.
The Faith & Liberty team continues to participate in conference calls, Zoom meetings and in-person meetings to pray for our members of Congress and their staff.
We expect the much-needed construction at the Ministry Center will conclude this week. Pray for our staff as we work around the construction.
Our prophetic missionary work in Washington, D.C., continues during this critical time in history. CLICK HERE TO SUBMIT YOUR PRAYER REQUEST.

There is so much happening in our nation's capital that demands our attention and immediate response. To stay up to date on issues on Capitol Hill (e.g., "Equality Act") and learn how you can get involved, look for Faith & Liberty's ACTION emails throughout the week.


To learn more about the "Equality Act" and access a resource to distribute to family and friends, click HERE.


PRAYER
Support us in prayer as we prepare for and participate in the Bible Reading Marathon. Let's honor God together in reading, hearing and obeying His powerful Word!


Please support your senators and representatives by praying for them and their staff. The challenges they face with legislation, decisions and daily tasks sometimes can be overwhelming. Have you prayed for your member of Congress today?

Our efforts to bring the Word of God to bear on the hearts and minds of our public policy makers are only possible because wonderful friends like you stand with us both in prayer and in your generous financial support! Thank you!
Make a difference and partner with us.