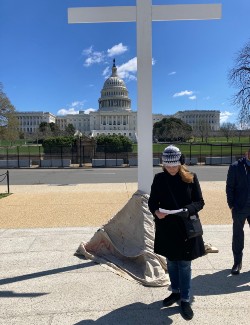 Christ is risen! We serve a Lord who was raised to life and is now seated at the right hand of God. Be assured, He is always interceding for us.


"The Lord hears his people when they call to him for help. He rescues them from all their troubles. The Lord is close to the brokenhearted, he rescues those whose spirits are crushed" (Psalm 34:17-18).


"And He Himself bore our sins in His body on the cross, so that we might die to sin and live to righteousness; for by His wounds you were healed" (1 Peter 2:24).


Let us rejoice! Through Christ's death and resurrection, God has provided for our every need, giving us peace for the present and promise for the future.




Peggy Nienaber, Vice President


THE MONDAY RECAP
We exercised our faith Wednesday on Capitol Hill during the Prayers4America prayer walk, standing firm and visible for the cause of Christ. We organized prayer groups to pray at the Supreme Court, the Senate and House congressional buildings and the Capitol. We asked God to send healing, hope and harvest! We called for a Great Awakening in our nation.

Peggy Nienaber also participated with the Christian Defense Coalition in holding the only Good Friday Service at the Capitol. We celebrated the "Stations of the Cross" and prayed for God to heal our nation. We know it is only through the power of Christ's sacrificial love and death on the cross that individual hearts can be restored and healed.

We are thankful our staff was on site and safe Good Friday. We were able to pray with several officers after an attack by a lone assailant on the Capitol complex that, sadly, left one officer dead.

We offered 12 days of "Countdown to the Resurrection" devotionals. If you missed any of these or want to further reflect on them, you can find them all HERE.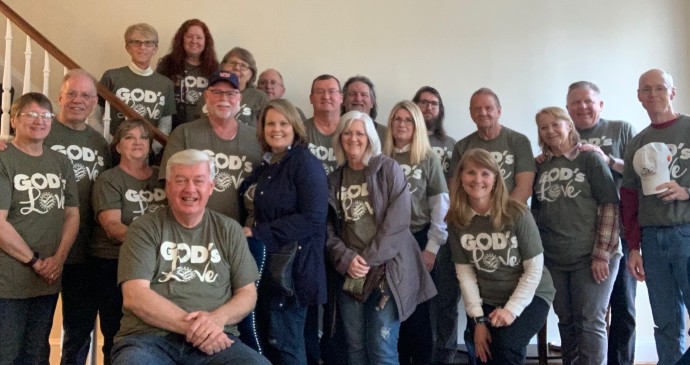 COMING THIS WEEK
We will be participating in the Tuesday's virtual International Religious Freedom roundtable. This is a weekly event where government officials meet with those concerned about religious freedom issues around the world.

We will be hosting and participating in several Bible studies this week. We pray that the Spirit of God would continue to open eyes and enliven hearts of all participants.
Our prophetic missionary work in Washington, D.C., continues during this critical time in history. CLICK HERE TO SUBMIT YOUR PRAYER REQUEST.

There is so much happening in our nation's capital that demands our attention and immediate response. To stay up to date on issues on Capitol Hill (e.g., "Equality Act") and learn how you can get involved, look for Faith & Liberty's ACTION emails throughout the week.


To learn more about the "Equality Act" and access a resource to distribute to family and friends, click HERE.


PRAYER
Praise God for the prayer walk and Good Friday service we had. Pray they will continue to bear spiritual fruit in our nation's capital.


Pray also for us as we engage with congressional leaders and staff that they might look to Christ as their Savior and Lord and ask for wisdom in their respective roles.


With the the recent serious incidents on Capitol Hill, we ask that you continue to pray for the Capitol Hill police officers who keep our staff safe every day.


Our efforts to bring the Word of God to bear on the hearts and minds of our public policy makers are only possible because wonderful friends like you stand with us both in prayer and in your

generous financial support

! Again, thank you!

Make a difference and partner with us.