Countdown to the Resurrection
Separated from His Father, shamed for our sin
On this Good Friday, it is important we all take a moment and reflect on the enormity of the price paid for our redemption. Determining value can be challenging. A young artist may believe he has painted a masterpiece worth thousands of dollars. The true value of the painting, however, is decided by how much prospective buyers are willing to invest. Why? Because the value of anything is determined by the price others are willing to pay.
What then is the price the Eternal God was willing to pay for you? For the world? What is the measure of God's love for us all? The answer is found in John 3:16: "For God so loved the world that he gave his one and only Son, that whoever believes in him shall not perish but have eternal life." And again in Romans 8:32, "He who did not spare his own Son, but gave him up for us all—how will he not also, along with him, graciously give us all things?"
The cross, with all its disgrace, shame, humiliation, pain and suffering, was the price the Creator of the Heavens and Earth was willing to pay so that rebellious, fallen sinners like us could be forgiven and reconciled to Him.
Jesus knew that. He told His disciples, "Now My soul is troubled and deeply distressed; what shall I say? 'Father, save Me from this hour [of trial and agony]'? But it is for this [very] purpose that I have come to this hour [this time and place]" (John 12:27).
The hour is a reference to Jesus' suffering and death.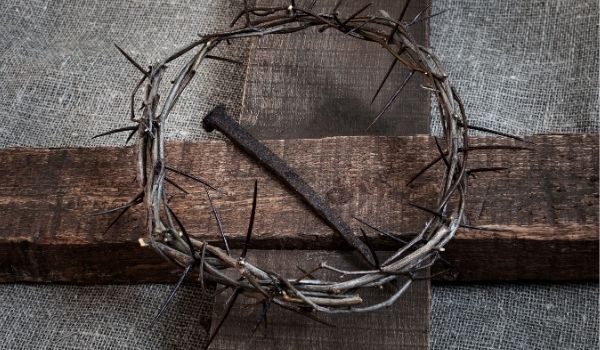 But the humiliation and sacrifice of Jesus as the price for our sin was not something forced upon Him. Rather, it was a willing act of the Son done with each of us in mind. Consider the words of the apostle Paul as he describes the mindset of Jesus in His decision to offer Himself as a sacrifice for our sins.
" … although He existed in the form and unchanging essence of God [as One with Him, possessing the fullness of all the divine attributes—the entire nature of deity], did not regard equality with God a thing to be grasped or asserted [as if He did not already possess it, or was afraid of losing it]; but emptied Himself…by assuming the form of a bond-servant, and being made in the likeness of men [He became completely human but was without sin, being fully God and fully man]. After He was found in [terms of His] outward appearance as a man [for a divinely-appointed time], He humbled Himself [still further] by becoming obedient [to the Father] to the point of death, even death on a cross."
As the disciples sit at dinner with Jesus, they are witnessing the God-incarnate, sinless Son, who left His resplendent glory in Heaven alongside the Father, preparing to be stripped, beaten with rods, scourged with a Roman cat o' nine tails that would literally tear His flesh to pieces, spat upon, ridiculed, mocked, forced to carry the instrument of His own death along the busy city streets of Jerusalem and then suspended between Heaven and Earth possibly at a highly trafficked intersection to die an agonizing death. Crucifixion was meant to be both public and torturous to serve as an example to those who might consider treason against Rome.
Crucifixion was an unimaginable agony where the victim suffocated in his own blood.
After three hours on the cross, Jesus cried out to His Father, "From noon until three in the afternoon darkness came over all the land. About three in the afternoon Jesus cried out in a loud voice, 'Eli, Eli, lema sabachthani?'" (which means "My God, my God, why have you forsaken me?") (Matt. 27:45-46).
Of course, Jesus is referencing Psalm 22 as He utters this lament from the tree. Here are the words of the psalmist: "My God, my God, why have you forsaken me? Why are you so far from saving me, so far from my cries of anguish? My God, I cry out by day, but you do not answer, by night, but I find no rest" (vv. 1-2).
To understand the fullness of this moment, we need to remember the fellowship the Son enjoyed with the Father from before creation. John writes, "In the beginning was the Word, and the Word was with God, and the Word was God. He was with God in the beginning. Through him all things were made; without him nothing was made that has been made" (John 1:1-3).
This same Jesus, the Son, was the Word in eternal communion with the Father and the Holy Spirit by whose divine fiat the universe exploded into existence. The writer of Hebrews describes it thus: " … and through whom also he made the universe. The Son is the radiance of God's glory and the exact representation of his being, sustaining all things by his powerful word" (Heb. 1:2-3a).
And yet now, darkness descends upon the creation that owes its existence to the one hanging upon the cross. And the eternal Son cries out in anguish to the Father, "Why have you forsaken me?" No dove descends upon Him. No voice declares, "This is my beloved Son, in whom I am well pleased." Now, there is only silence.
My God! Silence. Where are you? Silence. Why have you forsaken me? Silence.
Jesus hangs suspended between Heaven and Earth—rejected by both. In His pain and anguish, the Father turns away in silence.
Why? "Your eyes are too pure to look on evil; you cannot tolerate wrongdoing" (Hab. 1:13). While some take the words of Habakkuk to mean God cannot look upon sin, Jesus regularly looked upon the sin that surrounded Him during His sojourn on Earth. What the words of the prophet mean is that God cannot look upon evil AND TOLERATE IT.
And He does not.
Consider the words of the apostle Paul to the church at Corinth: "God made him who had no sin to be sin for us" (2 Cor. 5:21a). In that moment, God judicially places upon Jesus the entirety of sin for all of humankind from the beginning of creation. Such a staggering burden is beyond comprehension. No wonder His brow sweat drops of blood as He prayed in the garden considering what was to come.
And why did God place humankind's sin burden upon His Son, the sacrificial lamb? "He made Christ who knew no sin to be sin on our behalf, so that in Him we would become the righteousness of God" (2 Cor. 5:21).
God made Jesus the sin offering for us all. He is the sacrificial lamb. He is the scapegoat upon whom we all cast our sin. And because we put our faith and hope in His vicarious sacrifice, because we believe He died for our sins, the Father imputes His own righteousness to us. We become the righteousness of God.
The eternal fellowship between the Father and the Son was broken so we could be joined into the eternal fellowship.
It was this truth that caused Charles Wesley to break out into song: "And can it be that I should gain / An interest in the Savior's blood / Died He for me, who caused His pain / For me, who Him to death pursued? / Amazing love! How can it be / That Thou, my God, shouldst die for me?"
But even more, not only does the cross secure my salvation, but it also provides my healing. As Isaiah the prophet testifies, "But He was wounded for our transgressions, He was bruised for our iniquities; The chastisement for our peace was upon Him, And by His stripes we are healed" (Isaiah 53:5).
Hallelujah! This is the Gospel your missionaries at Faith & Liberty bring daily to our public policy makers. These are the truths we declare to impact the hearts and minds of our national leaders.
We are able to do it every day because of your faithful prayers and generosity. Join with us again by making the most generous investment possible to Faith & Liberty on this Good Friday. Thank you.
And now, let's raise our voices in praise and adoration to the Eternal Son whose precious blood shed on Calvary has torn open the veil of separation between ourselves and the Father.
We join singer Cory Asbury in thankful praise: "Oh, the overwhelming, never-ending, reckless love of God / Oh, it chases me down, fights 'til I'm found, leaves the ninety-nine / I couldn't earn it, and I don't deserve it, still, You give Yourself away / Oh, the overwhelming, never-ending, reckless love of God."
Amen!
---
Faith & Liberty is an evangelistic ministry, taking the Gospel of Jesus Christ to the nation's top elected and appointed officials. Our mission is simple: To bring the Word of God to bear on the hearts and minds of those that make public policy in America. We rely on your support to accomplish this important ministry. Thank you for your generosity.