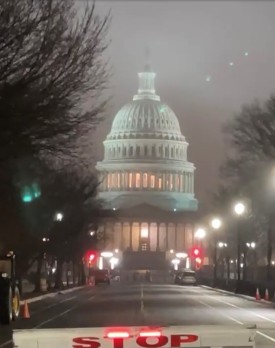 Faith & Liberty has a unique mission field in our nation's capital. Our purpose is to bring the Word of God to bear on the hearts and minds of our public policy makers. God is certainly continuing to open doors in that arena. We have been able to meet with numerous members of Congress. This past week, we met with Rep. Vicky Hartzler of Missouri and Sen. John Thune of South Dakota.

Our outreach extends to others on Capitol Hill as well. We are amazed at the many doors for ministry God is opening. As I shared last week, we are adding Bible studies to our schedule as the number of attendees continues to grow.
Recently, I met with staff from the Museum of the Bible to plan a meet-and-greet for new members of Congress. I was able to pray with them and invite them to the Bible studies and activities at our Ministry Center.
Also, as I walk along the fences set up around Capitol Hill, I encounter many members of the National Guard. This has provided an opportunity to speak with them and invite them to our Bible studies—and some of them are coming!
It's amazing to see what God is doing through your support. Your prayers, your interest and your generosity form the backbone of this gospel outreach in our nation's capital. Thank you!
Blessings,


Peggy Nienaber, Vice President

The Monday Recap
Peggy Nienaber held a Facebook Live with Dr. Charles "Buddy" Parrish of First Baptist Sweetwater Church in Longwood, Florida, to talk about the upcoming Prayers4America being held March 31 in Washington, D.C. You can listen to the conversation and learn more about this prayer event by clicking HERE.
Peggy met with Sen. John Thune to talk about the 2021 legislative and political landscape. It was an opportunity to not only discuss the issues the Senate will face, but also to pray with him and provide support for the challenges ahead.
Peggy also participated in a discussion with Congresswoman Vicky Hartzler on the concerns of the "Equality Act." This dangerous bill, which has already passed in the House, threatens women and children and will destroy religious freedom in America. Questions addressed included: How do we protect our kids from extreme gender ideology and laws? How does this impact Christians and other religious communities? What can we do?
To learn more about the "Equality Act" and access a resource to distribute to family and friends, click HERE.
UPCOMING THIS WEEK

We are planning for the U.S. Capitol Bible Reading Marathon (May 1-5). To participate as a reader—virtually or in person—please call Patty Bills at our office at 202-737-1776.
Our prophetic missionary work in Washington, D.C., continues during this critical time in history. CLICK HERE TO SUBMIT YOUR PRAYER REQUEST.

There is so much happening in our nation's capital that demands our attention and immediate response. To stay up to date on issues on Capitol Hill (e.g., "Equality Act") and learn how you can get involved, look for Faith & Liberty's ACTION emails throughout the week.
PRAYER
Please pray for the eyes and hearts of our senators to be opened to the reality of what the "Equality Act" will do to America. Pray that the Senate does not pass the bill. It is hard to convey just how intrusive this bill will be into every area of life. It is not an exaggeration to say it will obliterate religious freedom.
Pray for the many people we come into contact with in Washington, D.C. Pray for God to continue to open doors, to give us wisdom and discernment and to be glorified in everything we say and do.
All of our efforts to bring the Word of God to bear on the hearts and minds of our public policy makers are only possible because wonderful friends like you stand with us both in prayer and in your generous financial support! Again, thank you!
Make a difference and partner with us.