The House just passed the misnamed "Equality Act" this week, but we can stop this bill in the Senate.
This is the greatest attack on freedom I have ever seen! This is not a drill. It is the most extreme threat to religious freedom, speech, privacy, women's rights, and to human life I have ever seen.
Everyone will be harmed, including churches, organizations, religious schools, and people of faith. Please rush your urgent fax to the U.S. House and Senate to stop this legislation and block this bill. - Your Faith & Liberty team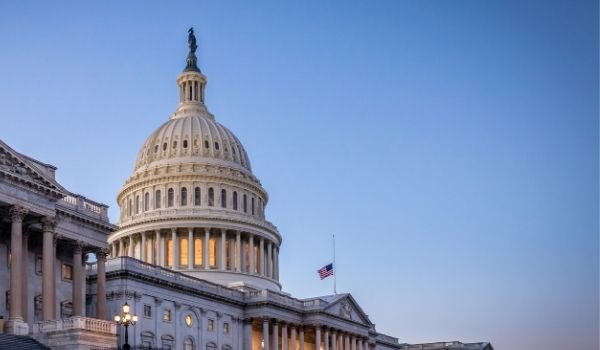 This misnamed "Equality Act" will target and attack everyone, especially religious people and institutions, with shocking, never-before-seen violations of freedom in America!
The Senate could enact the most outrageous and expansive bill ever to come out of Congress. It will be used to force every person to fall in line with the radical LGBTQ agenda or face significant court fines.
This is a massive, far-reaching attack on people of faith. What you cannot do respecting race, you will not be able to do legally respecting LGBTQ. This bill explicitly guts religious freedom and elevates anything LGBTQ to the nation's top priority.
We must fight for our freedom and our children more than ever! Join us in blocking this radical bill with your urgent fax right now.
This bill will do all of the following:
Biological men will have access to women's restrooms, locker rooms, dressing rooms, showers, and nursing-mother rooms at any time. They can also stay as long as they please.

Cross-dressers could demand that they be greeters, ushers, Sunday school teachers, and other roles in the church.

Pastors would be forced to officiate same-sex ceremonies.

Religious establishments would be forced to host same-sex ceremonies and even baby showers or lose tax-exempt status for noncompliance.

Churches and religious schools would be forced to hire staff involved in LGBT conduct, even for visible positions of authority, and give them complete access to all children, even in restrooms.

Churches and religious colleges will lose tax-exemption and accreditation if they do not bow to this radical agenda.

If taking overnight trips with children, including sports or mission trips for schools or churches, you will not be able to separate people sleeping in the same room by biological gender.

Religious schools would be forced to hire professors and staff involved in the LGBT agenda. Staff will be forced to use biologically false pronouns and room biological males in the girls' dorms.

From kindergarten, children will be taught that they can choose their gender and will be encouraged to experiment sexually with each other.

And too many other things to mention here.
Although Faith & Liberty does not regularly get involved in specific legislation, this bill is a direct threat to our very existence. The last two years, we have won this battle by stopping this bill in the Senate. But HR 5 is back. We must target the House and the Senate. Every vote counts. This year, a victory will require every vote we can muster. Send your fax right now to Congress to block this bill.
The "Equality Act" will apply to everyone—to all businesses, public and private schools, K-college, churches, all the way down to online, at-home businesses, home-based daycares, adoption and foster care, medical providers—and the list goes on. This bill demands that every person bow the knee to the radical LGBTQ agenda.
This bill will cover every area of our lives.
HR 5 repeals the federal Religious Freedom Restoration Act and strips religious people of their last remaining defense of living out their faith. No person, no school, no church will be untouched.
It is imperative that we do not allow this bill to pass. Stand with me today. Send a rushed fax to strip support in the House and stop it in the Senate.

This is a critical week. Many congressional members are operating with a reduced staff on Capitol Hill. This understaffing makes our presence even more vital as we work with key members in the House and Senate. We are providing crucial information to muster opposition to HR 5. But these members of the House and Senate MUST hear from you!
Working together, we can win! I cannot emphasize enough how important it is to stop HR 5.
I appreciate your prayers and your support. Join our extended Challenge Grant to DOUBLE the impact of your gift right now. Support Faith & Liberty today.

Your missionaries to Washington, D.C.,
Peggy Nienaber, Vice President, Faith & Liberty
Mat Staver, Chairman
Rev. Gregory Cox, Lead Missionary, Faith & Liberty


P.S. Our Challenge Grant will effectively DOUBLE the impact of your donations! Select here.
Send a fax directly to members of Congress and urge them to block this legislation. And then sign our petition against this outrageous bill. God's blessings on you and your family.
---
Sources:
H.R. 5. Equality Act of 2021. (2021, Feb). 117th Congress (2021-2022 Session).