A powerful anti-censorship bill is being introduced in Florida. This is a severe blow to the Big Tech oligarchy. And it's a big step in the right direction.
Florida is one state we can point to as an example. There are more. We'll share what's in this bill below and how it can stop the censorship.
Join us in urging other states to stop the censorship and protect our speech, privacy, and data. Make your voice heard today with a critical fax to state and national leaders to demand an end to social media censorship. -Your Faith & Liberty Team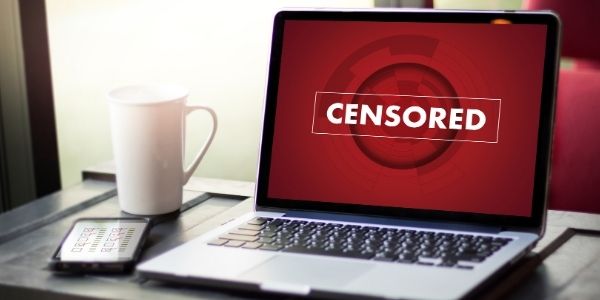 The internet and social media have become the dominate vehicles of communication. A handful of companies now monopolize these communication channels. They began as neutral providers – like radio, TV, cable, and telephone. But now their censorship threatens our freedom, including our elections.
It is time to stop the censorship and hold these censors accountable.
This is exactly what Florida is doing in a new proposed bill. Here are a few highlights:
Any tech company that de-platforms a Florida candidate during an election or suppresses access to a cause or candidate on the ballot can be fined up to $100,000 a day;

If a tech company promotes one candidate for office over another, the value of the promotion must be recorded as a political campaign contribution enforced by the Florida Election Commission;

Users must have the option to opt out of the various algorithms used to steer content or suppress content from the view of other users;

Social media platforms must give proper notice and full disclosure of changes to their standards or terms, and must apply them equally;

Users and the Florida Attorney General will be able to bring lawsuits against tech companies for any violations.
Many states have a narrow window to introduce legislation which means now is a critical moment to urge them to act.
Here are some key points to our state strategy:
Even if a small number take action, it can be enough to stop the censorship. For example, a small number of states affect public school textbook standards or emission standards for automobiles across the United States. The same is true here.

Both Democrat and Republican controlled states have already sued Facebook and Google to break up the monopolies.

When one state takes action, other states are inspired or pressured to follow the lead.
Flood these state and national leaders with your faxes and provide them with the motivation to stand up to protect the freedom of citizens under their protection.
Key leaders in several states, including Florida, are not mincing words.
Speaker of the Florida House of Representatives Chris Sprowls said this week, "The town square has largely morphed into social media platforms … Use of mystery algorithms, shadow banning, and other deceptive techniques distort the public square like a funhouse mirror, exaggerating our fears and feeding our rage. No one elected these companies to pull the strings of American life. They act like the five Wizards of Oz. Today, we begin to pull back the curtain."
Already, 49 states (Democrat and Republican), two territories, and D.C. are participating in antitrust lawsuits against Big Tech (with Alabama being the one exception). Forty-six states and three non-states have joined at least one of three lawsuits against Google's parent company. The same number of different states filed a separate lawsuit accusing Facebook and its subsidiaries of abusing its power to destroy smaller competitors.
Even left-leaning states are concerned about these tech companies.
We have the opportunity to act now. Send an urgent fax to allies who can take steps to stop the hypocrisy and government protections for these one-sided giant tech corporations.
These tech companies created monopolies with the help of government protections through Section 230 of the Communications Decency Act. At the time, when they were neutral providers, Section 230 was fine. But now that they moved from being neutral to censoring speech they do not like, Section 230 must be repealed. Just like radio, TV, cable, and telephone, they should not be able to censor or deny service.
Companies using airwaves or telephone channels cannot refuse you access to their communication channels because they don't agree with your viewpoint. Our laws need to also protect us in this digital age. Send your urgent fax to state leaders to urge them to act now.

Our staff is working tirelessly to bring the Word of God to bear on the hearts and minds of our nation's public policy makers. What if Big Tech determines the Word of God is "hate" speech and shuts it down. We simply cannot allow that kind of trampling on our rights, including our religious freedom.
We believe that your freedom to communicate your viewpoint is essential to the survival of our Republic. We appreciate your partnership with us. Your gift to Faith & Liberty will be effectively DOUBLED by our extended Challenge Grant.

Keep your eyes on our Lord and not on the raging storm in our nation. Stay in prayer and stay engaged.
Your missionaries to Washington, DC,
Peggy Nienaber, Vice-President
Mat Staver, Chairman
Rev. Gregory Cox, Lead Missionary


P.S. Join our Challenge Grant to effectively DOUBLE the impact of your donations! Click here to equip our staff to continue finding new strategies to expand freedom in our nation.
Then send a fax directly to key state leaders to urge them to protect the people in their state. We also have launched a petition to deliver to state leaders to urge them to act. Please sign this petition to help protect freedom right away.
---
Sources:
Staff. (Updated: 2021, Feb 3). Gov. DeSantis proposes law that would fine Big Tech companies that 'deplatform' political candidates. WFLA 8 On Your Side.
Office of the Majority Leader: Florida House of Representatives. (Accessed: 2021, Feb 4). Transparency in Technology Act.