In all our years on Capitol Hill, we've never seen First Amendment freedoms under attack like we are witnessing right now. People across America are being censored and silenced, not because they did anything wrong but because they hold a political view contrary to that of the radical policies of Big Tech leadership.
Twitter has removed and censored a significant number of conservative voices. So has Facebook. Google is manipulating search results and news. This censorship is also coming from TikTok, Instagram, SnapChat, YouTube, Pinterest, and more. Even Stripe, Vanguard, Discover, and Fidelity and number of major corporations are blocking donations to conservative groups. No one is safe from this march of censorship, including the President of the United States. His accounts were removed shortly after a tweet that called for people to be "peaceful" and urged protesters to "go home."
You can take a stand against massive censorship with your fax to select state attorneys general and governors urging them to work to protect the speech and freedom of the press for people and businesses within their state. -Mat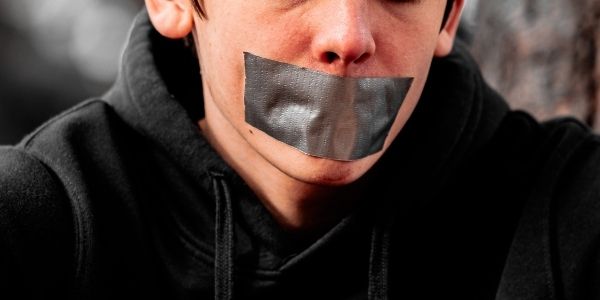 On Saturday morning, after Facebook and Twitter removed the President's accounts, a social media alternative called Parler was the #1 downloaded app. In less than 24 hours, Apple, Google, and Amazon hit back - not to block violence - but to completely destroy this new competition.
Both Google and Apple blocked the Parler app, and Apple rolled out an unexpected update for phones over the weekend and blocked all phones that had the app from accessing Parler. Amazon went even further and blocked Parler's computer servers, which completely deleted the company from the Internet. This is a shocking level of censorship more akin to China than the United States of America!
These social media and internet corporations have been working to control the public narrative for years; and they have gotten away with it!
It is time to push back. We have the fax numbers of all the Republican state attorneys general and governors. Our Founding Fathers created our nation with distinct powers divided between the national government and the states. States have rights and must wrestle back power from the federal government on behalf of "We the People."
I urge you to get involved. Flood these state leaders with your faxes and provide them with the motivation to stand up to protect the freedoms of the citizens under their protection.
This is not political—it is an action to defend and preserve the principles and freedoms, including freedom of speech and religion, we all cherish.
Just to clarify Twitter's incredible double-standard, Twitter allowed the violence-inciting hashtag #HangMikePence and continues to allow Iran's Ayatollah Khomeini to tweet death threats.
Even more hypocritical is that Apple, Google, and Amazon demanded that they maintain the government's complete protection through Section 230. Then they turned around and leveraged that government protection to attack and destroy other private companies and innocent people.
Poland decided to fight back. After a short appeal process, Poland will hit Big Tech censors with a $2 million dollar fine for censoring its citizens.
It is time to break up these corporations-turned-oligarchs. America has no place for kings in Washington D.C. or in Silicon Valley. The level of censorship that is sweeping the country is shocking. We have seen this coming for several years, but the dramatic increase will continue unless we push back. Send your urgent fax to these key state leaders to urge them to act now.
"We the People" can learn from Moses today. Many in our nation are brokenhearted right now. Some are angry; others want to give up. I urge you to move beyond discouragement to resolve and hope.
All it takes is one state to take on Big Tech to get this snowball rolling. Facebook already faces an antitrust lawsuit filed by dozens of states. These social media giants have gone too far.
The state attorneys general can bring more antitrust and consumer fraud lawsuits.
Enough is enough! Radio, TV, cable, and telephone providers cannot censor your speech or deny you service because they disagree with your viewpoints. It is past time to rein in these Silicon super information highway platforms to stop the censorship.
We want to encourage you that you are not alone; together we can bring needed change within our nation.
Our team is working to create the best path forward on both the state and national level. Our team's connections, experience, and creativity in these challenging moments are only possible because of your support.
Your gift to Faith & Liberty will be effectively DOUBLED by our extended Challenge Grant.

We want to encourage you with the words from Isaiah, "Fear not, for I am with you; be not dismayed, for I am your God. I will strengthen you. I will help you. I will uphold you with My righteous right hand" (Isa. 41:10).
Let us move forward together.
Peggy Nienaber, Vice President
Mat Staver, Chairman
Rev. Gregory Cox, Lead Missionary


P.S. As we mentioned above, we have a new Challenge Grant that will effectively DOUBLE the impact of your donations! Select here to equip our staff to create new strategies in the fight for freedom in our nation today.
Then send a fax directly to key legislators to urge them to protect the freedom of speech and the press in their state.
P.P.S. We also have launched a petition to deliver to key state leaders to urge them to take action. Please sign this petition to help protect freedom right away.