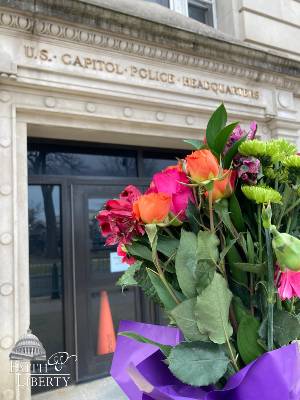 Last week, Faith & Liberty opened the Ministry Center to pray for all the people in Washington, DC. Prayer teams gathered during the Congressional votes. When the US Capitol was stormed with protestors and violence broke out, the Faith & Liberty team reached out to prayer warriors across the nation to unite in prayer for America.
Our hearts grieve for our nation. As the prospects for this country seem very dark to us at the moment, we want to encourage you to not give up on hope. Hope has a Name, and His name is Jesus. The Bible tells us that in the world we will face difficult times but to not allow them to overwhelm us because Jesus has overcome the world!


While there was strife and division, anger and confusion surrounding the events in Washington, DC, last week, at Faith & Liberty we want to remind everyone that when our faith and trust are in the Lord, disappointment must give way to resolve and hope.


As your missionaries to Capitol Hill, in spite of growing animosity toward people of faith and the current censorship we are seeing that smacks of Marxism, we remain unswervingly committed to working every day to secure a culture of life that respects and promotes the family as God defines the family and that protects our unalienable rights – including religious freedom.


Blessings,


Rev. Gregory Cox, Lead Missionary

THE MONDAY RECAP
Here are just a few of our other activities over the last few days:
Faith & Liberty opened the Ministry Center last week to pray for all the people in Washington DC.

We had prayer teams gathered to pray during the Congressional votes.

When the US Capitol was stormed with protestors and violence broke out, the Faith & Liberty team opened its doors for our supporters to have a safe place to come.

We held prayer for protection and safety for the police officers on Capitol Hill, the members of Congress and their staff.

Participated in a prayer conference call to pray for our nation.

Participated in virtual zoom conference call with new member of Congress, Andrew Garbarino.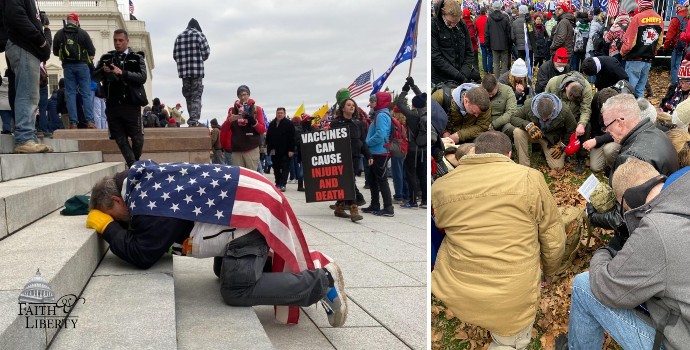 UPCOMING THIS WEEK
Faith & Liberty will be participating in the last International Religious Freedom Roundtable with Ambassador Sam Brownback. He is completing his two years serving to help combat religious freedom issues.

We are participating in zoom calls with the US State Department to bring awareness to what is being done to combat human trafficking and to discuss strategies to end it.

We will be taking part in meetings to review the upcoming US Supreme Court arguments in 2021 and the challenges that some of them present.
"If my people who are called by my name humble themselves and pray and seek my face and turn from their wicked ways, then I will hear from heaven and will forgive their sin and heal their land." -2 Chron. 7:14


There is so much happening in our nation's capital that demands our attention and immediate response. Look for our ACTION emails coming up this week.


PRAYER
Please join us in interceding for our nation as it reels from everything that has happened since the election and what took place last week. Pray for truth, healing, and boldness for God's people as we point others to the only solution for what is wrong with our world—Jesus Christ.
Please also pray for staffers on Capitol Hill. Times of transition in Washington, DC can be particularly hard on them as they seek new employment and may be faced with a lot of uncertainty.
January is Sanctity of Human Life month. Please pray for the Faith & Liberty team as we prepare for various events on Capitol Hill that shine a light on the infinite value of every life and the enormity of the loss of life since Roe v. Wade (1973).
All of our efforts to bring the Word of God to bear on the hearts and minds of our public policy makers are only possible because wonderful friends like you stand with us both in prayer and in your generous financial support! Again, thank you!