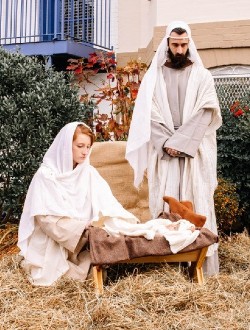 "For to us a child is born, to us a son is given; and the government shall be upon his shoulder, and his name shall be called Wonderful Counselor, Mighty God, Everlasting Father, Prince of Peace" (Isaiah 9:6).
At a time in our nation when people are despairing over the direction our country seems to be taking, and at a time when religious liberty is being constrained, our nation's leaders will soon be reminded of the God our forefathers looked to and trusted for their very existence as well as that of our country.
Faith & Liberty will enact the Live Nativity this Wednesday, December 2, at 11:00 a.m. ET. For years now, this presentation has proclaimed the Gospel on Capitol Hill by visually communicating the birth of our Lord Jesus Christ. This simple re-enactment has managed to capture the attention of many of our nation's leaders in a profound and remarkable way.
The image of the Holy Family journeying around Capitol Hill to the front of the U.S. Supreme Court, by the Senate office buildings and opposite the U.S. Capitol, and then proceeding along the side of the Library of Congress makes for a spectable no one can ignore! It's a reminder of who Jesus is and a stark example of just how much the Gospel is needed in our nation, perhaps today as never before.
When the procession comes to the steps of the Supreme Court, the Faith & Liberty team will read the Gospel account of that first Christmas night from the book of Matthew, word for word, without commentary. The revelation of the Son of God is announced throughout Capitol Hill — and the seeds of faith are planted in the hearts and minds of those leaders who so desperately need to know God.
Please continue to pray with us that the Live Nativity will touch the hearts and minds of many of our nation's public policy makers. We also ask you to join with us in prayer for the election and for our nation. For the American constitutional republic to succeed, we must have a fair and transparent election process that our citizens can trust. Pray for fraud to be exposed and truth to be revealed.
Thank you for your prayers and partnership during this critical time!

Greg Cox, Lead Missionary

THE MONDAY RECAP
Here are a few of our recent activities:
Participated in briefings with Ambassador at Large for International Religious Freedom, Sam Brownback, to review the impact of the recent Third Ministerial to promote Religious Freedom.

Participated in prayer conference calls with congressional staffers prior to the Thanksgiving holiday.

Finalized all plans for the Live Nativity to be held this Wednesday, December 2 at 11:00 a.m. ET. Picked up permits and signs to be used during the event.

Christian Book Club along with the Men's Prayer Breakfast were held at the ministry center.

The Faith & Liberty team continues to be a part of prayer conference calls throughout the challenges of the 2020 election.

UPCOMING THIS WEEK
Live Nativity to be held in front of the U.S. Supreme Court at 11:00 a.m. ET with the Faith & Liberty team along with volunteers. Due to COVID, this Live Nativity will be a scaled back version. Some in DC wanted us to cancel but we are determined to still present this living tract of the Gospel in front of the U.S. Supreme Court.

The Live Nativity will be broadcasted LIVE on our Faith & Liberty DC Facebook page.

Faith & Liberty team members will participate in an International Religious Freedom roundtable discussion.

Peggy Nienaber and Patty Bills will be broadcasting LIVE from the U.S. Capitol Christmas Tree lighting on Wednesday, December 2nd at 5:00 p.m. ET.
There is so much happening in our nation's capital that demands our attention and immediate response. Look for our
ACTION
emails coming up this week. We greatly appreciate everyone standing with us both in prayer and through your generous support.
PRAYER

Please continue to pray that truth will be revealed throughout this entire election process. We must have fair and transparent elections. A fair election is the heart of a free country. Also, please continue praying for protection of the Ministry Center from any unrest in our nation's capital.


Pray for those attending the Bible studies and ministry events at the ministry center as well as the congressional leaders with whom we have the opportunity to meet.
As your missionary team, we are making a difference on Capitol Hill! But it's only because of your generous investments in this unique ministry that we are able to fulfill God's calling upon our lives.
Please pray for your missionary team at Faith & Liberty and stand with us through your generous support! God is working!
Do not lose hope! Our God is still on the throne!
May our Lord be with you as always.