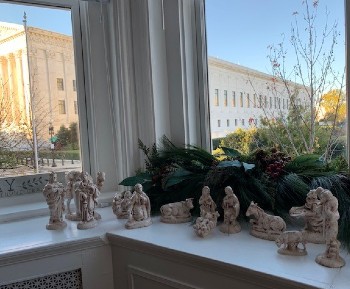 The Faith & Liberty team is finishing preparations for the LIVE Nativity which will take place December 2 at 11 a.m. ET on Capitol Hill. The Holy Family, along with Wise Men, shepherds, townspeople, and angels will gather in front of the U.S. Supreme Court. The account of the Nativity found in Luke, chapter 2, will be read aloud without commentary. For those who cannot join this unique Gospel witness in person, it will be live streamed as well. Stay tuned for more details!
Though we have so much to be thankful for throughout the year, Thanksgiving week is a special time to set our minds on the many blessings we have been given—and that includes YOU! Your generous support and prayers form the backbone of this gospel outreach in the nation's capital. Because of you, we are able to bring the Word of God to bear on the hearts and minds of those that make public policy in America. Thank you!
I pray you and your family have a blessed Thanksgiving!

Peggy Nienaber, Vice President



THE MONDAY RECAP
Here are a few of our recent activities:
The Faith & Liberty Team participated with the Polish Government, U.S. Government officials and 39 countries in the 3rd Ministerial Conference to Advance Religious Freedom that took place in Warsaw, Poland. Briefings, private zoom meetings & conversations took place throughout last week to scale-up efforts to protect religious minorities and religious communities.

Peggy Nienaber received a special invitation from the Polish Government to participate with members of the civil society and religious organizations in a conference to discuss freedom of religion in relation to COVID-19 and security.

Peggy Nienaber participated in a conference call with Pastor Andrew Brunson and others to discuss and bring attention to those being persecuted for their faith in Turkey and other countries. The event, hosted by the Government of Poland, was to ensure that prisoners of conscience receive international attention and assistance.

Peggy Nienaber & Patty Bills broadcasted LIVE from the U.S. Capitol as the 2020 Capitol Christmas Tree arrived on the West Lawn. This year's tree from Colorado has the theme: "Experience Your Nature." The 2020 U.S. Capitol Christmas Tree is in place and now begins the lengthy decorating process to have it prepared for the lighting ceremony in December.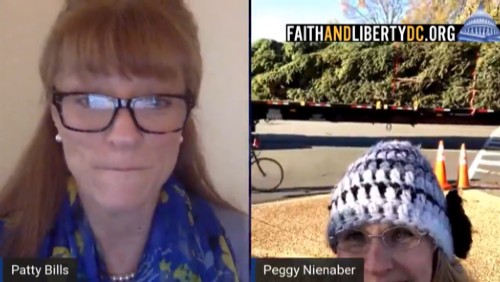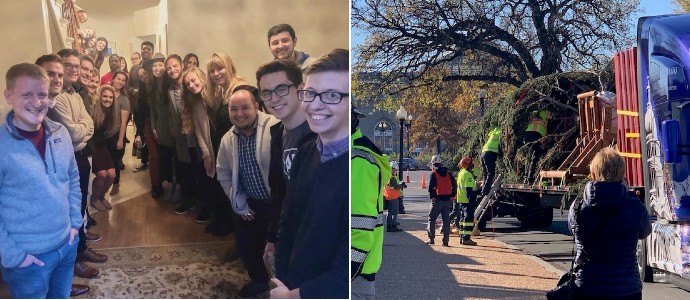 UPCOMING THIS WEEK
We are in final preparations for the LIVE Nativity taking place December 2, 2020 at 11:00am EST on Capitol Hill.

Faith & Liberty team members continue to reach out to new congressional members and staffers.

We will be participating in the Tree Lighting Ceremony of the US Capitol Tree.

We are reaching out to F&L supporters during Thanksgiving week to thank them for their support.
Our prophetic missionary work in Washington, D.C. continues during this critical time in history.
There is so much happening in our nation's capital that demands our attention and immediate response. Look for our
ACTION
emails coming up this week. We greatly appreciate everyone standing with us both in prayer and through your generous support.

PRAYER


As your missionary team we are praying for you!



Please continue to pray for our nation. As the legal process concerning the election unfolds, we continue to lift our nation up and pray for truth to be revealed.
Pray for those attending Bible studies and ministry events at the ministry center, as well as the congressional leaders we have the opportunity to meet with and pray for.
Please pray for final preparations for the LIVE Nativity, and for the impact that it will have. During the Christmas season, hearts and minds are open in ways unlike any other time of year. Please pray that people will be spiritually moved as we bring Christ to Capitol Hill.
As your missionary team, we are making a difference on Capitol Hill! But, it's only because of your generous investments in this unique ministry that we are able to fulfill God's calling upon our lives.
Please pray for your missionary team at Faith & Liberty. And, stand with us through your generous support! God IS working!
The grace of the Lord Jesus Christ be with your spirit.