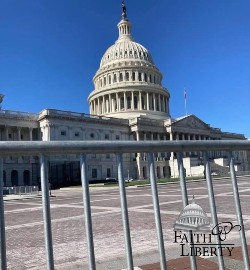 This is a tumultuous time for our nation as we wait to see who the next President of the United States will be. It is imperative that we have a fair and transparent election process. A fair election is the heart of a free country. We are praying for truth to be revealed, for any voter fraud and corruption to be brought to light, and for the next president to be the one the American people truly elected.
Pray with us as we continue to stand in the battle for America's soul and minister in our nation's capital.
Thank you for your partnership during this critical time!

Peggy Nienaber, Vice President



THE MONDAY RECAP
Here are a few of our recent activities:
The Faith & Liberty team continues to take part in prayer conference calls throughout all the challenges this Presidential election has faced.

The team completed the 40 Days of Prayer on Election Day with a Facebook LIVE, time of prayer and worship.

Faith & Liberty took part in an international religious roundtable discussion to help plan the upcoming "Ministerial to Advance Religious Freedom" with Ambassador at Large for International Religious Freedom, Sam Brownback. This ministerial will involve the participation of over 150+ countries.

On Wednesday, the Supreme Court heard Fulton vs. City of Philadelphia. The outcome of this case will greatly impact the ability of faith-based foster care agencies to act according to their sincerely held religious beliefs. Religious liberty is on the line. Join us in praying for our Justices.

We are actively preparing for the upcoming LIVE Nativity in Washington, DC.

Faith & Liberty team members prayed with Senator Ted Cruz and other senators as Election Day approached.

Thank you for praying with us throughout the 40 days leading up to the election. To view all 40 days of prayer, click

HERE

.

UPCOMING THIS WEEK
Prayer conference calls will continue until the Election results have been resolved.

On Tuesday, the Supreme Court will hear argument in California v. Texas. Our prayer team will be out in front of the Court.

Bible studies and small groups will continue throughout the week at the ministry center.

Preparations for the Live Nativity will continue by obtaining permits as required.
Our prophetic missionary work in Washington, D.C. continues during this critical time in history.
Look for our
ACTION
emails coming up this week. We greatly appreciate everyone standing with us both in prayer and through your generous support.

PRAYER


Please continue to pray for our election. Pray for truth to be revealed and lies to be silenced. Pray protection over the ministry center from any unrest in our nation's capital.
Please also be praying for preparation for the LIVE Nativity as we continue to seek permitting and permission during this time of uncertainty when normally acceptable gatherings are being restricted.
As your missionary team, we are making a difference on Capitol Hill! But, it's only because of your generous investments in this unique ministry that we are able to fulfill God's calling upon our lives.
Please pray for your missionary team at Faith & Liberty. And, stand with us through your generous support! God IS working!
The grace of the Lord Jesus Christ be with your spirit.