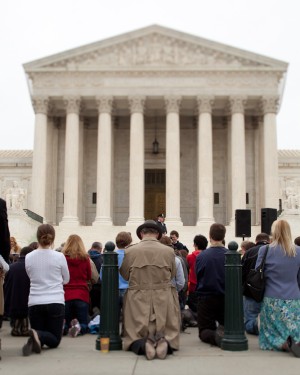 Evil is out in full force. We are witnessing increasing attacks on our country and the church. But our God is bigger than the chaos of this world.


Here at Faith & Liberty, we have been fervently praying for, and with our leaders in Washington DC and across the country.


For our struggle is not against flesh and blood, but against the rulers, against the authorities, against the powers of this dark world and against the spiritual forces of evil in the heavenly realms. Therefore put on the full armor of God, so that when the day of evil comes, you may be able to stand your ground, and after you have done everything, to stand. -Ephesians 6:12-13


We are extremely grateful for your continued support. Please know that you are always in in our prayers. If you have any specific prayer requests, please submit them to us HERE.
Prayerfully,


Peggy Nienaber, Vice President
Here are just a few of our activities over the last few days:

We participated in a roundtable discussion with Lisa Schultz, Chief of Staff to Senate Chaplain Barry Black & Kerry Knott, Chief of Staff to Representative Robert Aderholt.
We continued to host our Monday Bible study for congressional staffers. A new group/session is starting. Please keep them in your prayers.



UPCOMING THIS WEEK


We will be organizing prayer rallies and a prayer walk during the confirmation hearings. We are also in the middle of the 40 Days of Prayer. Our prophetic missionary work in Washington, DC continues during this critical time in history. CLICK HERE TO SUBMIT YOUR PRAYER REQUEST.

There is so much happening in our nation's capital that demands our attention and immediate response. Look for our ACTION emails throughout this week. We greatly appreciate everyone standing with us through prayer and generous financial support.


PRAYER


Please continue to cover President Trump, First Lady Melania Trump and their family with your prayers. And pray for the other leaders and staff members who recently tested positive for COVID as well. We pray for guidance and strength from God as they continue to lead our country at this critical time.


As your missionary team, we are making a difference on Capitol Hill! But, it's only because of your generous investments in this unique ministry that we are able to fulfill God's calling upon our lives.


Please pray for your missionary team at Faith & Liberty. And, stand with us through your generous support! God is working!
The grace of our Lord Jesus Christ be with you all.