We have reached a point in America at which the faithful remnant MUST STAND against the overt persecution seeking to shutter and silence God's people and churches. Gideon's army was reduced from 30,000 to just 300. By following God, rather than fear, that brave 1% force changed the course of human history. Read on to learn how you can be a part of a modern-day Gideon's Army and the ultimate victory that awaits!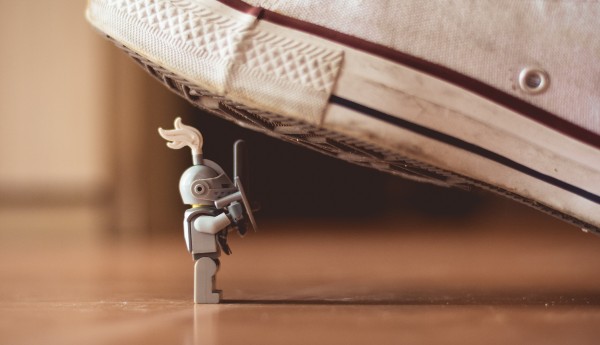 If you have been following the news, or simply reading our emails and letters, you likely already know that we have reached a point at which the faithful remnant MUST STAND.

God reduced Gideon's army to a paltry 1% of its original size to teach the ancient Israelites a lesson – with a small group of committed faithful, God will change the course of history. Have faith over fear!

Just as in the story of Gideon's army, our churches, too, have been whittled down. While many churches nationwide have chosen to comply with the illegal orders intent on silencing God's people, some brave pastors are standing strong to follow God, rather than their misguided governors.

These pastors face imprisonment and personal ruin for preaching the Gospel.

Friday afternoon, Pastor John MacArthur thought he had received a "win" from California courts that would "allow" his church to meet if it met onerous requirements. Of course, we know that state and local governments have NO RIGHT to close, hinder or dictate details of worship. However, even this compromise was quashed by the California Appeals Court, which on Saturday overturned the lower court's orders and forbade Pastor MacArthur's Grace Community Church to meet.

Sunday morning, despite facing jail and fines, Pastor MacArthur opened his church anyway. He began the service by saying, "We're having church!"

And in the case of Pastor Ché Ahn, Harvest Rock Church and Harvest International Ministry, there are 162-plus churches whose pastors also face penalties of prison and fines. In some counties where these churches are located, fines are being levied at $1,000 per day in addition to jail. Pastor Ahn opened his church anyway.

In California, even home Bible studies and fellowship are banned with anyone who does not live in the home! The criminal and civil punishments also apply to these private home meetings.
Gideon's army is rising. Will you be part of that number?


Christians in California are not alone in their persecution by anti-God governors. By the way, we have always been cautious about referring to religious "discrimination" in America as "persecution." But what else do you call jail and fines for worship, even in your home, but persecution? These punishments have gone beyond mere discrimination.

Each of these brave pastors are leading their churches in the face of tyranny, despite the risk of losing their personal freedom.

We think and pray often about these pastors. Each worship service, these brave pastors never know if they will return home. We are deeply honored to serve them.

Why would these pastors take such a risk? Because God commands it.
Jesus was very clear – render to God the things that belong to God. (Matt. 22:21). The church does not belong to Caesar! The church belongs only to God, and God alone. And, the Gates of Hell will not prevail against it. (Matt. 16:18).
These pastors understand that their churches NEVER belonged to Caesar, and therefore their churches can never be "rendered to" Caesar.

These brave pastors stand as one in the face of abject tyranny. We hope you will stand with them and Faith & Liberty as we continue the battle to keep America's religious freedom FREE.

At this very moment, members of our Faith & Liberty team are working directly with churches, pastors and churchgoers against the power-mad dictates of the governors of Maine, Virginia, Kentucky, Illinois and, of course, California. And we are working with several thousand pastors in 44 states.

There is little doubt this fight for religious freedom will go all the way to the Supreme Court. This is THE ONLY WAY to ensure that no governors or other officials declare themselves kings or gods over the church. We must ensure religious freedom in America remains FREE.

That's why we are so thankful for the challenge grant that another of Gideon's army has answered the call by establishing a generous challenge grant which will DOUBLE the effectiveness of your donation.

Thank YOU for answering the call to support Faith & Liberty. Please, take a moment RIGHT NOW to contribute to our efforts to defend our precious religious freedom. YOUR DONATION WILL BE DOUBLED IN IMPACT by the challenge grant. Please, do not let this opportunity pass you by.
Now is the time to stand.

In Christ,
Peggy Nienaber, Vice-President
Mat Staver, Chairman
Rev. Gregory Cox, Lead Missionary