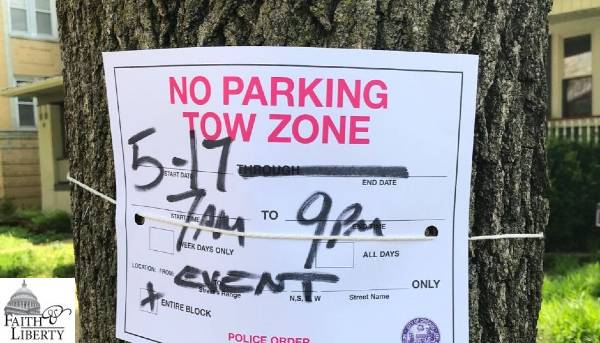 Please excuse the length of this email, but the circumstances are hard to imagine in America!
Mayor Lori Lightfoot has such a personal vendetta against Romanian pastors who dared to defy the governor's order limiting in-person attendance at church to only ten people, she ordered "No Parking" signs along the streets around their churches. These churches have their own private parking and their members don't park on the street, but that didn't stop Lightfoot from her heavy-handed attack on the church.
Stand with Faith & Liberty as we stand for Religious Liberty!
On Sunday, Mayor Lightfoot blocked off nine blocks around the churches posting "No Parking" signs, hoping she would get the neighbors mad at the church. The local aldermen then sent letters to the neighbors of the churches instructing them not to park on the street from 7 a.m. to 9 p.m. The letters stated the reason for the "No Parking" signs was due to the Romanian churches holding services. The obvious intent was to create hostility in the neighborhood against the churches.
When Mayor Lightfoot realized this tactic to turn the neighborhood against the church did not work, she actually stationed police Sunday night at the entrance to the private parking lot of Elim Romanian Pentecostal Church, refusing to allow anyone to park. The police trespassed on private property and interfered with private contractual rights, not to mention grossly violating the Constitution.
This blatantly unconstitutional bullying of the people of God will not stand!
Because you stand with us, our Faith & Liberty team is standing with the Elim Romanian Pentecostal Church and Logos Baptist Ministries. Members of our team are in continual contact with these courageous pastors and are standing with them in their confrontation with the mayor. According to our chairman, Mat Staver, the churches, working with Liberty Counsel, have filed a federal lawsuit against Illinois Gov. J.B. Pritzker for his unconstitutional executive orders discriminating against churches by restricting in-person worship services to no more than 10 people while allowing commercial and non-religious entities to accommodate large crowds.
This battle may go all of the way to the Supreme Court!
On Saturday night, the Court of Appeals for the Seventh Circuit did not grant an injunction pending appeal, but the Court did grant expedited briefing. Instead of an appeal taking many months or more than a year, the full briefing and oral argument will be completed in about three weeks.
Gov. J.B. Pritzker's orders do not allow worship services of more than 10 people, even if participants meet or exceed the appropriate social distancing and hygiene guidelines, while allowing so-called "essential" commercial and non-religious entities such as liquor stores, marijuana dispensaries, warehouse clubs, and 'big box' stores to accommodate large crowds and masses of persons without scrutiny or the 10-person limit. This 10-person limit applies to all churches, regardless of the size of their facilities. Elim Church has a campus of approximately 40,000 square feet, with 750 seats in its main auditorium and an additional 550 seats in overflow rooms (1,300 seats total). Logos Church has a campus of approximately 36,000 square feet, with 425 seats in its main auditorium and 100 seats available in an overflow room. These churches easily accommodate many more than 10 persons while still observing all social distancing and safety precautions in place elsewhere.
In addition to the threat of arrest, Gov. Pritzker has reportedly said he has other ways to deal with these pastors and Mayor Lightfoot has publicly stated she intends to take action. You can imagine how chilling this language is to Romanian pastors who heard similar threats while living under the repressive thumb of a Communist dictator.
Please stand with us as we stand with these courageous pastors by making the most generous contribution possible.
Our efforts to defend religious liberty are only possible because of the faithful and prayerful investments in this ministry by friends like you!
These pastors lived under Communist Romania, and now the suppression of the church and their faith has come to their adopted homeland. The outrageous actions by Mayor Lori Lightfoot are putting people in danger!
Thank you for investing in Faith & Liberty. Together we will make certain these unconstitutional, heavy-handed tactics will not succeed.
Your missionaries to Washington, D.C.,
Peggy Nienaber, Vice-President
Mat Staver, Chairman
Rev. Gregory Cox, Lead Missionary