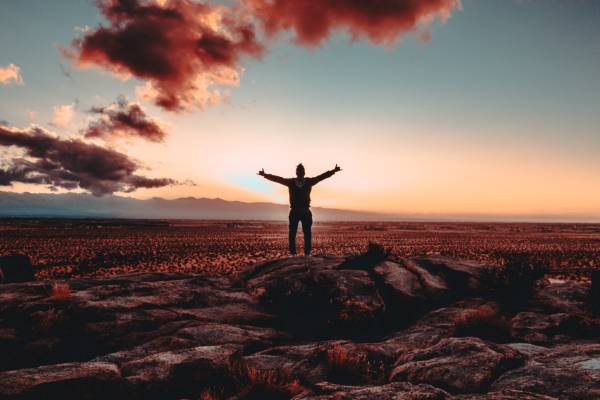 The evening of April 8 marked the first night of Passover, a celebration in which Jewish people around the world commemorate the miracles God worked to set His people free from Egyptian tyranny and bondage. To accomplish this feat, the Lord brought plagues, pestilence and natural disasters upon the Egyptians -- even killing every first-born child. But God "passed over" the houses of the faithful, leaving them safe and whole despite the carnage around them.
JOIN THE REVIVAL – Start by telling Governors HANDS OFF OUR CHURCHES! – Select here
As Americans enter the holiest weekend of the year, we are watching many of the modern idols our culture worships being knocked down.
One by one, idols and false gods that humans have created have been laid low. Celebrity athletes, musicians and movie stars – languish as their venues are all closed. Money – the stock markets have crashed and the economy is largely shut down. Technology – Internet and phone lines are straining under increased traffic as websites freeze and crash, while their programmers and software developers are being exposed for spying on us all.
Even many TV news personalities – once primped, primed and perfect in appearance – are reporting from their own homes. These "icons of the airwaves" are now revealed to be average people with normal clothes, normal houses and the same smeared make-up and out-of-place hair the rest of us live with daily.
Finally, the false god of statism is toppling. Government officials at all levels are themselves violating the Constitution, countermanding their own edicts, reporting incorrect data, and touting falsified models while issuing incoherent orders which create chaos. And while many have put their faith in the state, the state is failing to meet their needs.
And perhaps the worst failure of all is the insistence of so many state and local officials to shutter every church in their jurisdictions and presuming churches are "non-essential activities."
Tell America's Governors OPEN OUR CHURCHES SO WE CAN HEAL OUR LAND! – select here
It is time to take our eyes off the false gods, including the false god of Big Government, and focus instead on God's love and care for every creature, and through that biblical knowledge to proclaim that the Lord God on high will bring us through this.
This view is stated in Psalm 46:1-3 "God is our refuge and strength, a very present help in trouble. Therefore we will not fear, even though the earth be removed, and though the mountains be carried into the midst of the sea. Though its waters roar and be troubled, though the mountains shake with its swelling."
That refuge and strength in times of trouble is often carried out in the form of a church, as is the case in Virginia where we are working with the Pastor and members of The Island Church. This tiny 296 seat church exists to serve "the least of these", former drug addicts and prostitutes; providing the literal hands of help, and the in-person support these troubled souls need to keep from slipping back into destruction. The congregants largely have no family other than the church that surrounds and supports them. Neither the members nor the church have internet, as the area is so poor. For these people, there is no help outside the church. Yet, because many of these people are on probation for crimes committed before their salvation, and because the Virginia Governor has made attending church a criminal offense, the simple act of attending church means a violation of probation and a return to prison…just for living their faith.
We are living in prophetic times. Our world is experiencing plagues, pestilence and earthquakes. Many christians right here in America face prison time for attending Christ's church. And one of the most powerful men in the world, Microsoft founder Bill Gates, is pushing for mandatory, trackable digital IDs for every human being. Is it any wonder that some are speculating this might be the end of the world? But if so, isn't this the WRONG time to allow churches to be closed?
Recent historic events have caused even dedicated atheists to crack open the Bible and search for answers… even considering the possibility that the preachers of the Word they mock might be right after all. Yet our churches, the very place where seekers of truth would normally go for answers, are mostly closed!
Tell America's Governors OPEN OUR CHURCHES SO WE CAN HEAL OUR LAND! – select here
And what of the "Christmas & Easter Christians," those who only attend church on the two major holidays of the year? Are we missing our chance to bring them closer to God?
Maybe we don't need a vaccine as much as we need a revival!
The Bible tells us in Hebrews 10:24-25, "And let us consider one another to provoke unto love and to good works not forsaking the assembling of ourselves together, as the manner of some is, but exhorting one another, and so much the more as you see the Day approaching."
Let's not allow panicked government officials to dissolve either our First Amendment rights or our spiritual imperative to gather, ministering to one another and humbling ourselves before the Lord so that our land will be healed.
Please, join your missionaries on Capitol Hill in telling our governors today – STOP ATTACKING OUR CHURCHES and let America's healing begin!
In Christ,
Peggy Nienaber, Vice-President
Mat Staver, Chairman
Rev. Gregory Cox, Lead Missionary

P.S. The false gods of Big Tech are blocking our emails. Beat Big Tech by sharing this message with a friend. We make it easy, just select here!

P.P.S. Your generous support enables us to advance the sanctity of life, constitutional freedom and family values among our nation's leaders. Please, give generously today!