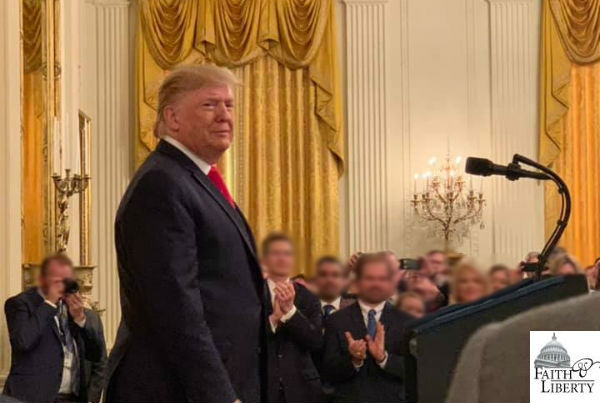 Tonight, President Trump will deliver his State of the Union Address as the Senate prepares to vote tomorrow to determine if he will remain President. At the same time, many of the President's opponents have already made known that if the Senate acquits the President, they will not accept that acquittal.
On top of that, the Iowa caucuses are a disaster and Gallup has just released a new poll noting America is more divided along partisan lines than at any time in our history.
One thing is certain -- our nation needs prayer!
It is for that reason, our own Peggy Nienaber, Vice-President of Faith & Liberty, will be in the Senate gallery tonight for the State of the Union Address as one of your missionaries to our nation's capital – interceding in prayer on behalf of America!
And, as the Senate votes tomorrow Faith & Liberty has prayer teams located in the offices of strategic senators. Additionally, Peggy will be in the Senate gallery itself.
We are there for a prophetic purpose – to declare God's Word to our nation's public policy makers and stand in prayer and intercession!
Our prayer during this time is simple: We are seeking the presence of God, praying that God will have His way, and that truth will be revealed, deception thwarted, and justice established. Seek the LORD and His strength; seek his presence continually! (1 Chronicles 16:11)
Will you join us in that prayer by pledging to pray for our nation?

While many in our nation have tuned out the impeachment trial, what can happen if people of faith across America fall on their knees and cry out to God on behalf of our nation? We already know the answer to that! If my people, which are called by my name, shall humble themselves, and pray, and seek my face, and turn from their wicked ways; then will I hear from heaven, and will forgive their sin, and will heal their land. (2 Chronicles 7:14)
To stand with us in prayer during this critical time and throughout this entire critical election year, simply sign the pledge to pray and download the written prayer. Then join us daily as we prophetically speak the Word of the Lord over this nation!
In addition to joining with us in prayer, will you also stand with us in making our efforts on Capitol Hill possible by making the most generous investment you possibly can to Faith & Liberty?
We are ONLY able to stand as your prophetic witnesses to our nation's public policy makers because of your prayerful support of this unique ministry.
To make your much-needed gift to Faith & Liberty, click here.
Thank you for your prayers! Thank you for your support! And, thank you for your friendship! May all of God's best be yours!
Your missionaries to Washington, D.C.,
Peggy Nienaber, Vice-President
Mat Staver, Chairman
Rev. Greg Cox, Lead Missionary