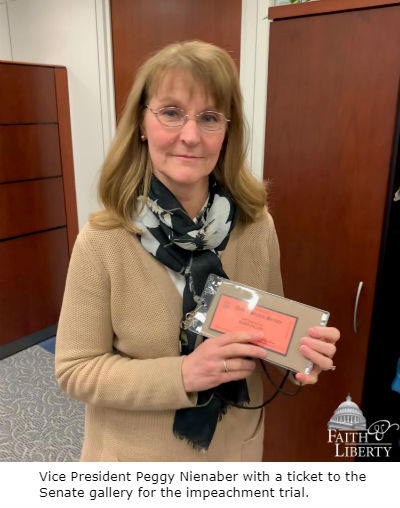 As the impeachment trial of President Donald Trump rages on, the bitter partisan divides become more pronounced. America, and particularly America's public policy makers, obviously need prayer.
In fact, that need is SO obvious, our own Peggy Nienaber, Vice-President of Faith & Liberty, was given a daily ticket into the Senate gallery during the trial by a Senator who implored Peggy to come pray with staff before attending each hearing.
Every day, Peggy rides the tram between the Senate offices and the Capitol Building. She enters through a VIP fast track and is seated with special guests of the Senate. Every day, she is witnessing first-hand the House Managers as well as the President's legal team. The bitterness and hatred of the House Managers toward President Trump is evident. Yesterday, Peggy saw a member of the President's team hand one of the House Managers a paper for review. With pure contempt, the Manager tossed the paper aside completely disregarding its content and disrespecting the President's attorney.
Peggy's response to what she witnessed? The partisan hostility on the part of the House Managers was unbelievable!
While both the House Managers and the President's Legal Team have now completed their arguments, the next phase will begin soon as Senators pose questions to both sides. Those questions are hand-written, given to Chief Justice John Roberts, and the Chief Justice will then ask the questions to either the House Managers or the Defense Team.
And, as this next phase begins, Faith & Liberty has prayer teams located in the offices of strategic Senators. Additionally, Peggy will be in the Senate gallery itself.
We are there for ONE PURPOSE – prayer and intercession!
During this difficult time, we are crying out to God on behalf of the Senators, who must decide the fate of President Trump, as well as for their staffers who are facing long, arduous days filled with stress and tension. We are also praying for the President's legal team and all involved in preparing the defense against these partisan charges. Our prayer focus is simple: We are seeking the presence of God, praying that God will have His way, and that truth will be revealed, deception thwarted, and justice established. Seek the LORD and His strength; seek his presence continually! (1 Chronicles 16:11)
Will you join us in that prayer by pledging to pray for our nation?

While many in our nation have tuned out the impeachment trial, what can happen if people of faith across America fall on their knees and cry out to God on behalf of our nation! We already know the answer to that! If my people, which are called by my name, shall humble themselves, and pray, and seek my face, and turn from their wicked ways; then will I hear from heaven, and will forgive their sin, and will heal their land. (2 Chronicles 7:14)
To stand with us in prayer during this critical time, simply sign the pledge to pray and download the written prayer. Then join us daily as we declare that prayer in Senate offices and in the Senate gallery throughout the remainder of this trial.
In addition to joining with us in prayer, will you also stand with us in making our efforts on Capitol Hill possible by making the most generous investment you possibly can to Faith & Liberty.
We are ONLY able to stand as your prophetic witnesses to our nation's public policy makers because of your prayerful support of this unique ministry.
To make your much-needed gift to Faith & Liberty, click here.
Thank you for your prayers! Thank you for your support! And, thank you for your friendship! May all of God's best be yours!
Your missionaries to Washington, D.C.,
Peggy Nienaber, Vice-President
Mat Staver, Chairman
Rev. Greg Cox, Lead Missionary