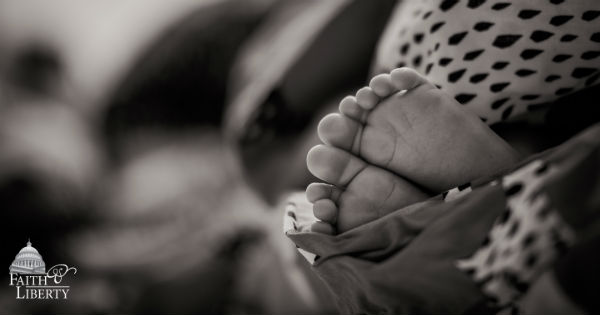 One of Rep. Jeff Van Drew's first legislative acts since he officially joined the Republican party was to sign a discharge petition that would circumvent Speaker of the House Nancy Pelosi and force a floor vote on the "Born-Alive Abortion Survivors Protection Act."
This is the culmination of months of work by Faith & Liberty supporters and staff contacting him and educating him and many others in Congress.
Faith & Liberty Vice President, Peggy Nienaber, attended a Capitol Hill leaders meeting this morning where Rep. Van Drew's office confirmed he had signed the discharge petition asking for a full House vote on the "Born-Alive Abortion Survivors Protection Act." This Act would require infants who survive attempted abortions to receive equal medical care and treatment as other newborn babies of equal gestational age. Any medical provider or staff who intentionally neglects, abandons, or murders a living newborn baby will be punished.
Faith & Liberty's Lead Missionary, Rev. Greg Cox, said, "Rep. Van Drew's signature on the discharge petition is a great victory for saving innocent children who survive abortions. For all of us at Faith & Liberty this is a moral cause that requires engagement to save the lives of these precious children. We're grateful Rep. Van Drew signed this petition. We are getting closer to having enough signatures to bypass Nancy Pelosi in order to stop what is nothing less than infanticide."
The discharge petition needs 218 signatures, and the New Jersey freshman's signature now brings the total number of signatures to 204.
Join us in urging other congressional leaders to sign the discharge petition for the Born-Alive Abortion Survivors Protection Act.
For the latest information, please visit www.faithandlibertydc.org/bornalive.
To get involved you can:
Thank you for helping us STOP the neglect and murder of babies!

Faith & Liberty is a 501(c)3, non-profit, missionary organization providing spiritual support and prayer in the nation's capital.