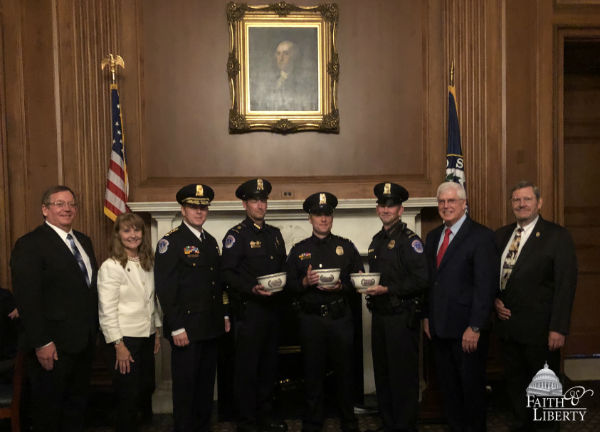 What started as a routine traffic accident soon became a life and death emergency!
When police officers came upon the scene to assist in a car accident, they discovered one of the accident victims had been shot. They immediately sprang into action, saving the life of the gunshot victim and tracking down and arresting the perpetrator. First responders like the officers above engage in life-saving heroics every day in America.
Faith & Liberty hosted a special award ceremony that recognized these law enforcement officers in Washington, DC. We have hosted this event for many years.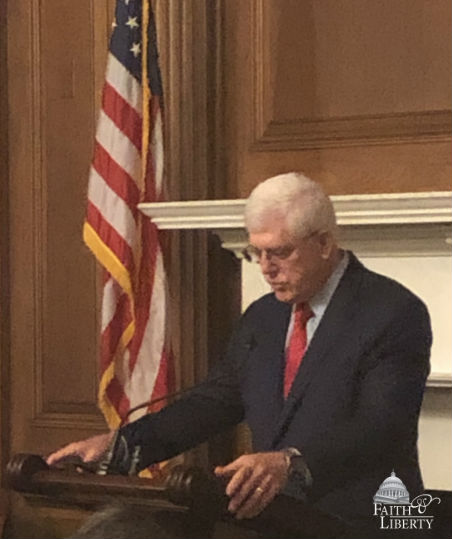 This year we recognized Officer Kevin J. Marshall, Officer Raymond L. Mooney, Technician Robert B. Meikrantz for their life-saving skills, communications, and timely assistance when confronted with an emergency on Capitol Hill. Faith & Liberty Vice-President Peggy Nienaber, along with Chief of Police Steven A. Sund, presented these deserving first-responders with the US Capitol Police Officer of the Year Award. Chairman Mat Staver concluded the ceremony by giving a moving tribute to law enforcement officers and their families.
Those attending this remarkable event in the historic Mansfield Room in the US Capital Building included the Acting Architect of the Capital, the U.S. Capital Police Program Coordinator, the Deputy Sargeant-At-Arms, the Assistant Senate Sargeant-At-Arms, and the Acting Assistant Chief of Police as well as other civic, political, and religious leaders. We gave everyone in attendance a First Responder Bible!
We are honored to represent you as your missionaries to Capitol Hill. We believe law enforcement officers and first responders should be honored! We walk in their shadow every day and they place their lives on the line. We also honor their families for their commitment and sacrifice.
Your prayers and financial partnership create these opportunities to have such a unique impact! Without you, we could NOT have recognized these heroic first responders.
Join with us as we continue our vital work. Every gift helps us daily share God's Word and touch the hearts and lives of our nation's leaders with the TRUTHS of the Gospel.

As a side-note, when we started the Pledge of Allegiance at the ceremony, a young five-year old named Trevor could be heard over everyone else. His enthusiasm made the ceremony all the more real to us as we reflected on the heroism of first responders, who protect us all -- including our children. His father was one of the recipients of this award. Every day the officer hugs and kisses his son, not knowing whether he will return home.
Thank you for your faithful prayers and investment in this unique missionary outreach to Washington, DC. Together we are making a difference!
Your missionary team at Faith & Liberty
PS: Encourage your church or community organization to recognize first responders. We would be happy to assist you in getting such an effort started. Contact us at Faith@FaithandLibertyDC.org for more information. Again, thank you for your ongoing support. Blessings!