We agree with Justice Samuel Alito, writing for the majority, who said the Bladensburg cross "...has become a prominent community landmark, and its removal or radical alteration at this date would be seen by many not as a neutral act but as the manifestation of 'a hostility toward religion that has no place in our Establishment Clause traditions.'"
Faith & Liberty remains stalwart in our pursuit of religious freedom, not only in America but across the globe. And every victory is important in this struggle for liberty!
Just this month, Peggy Nienaber, Vice-President of Faith & Liberty, met with a women's delegation from Nigeria. The delegation included Rebecca Sharibu. Rebecca is the mother of a young girl named Leah. Leah is a school girl who was kidnapped by the Islamic terrorist group Boko Haram and is now held as a slave, possibly for life, because she refuses to renounce her Christian faith.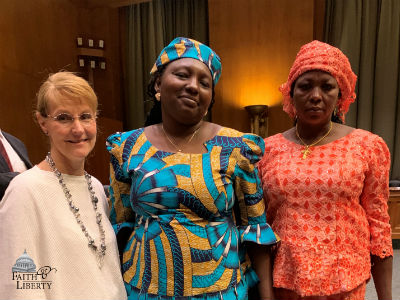 Left to right: Peggy Nienaber, Alheri Bawa Magaji and Rebecca Sharibu


Peggy also met with Alheri Bawa Magaji, a member of the mostly Christian Adara tribe in Nigeria. Alheri is outspoken about the genocide her people are experiencing. According to Alheri, "Christians are being phased out, and most Nigerians don't even know what is really happening in these remote parts of the country because it is being suppressed…The militants come to remote areas; leaving dead bodies and limbs and the blood of children all over the place."
We assured the Nigerian representatives of not only our prayers but of our fervent efforts on their behalf.
And last month, Faith & Liberty Lead Missionary, Rev. Gregory Cox, met at the United Nations in New York City with Archbishop Ignatius Ayau Kaigama, Archbishop of Jos, Nigeria, Ambassador-at-Large for Religious Freedom Sam Brownback, and others for an in-depth discussion of persecution being experienced by people of faith around the world and the steps needed to prevent it.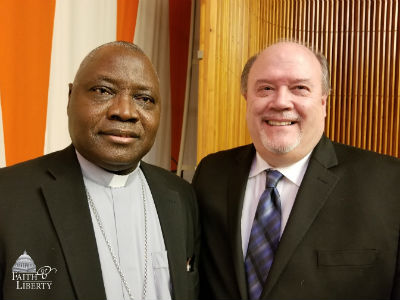 Left to right: Archbishop Ignatius Ayau Kaigama and Rev. Greg Cox
As your missionaries to our nation's public policy makers, we are unwavering in our efforts to preserve freedom of religion as America's foundational liberty. And we greatly appreciate the way you stand with us in those efforts.
Please take a moment to stand with us again by making the most generous investment you can in this unique missionary outreach.
It is your prayerful and faithful support that make our missionary work on Capitol Hill possible. And, on behalf of Alheri Bawa Magaji. Rebecca Sharibu, and so many others we touch on a daily basis, we thank you!
May all of God's very best be yours,
Peggy Nienaber, Vice-President of Faith & Liberty
Mat Staver, Chairman
Rev. Gregory Cox, Lead Missionary, Faith & Liberty