The prophet Ezekiel warned the leaders of the people of God they would be held accountable if they failed to sound the alarm about impending disaster (Ezekiel 33:6). We believe it is an Ezekiel moment in America.
That's why yesterday, Peggy Nienaber, Vice-President of Faith & Liberty, joined with Republicans and Democrats alike outside the US House of Representatives to voice their alarm over HR 5, the so-called Equality Act.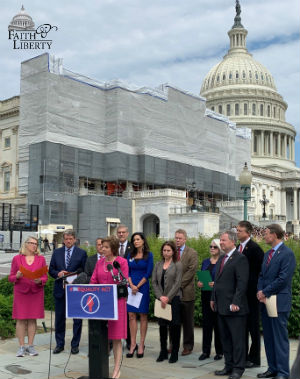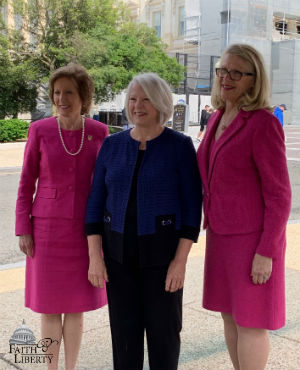 While we would strongly disagree about important issues with many who spoke, we fervently agree that HR 5 is the greatest threat to women and to religious liberty we have seen in all of our years of ministry on Capitol Hill. That is not an overstatement. If HR 5 becomes law, no church or Christian organization will be safe.

HR 5 WILL pass the House of Representatives during the floor vote currently scheduled for Friday. The battle for the future of America will then take place in the Senate.
That's why we need you to join with us now in signing our Petition to the Senate to STOP HR 5.
This week, when Pat Robertson interviewed our chairman, Mat Staver, about the effects of HR 5, Rev. Robertson called it an 'iniquitous act.' We wholeheartedly agree.
If HR 5 passes the Senate and is signed into law, it will allow men to compete on all levels against women. This threatens to eliminate the many advances made by women in sports. But that's just the beginning...

If the so-called Equality Act passes it will:
Allow men in women's private areas, like bathrooms, showers, dressing rooms, shelters and more. Again, this also includes every church!
Allow boys and men to demand to be with women in overnight events where housing or hotels are provided for sporting, academic or mission trips.
Cause non-complying churches, schools and non-profits to lose tax-exemption.
Cause colleges to lose accreditation, which will be the death of Christian schools.
Allow men pretending to be women (and vice versa) to demand the right to teach in churches, schools and daycare centers.
Ban counselors from providing and everyone (including adults) from receiving any counsel to overcome unwanted same-sex attraction, behavior or identity.
Require churches to allow same-sex weddings if the church is open for weddings between a men and a woman.

And remember, there is NO RELIGIOUS EXEMPTION to this bill! Shockingly, HR 5 expressly states that the free exercise of religion is not a defense.

At Faith & liberty, we believe we can stop this "iniquitous" bill in the Senate.
But we need your help! What can you do?

Join us in this Ezekiel moment and sign our "PETITION TO STOP HR 5!" With your signature, you are telling Senators that HR 5 is totally unacceptable!

In addition to signing the petition, please partner with us financially to support Faith & Liberty. It is only because of your prayers and support that awe can be your missionaries to our nation's capital.

Take a moment right now to make your immediate online gift to help us at Faith & Liberty fight this terrible law! Whatever you give is greatly appreciated - and greatly needed!

Thank you for your prayers and your generous support of this unique outreach to our nation's public policy makes. And thank you for signing and submitting your PETITION TO STOP HR 5!



Your missionaries to the nation's capital,

Peggy Nienaber, Vice-President
Mat Staver, Chairman
Greg Cox, Lead Missionary

P.S. Please forward this email to your friends, family members, fellow church members and social media friends and ask them to sign our PETITION TO STOP HR 5. And please don't forget to make the most generous gift you can to Faith & Liberty as we stand together against this radical attempt to transform the culture and destroy our freedom!