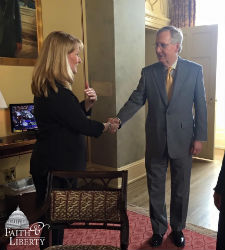 Peggy Nienaber with Senate Majority Leader Mitch McConnell
The so-called "Equality Act" is on a fast-track through the US House of Representatives. The Rules Committee will vote today and a full floor vote is scheduled for Thursday! Our united effort is needed RIGHT NOW as this egregious bill makes its way to the Senate!
Extremists in congress are using HR 5 to force the adoption of a radical LGBT agenda that threatens every church, school, college, and religious organization in America. At Faith & Liberty we are determined to fight against HR 5 through speaking out, educating, and praying, both inside and outside the halls of Congress. But we need YOU to join us!
HR 5 directly endangers not only our mission at Faith & Liberty, it threatens our very existence! This bill elevates "sexual orientation and gender identity" to the same level of protection as race. What you cannot do legally regarding race, you will not be able to do legally regarding LGBT, and there is no exemption for churches and religious organizations!
As we've noted before, if HR 5 becomes law it will --
Allow men in women's private areas, like bathrooms, showers, dressing rooms, shelters, and more. Again, this also includes every church!
Allow boys and men to demand to be with women in overnight events where housing or hotels are provided for sporting, academic, or mission trips.
Cause non-complying churches, schools, and nonprofits to lose tax-exemption.
Cause colleges to lose accreditation, which will be the death of Christian schools.
Allow men pretending to be women (and vice versa) to demand the right to teach in churches, schools, and daycare centers.
Ban counselors from providing and everyone (including adults) from receiving any counsel to overcome unwanted same-sex attraction, behavior, or identity. This bill literally sets the stage for banning the Bible, which offers the power to free those wanting to turn away from homosexual conduct.
Require churches to allow same-sex weddings if the church is open for weddings between a man and a woman.
And this is just the tip of the iceberg of the spiritual, social, and moral damage our nation will face if HR 5 becomes law.
And remember, there is NO RELIGIOUS EXEMPTION to this bill! Shockingly, HR 5 expressly states that the free exercise of religion is not a defense.
Ministers of the Gospel and people of faith cannot sit idly by while this insidious legislation makes its way through Congress! At Faith & Liberty, we are determined to fight this harmful legislation with everything we can bring to the battle. We believe there is a chance of stopping this radical bill in the Senate, but we need your help!
What can you do?
Sign our "PETITION TO STOP HR 5!" With your signature we are telling Senators that HR 5 is totally unacceptable!

If we don't act in the face of this threat against the Christian faith, when will we act?
In addition to signing the petition, please partner with us financially to support Faith & Liberty. It is only because of your prayers and support that we can be your missionaries to the nation's capital.
Take a moment right now to make your immediate, online gift to help us at Faith & Liberty fight this terrible law! Whatever you give is greatly appreciated – and greatly needed!
Thank you for your prayers and your generous support of our unique missionary outreach. And, thank you for signing and submitting your PETITION TO STOP HR 5 as, together, we declare TRUTH to POWER!
Your missionaries to the nation's capital,
Peggy Nienaber, Vice-President
Mat Staver, Chairman
Greg Cox, Lead Missionary


PS: HR 5 is the most dangerous threat to the church we've seen in our lifetimes. WE MUST RESPOND! Please challenge your friends, family, neighbors, and churches to learn about the so-called Equality Act and get involved in stopping it. Sign your PETITION TO STOP HR 5 and make most generous gift you can to Faith & Liberty as we stand together against this radical attempt to transform the culture and destroy our freedom!