While so much of the news coming from Washington, DC, is negative, emphasizing partisan divides on important moral and social issues, your investments in the missionary work at Faith and Liberty are producing GOOD FRUIT!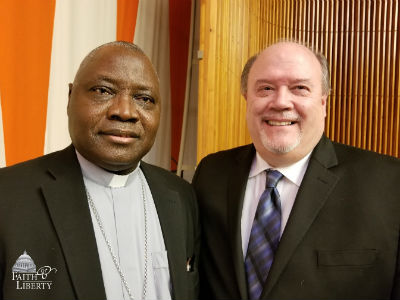 Archbishop of Nigeria & Greg Cox, Lead Missionary
Just in this last week, your missionaries to Capitol Hill were fighting in the trenches to pursue these critical efforts:
Our Vice-President, Peggy Nienaber, and our Chairman, Mat Staver, were inside the Supreme Court praying for the justices during arguments for The American Legion, et al. v. American Humanist Association. This IMPORTANT religious liberty case involves a 40-foot-tall, concrete cross on a large, grassy highway median in Maryland, just outside Washington, DC. The nearly 100-year-old cross was built as a memorial to area residents who died in World War I. Hundreds of similar cross-shaped war memorials and other religious displays could be affected by the decision of the justices -- including permanent Ten Commandments monuments and seasonal Nativity scenes in local parks.
Along with our interns, Peggy Nienaber was on Capitol Hill attending a Human Rights Caucus briefing to discuss approaches to end modern slavery with Co-Chairs Senator Chris Coons, Senator Thom Tillis, and Senator Rob Portman. An estimated 40 million people around the world are victims of modern slavery, subject to forced labor, debt bondage, forced marriage, and human trafficking. The Senate Human Rights Caucus hosted experts to discuss innovative approaches to combating modern slavery and how U.S. resources contribute to this fight.
VP Peggy Nienaber, along with interns from Liberty University, also attended a meeting in the White House on Wednesday. It was a time of intense prayer and offered our team and the interns an opportunity to build and enhance strategic relationships with the White House staff.
Our Lead Missionary, Greg Cox, participated, at the invitation of the US Ambassador at Large for International Religious Liberty, Sam Brownback, in an important gathering at the United Nations focused on dangers to religious freedom. Sponsored by the Permanent Observer Mission of the Holy See to the UN, the meeting featured several pleas for action from individuals such as the Archbishop of Nigeria, who shared bleak details regarding the actions of Boko Haram in Nigeria, as well as a representative from Hungary who graphically described the need across the world for religious freedom. Faith & Freedom is unequivocally committed to advancing religious liberty as the FUNDAMENTAL liberty upon which all other freedoms are based.
We take our calling to serve as your missionaries to our nation's public policy makers seriously, and every day we are in the trenches, whether in Congress, in the federal judiciary, or at the White House, working to provide our leaders with the information and inspiration necessary for them to make good decisions.
Pray for us - as we daily pray for you! And don't forget to stand with us financially!
In fact, take a moment right now to make an urgently needed, immediate gift of $25, $35, $50, or even $100 or more to Faith & Liberty by clicking here!
Every day, while in the trenches, we are trusting God for our daily provision. Every effort we make, every strategic meeting we attend, and every time we share the Gospel or pray with a national leader ONLY happens because of the faithful and generous support of our friends like you!
Thank you for standing with us! May all of God's very best be yours.
Your Missionaries to Capitol Hill,
Peggy Nienaber, Vice-President
Mat Staver, Chairman
Greg Cox, Lead Missionary


Mat Staver and Peggy Nienaber discuss the Supreme Court's oral arguments regarding the Bladensburg Peace Cross