As our Countdown to the Live Nativity continues, we are now only nine days from that remarkable moment when the Holy Family, along with shepherds, Wise Men and sheep, a donkey and a camel will reenact the nativity scene right in front of the United States Supreme Court. It is an amazing moment.
But it can only happen with your help. Please take a moment to make the most generous investment you can to help us with the Live Nativity! Select Here.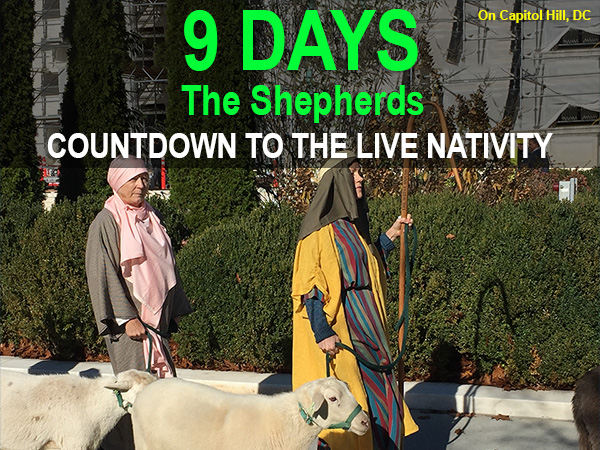 As we present the Live Nativity, it is particularly interesting that shepherds are included — just as they were included in the herald of the birth of Christ. On the night Jesus was born, angels exploded into the night sky to announce to a group of shepherds not only the birth of the Christ Child but also its meaning.
"Now there were in the same country shepherds living out in the fields, keeping watch over their flock by night. And behold, an angel of the Lord stood before them, and the glory of the Lord shone around them, and they were greatly afraid. Then the angel said to them, 'Do not be afraid, for behold, I bring you good tidings of great joy which will be to all people. For there is born to you this day in the city of David a Savior, who is Christ the Lord'" (Luke 2:8-11).
Amazing! Why? Because shepherds were the dregs of society. They were outcasts, despised by the respectable elements of the culture. In fact, the integrity of shepherds was so suspect they were not even allowed to be witnesses in a court of law. And yet, it was to these outcasts, these ruffians, that God chose to reveal His purposes in the incarnation, and to serve as His first ambassadors of the gospel.
God often uses the most unexpected people to advance His message of salvation. Today, God is using the deeply held religious convictions of people from all levels of society to stand up against tyrannical government overreach through the vaccine mandates now costing people their jobs.
These courageous Christians serve as His prophetic ambassadors.
And God uses the costumed characters of the Live Nativity to remind those in our nation's halls of power that they too can know the good tidings and great joy of salvation through Jesus!
Will you be a strategic part of this important Gospel outreach? Select Here to share the good news of Jesus on Capitol Hill!
Your prayers, encouragement and GENEROUS FINANCIAL SUPPORT make all of this possible. Without you, we COULD NOT stage this LIVE NATIVITY Christmas celebration on Capitol Hill.
The Live Nativity is an important, dramatic, meaningful and powerful witness of the gospel. If you agree, can we count on you to stand with us both in your prayers and in your giving?
Please consider the most generous investment possible. Your support will help us ensure Americans across the nation are able to exercise their God-given, constitutionally protected First Amendment right to publicly exercise their religious beliefs.
TO MAKE YOUR TAX-DEDUCTIBLE GIFT RIGHT NOW, please select here.

Thank you for bringing CHRIST to Christmas on Capitol Hill!
Peggy Nienaber, Vice President
Mat Staver, Founder and Chairman
Rev. Greg Cox, Lead Missionary